By DALIA ACOSTA
HAVANA TIMES, December 20 (IPS).- "I was ashamed to cry," confesses Alejandro Lopez, a burly Cuban man who a year ago decided to break away from violence and leave behind the "macho" stereotypes that prevented him from expressing his feelings and sensibility.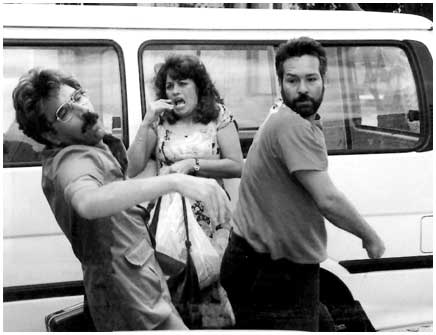 "Now I'm going around telling everyone: Let yourself go! Crying won't make you less of a man," Lopez tells IPS. "I'm a man and I cry. And that doesn't mean I'm not masculine."
As in the rest of Latin America and the Caribbean, men born in Cuba are typically raised to believe that a true man must be strong, successful and rational. This perpetuates the dominant model of masculinity associated with violent, authoritarian and competitive behaviors.
In December 2007, Lopez attended the first Masculinity and Gender Violence Awareness Workshop, held in Havana, which caused a radical shift in how he approached his relationships with his family and co-workers.
The workshop was organized by the non-governmental organization Oscar Arnulfo Romero Reflection and Solidarity Group (OAR) as the culmination of a project conducted in three urban communities with the aim of empowering community leaders to help them address gender violence.
One day, during an activity at his workplace — the Refrigeration and Air-Conditioning Services Company — Lopez decided to talk about masculinity and violence. Surprisingly enough, his boss and co-workers liked what he had to say, and revealed that they had never really thought about such issues.
That talk led him to form an action group aimed at changing gender relations and reducing violence. He set out to examine the prevailing ideas of masculinity, criticize machista behaviors in everyday life, eradicate sexist language and promote greater inclusion of women in decision-making processes.
"I've helped my co-workers realize how certain attitudes of theirs are really a form of psychological violence towards women," says Lopez, who is also an official in the Steelworks Ministry. "Their first reaction was to laugh. But the more they thought about it, the more they realized that it was better to talk things out, and that helped them control their anger," he said.
Lopez believes that every workplace should have "a program to teach people how to solve their differences through dialogue, and encourage non-violent attitudes. These awareness-raising efforts would complement the rules established in disciplinary codes and procedures that prohibit aggressive behavior towards co-workers.
"I've achieved so much more since I became less aggressive in my attitudes towards my co-workers and the women around me," Lopez says. "My work hasn't changed, but everything I do has become so much easier because I've learnt to talk things out and to compromise if necessary."
"Today we have a group of men who are concerned with the issue, and this translates into a commitment towards the community, in how they act in their personal lives and in their workplaces," Zulema Hidalgo, a member of OAR, told IPS.
Hidalgo feels that this group of men opposed to violence needs to receive training to approach other men and discuss the issue. To this end, OAR has the support of the National Centre for Sex Education, the Psychological and Sociological Research Centre, the Psychological Guidance and Attention Centre and the non-governmental organization Proyecto Palomas (Doves Project).
For his part, the general coordinator of OAR, Gabriel Coderch, says that for many years in Cuba "the issue of violence had been shelved," but now the institutions with decision-making power over social matters have become aware of their influence in Cuban society.
"You can't change people's feelings and attitudes overnight," Coderch says.
Some 20 studies conducted in the country in the 1990s showed that the main victims of domestic violence, women, were often unwilling to seek institutional support or report the men who abused them.
A research work published by the Forensic Medicine Institute around the same time reported that 47 percent of all female murder victims had been killed by their boyfriend or husband.
A more recent study, conducted by the School of Psychology at the Central University of Las Villas, located 300 km east of Havana, studied violence in rural families, where "insults, shouting, curtailment of rights, threats, overburdened roles and exclusions" are commonplace.
The study, published in October by the Mexican journal "Psychology for Latin America", stated that "the general psychological causes behind violent behavior include poor communication – a factor commonly found in cases where conflict-resolution through non-violent means is difficult – and the lack of the necessary communicative skills to hear the other and to make oneself heard."
"I know it will take time, and I know that this isn't something that can be solved by just one person. But if it spreads to other people we'll be able to reduce the psychological violence that is so widespread in our society, like we were able to do with physical violence," Lopez says.
"People are calling me 'the priest,' but I'm no priest. I'm just a little more flexible now than I used to be," he concludes.