Imports of Chicken From the USA to Cuba Skyrocket
Even the Cuban Army sells It in its Markets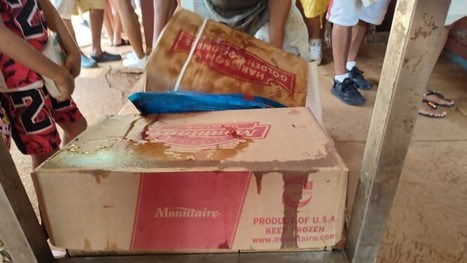 A total of 35,117 tons of chicken meat was shipped to Cuba from the United States, a record amount.
HAVANA TIMES – The arrival of American chicken in Cuba has multiplied to such an extent that on Saturday it landed in Havana's Nuevo Vedado market of the Youth Labor Army itself, the agro-market of the Cuban Armed Forces. In August, imports from the United States recorded absolute record figures, both in quantity and in millions of dollars.
At 35,117 tons, the figure is much higher than in the last five years, recorded in December 2022, when 30,884 tons arrived on the Island. Although the price fell by 14.6% compared to July, when 2.2 pounds of chicken cost $1.23, the volume is so high that total U.S. sales reached $37.08 million. It is more than 90% of that month's total imports from the U.S., which rose to 39.91 million dollars.
"The ineffective official economic policy means that the MSMEs [micro, small and medium-sized enterprises], far from contributing to the national production of the main animal protein consumed in Cuba, would seem to be strengthening their dependence on imports," said Cuban economist Pedro Monreal on his X account (Twitter). His diagnosis of the situation is overwhelming. "That high import dependence is a risk to food security," he says.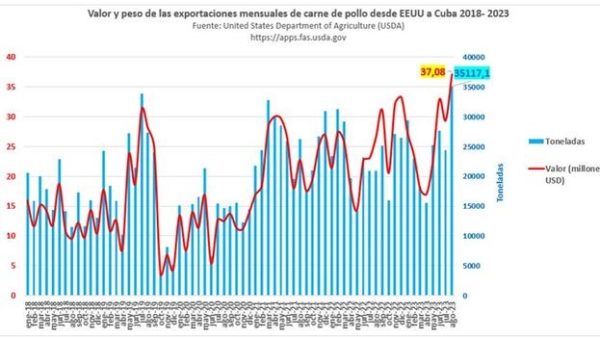 The figures analyzed by Monreal are sourced from the U.S. Department of Agriculture and together represent the purchases made by the Cuban State and the country's new economic actors, the MSMEs. During the first eight months of the year, Cuba bought 198,706 tons of chicken meat worth more than 207 billion dollars.
The August data from the Consumer Price Index did not highlight the cost of chicken in the official Cuban markets, but in the previous month it was, curiously, one of the products that most contributed to curbing the rise in inflation. In July, the price of chicken fell by 3.8%, which most experts attributed to the increase in supply, thanks to private companies, whose impact has also been noticed on other imported foods, cooking oil among them.
Chicken meat has gradually regained its presence in Cuba, and its lack is no longer so frequent, although on social networks the desperate exchange continues between those who try to buy it at about 250 pesos a pound and those who offer boxes of 33 pounds or more. The worst part is, without a doubt, the almost absolute absence of national production.
This Monday, Cubadebate dedicates an extensive report to the scarcity of another product linked to this: the egg. The text collects the terrible data that the provincial press has been offering in previous weeks – and which this newspaper has echoed – about the poor diet and old age of the chickens, which, consequently, lay fewer eggs.
The official media recalls that an attempt was made to alleviate the shortage with semi-rustic chickens and quail but that it was completely insufficient to feed the country. The most discouraging thing is that there is no proposal or solution. "It's a chain in which the population observes how the price continues to rise on a par with resellers and speculation, and it will not stop as long as the industry is unable to meet demand."
Translated by Regina Anavy for Translating Cuba