International Women's Day in Gaza
Photo Feature by Julie Webb-Pullman (Special to HT)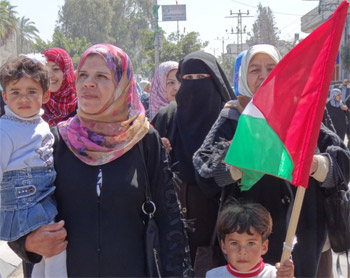 HAVANA TIMES, March 8 — Thousands of women marched from the Square of the Unknown Soldier in Gaza City to the 'occupation' outside International Red Cross in Remal, demanding the release of 29-year-old hunger-striking political prisoner Hana AlShalabi.
AlShalabi, released from administrative detention in Gilad Shalit-Palestinian prisoner swap late last year, was rearrested in February, without charge, and has been on a hunger strike ever since. International Women's Day marked the 22nd day of her protest, in which she has been joined by her mother.
Many men also marched, joining the women's calls for Hana's release, and unity between Fatah and Hamas.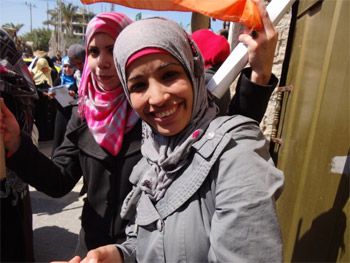 As usual in Gaza, many women had their children in tow, even tiny babies.
Despite the serious messages of the event, the mood was one of high spirits and good nature, with smiles, hugs, and friendship as prevalent as the chanted demands.
Jamila AlShanti, Minister of Women's Affairs, told Reuters TV that all Gazan women are heroines and set an example to others.
"Whether she is a house wife or a working mother, a prisoner, a wife of a martyr, a mother of a martyr, I say this woman is a heroine, and is brave," she said.
Even in such dire circumstances, Gazan women can still celebrate their achievements – and smile!

Click on the thumbnails below to view all the photos in this gallery. On your PC or laptop, you can use the directional arrows on the keyboard to move within the gallery. On cell phones use the keys on the screen.