Is Cuba Ready for Women in the Ring?
By Ronal Quinones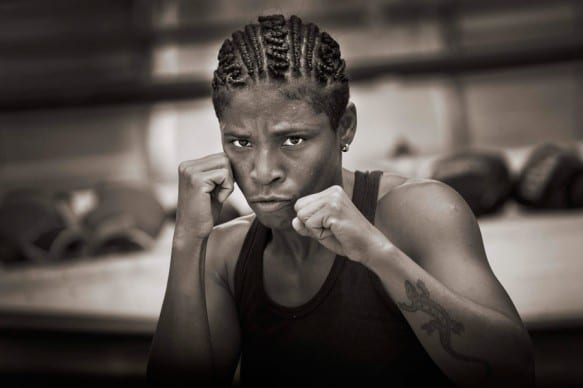 HAVANA TIMES — For quite some time now, the famous Rafael Trejo Boxing Gym, where almost all of Cuba's professional boxing champions have come from over the last century, and the same Gym that the great Floyd Mayweather Jr. wanted to visit on his short trip to the island, has women among its regular trainees. They dream of being able to compete officially in international competitions.
The pioneer was Namibia Flores, the former taekwondo athlete who has trained with men for almost a decade, and who was waiting for the government to approve female boxing but which never came through. Today, she's 40 years old and a little over the 54 kg which she was while she was waiting for her official permit and she can no longer climb up to the ring in events organized by the International Boxing Association (AIBA) because of medical reasons.
This woman was so patient with her country's authorities that a few months ago, she asked for the Cuban Boxing Federation to write her a letter so that she could box in the US at a professional level. "Of course, we gave it to her because she deserves to fulfill her dream, even though she didnt need it because we wouldn't have objected anyway," a source from the Cuban boxing commission assured this writer, who preferred to remain anonymous.
Her frustration is clearly evident at having been defeated by her age; Flores recognizes that now all she can do is "serve as an example for the girls who are following in her footsteps."
"I've never thought it was more dangerous for women than it was for men, and take it from me because I've boxed with quite a few. I used boxing as a release to let go of all my negative energy that affected me at home, at work or in my day-to-day life," she says.
Her story was told in a 16 minute documentary produced by the British BBC, which reflects this Cuban woman's extraordinary sacrifices, who trained for eight years but was unable to compete in official events. In 2015, she visited the US in order to show off her skills and received many proposals to box professionally, but she rejected all of them. "I learned to box here in Cuba," explained the native of Cardenas, Matanzas but living in the Havana neighborhood of Santos Suarez. Now, she has no other choice but to conform with passing on her knowledge to other girls, and she would consider herself very lucky if she were able to form part of the future technical team of a hypothetical female Cuban boxing academy.
In charge of the Rafael Trejo Boxing Gym is two-time Olympic champion Hector Vinent, who is confident that he can train women world champions if he was allowed to. "Cuba is a land of boxers, and I'm sure that our girls, with good training, would be able to beat anyone. Right now there are still only a few women who box because they still haven't been given the green light. When they're given the go-ahead, many more will take up boxing and we'll be able to win medals at every tournament," he affirms.
While I was well-attended in my visit to the gym when I tried to take some pictures, they forbade it, a sign that this practice is still less than legal.
Havana Times spoke about this with Alberto Puig, president of the Cuban Boxing
Federation, who repeats that the official line that female boxing is still "under consideration."
"Women's boxing is still being evaluated, and I think we'll make a decision very soon. Sport is a right of the people, and that's why we let them train and participate at sport facilities. It's just that we still haven't organized a system of tournaments for women, but we haven't taken away their right to box, and in fact, we know that women boxers exist and that they have grown in their numbers recently."
It looks like the approval will come soon, as women will begin to box in the ring at the upcoming World Series of Boxing (a semi-pro league in which Cuba participates), and that will have an influence on the results of every tournament as if they were men.
"Women are entering the ring," explains Puig. "In each World Series of Boxing match up there will be 10 categories for men and two for women, that's to say, in the C-1 class (49, 56, 64, 75 and 91 kg) there will be one woman boxer and in the C-2 class (52, 60, 69, 81 and over 91 kg) another woman. They're still dicussing which weight categories the women should fight in. and this will be approved in Uzbekistan because right now there are only three Olympic divisions (51, 60 and 75), and one would have to be left out, or create two intermediary categories. What Cuba would like to see is to strengthen the quality of its boxers in the World Series, maybe by having fewer teams participating than in the more recent editions, but they'll box to a higher quality."
This change in attitude is significant because it comes from the same person [Alberto Puig] who years ago said that "Cuban women are meant to be beautiful, not get hit in the face."
This opinion continues to affect a large majority of the Cuban population, which boils down to prejudice and gender stereotypes that have existed for decades. However, just like what's happened in other sports, such as weightlifting, these changes will surely become reality. What's happened in women's weightlifting as well as wrestling is that Cuba has lost too much time compared with the rest of the world, and it continues to pay the consequences; the same must happen with boxing too.
Many experts believe that boxing is less dangerous than taekwondo, as women fight wearing head-gear, a mouth-guard and protection for their breasts, but the stigma continues to permeate our society.
Women's boxing in Cuba doesn't only take place in Havana, and the investigative article "Women from the ring corner", published in the Vanguardia newspaper, from Villa Clara, revealed that there were five young former taekwondo fighters who were training in this province.
"The National Boxing Commission told us that we should train the girls who took an interest in boxing, even though nothing's been officially recognized yet," states Jesus Perez in this article, trainer at the Hector Ruiz Sports Initiation School (EIDE).
The first women's boxing World Championship organized by the AIBA was held in Scranton, Pennsylvania in 2001. Women boxers first took part in the Central American and Caribbean Games in Mayaguez- 2010, in the Panamerican Games in Guadalajara- 2011 and the first time in the Olympics was in London 2012.
Unfortunately, time is running out, and just like Namibia, other girls' dreams may be taken away from them if something isn't done soon.