Japan Jinx Ends for Team Cuba
Tonight Cuba Plays Holland in the first game of WBC Round Two
Peter C. Bjarkman* (from Fukuoka, Japan)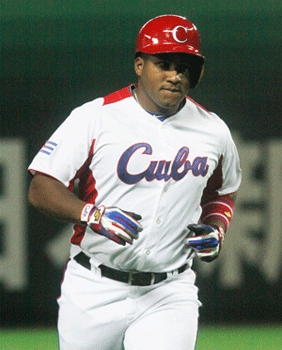 HAVANA TIMES — For the second straight time Cuba has swept through the opening round qualification pool at the prestigious MLB World Baseball Classic and in the process has now upped its overall WBC tournament record to 12 victories against five defeats.
But that is not the essence of the story; this time the final first-round victim was not tame rival Mexico but instead defending champion Japan, and therein lays a huge difference.
The Cubans have struggled mightily with the Japanese – especially with Japanese pitching – in recent series and have not beaten a front-line Nippon team in either a major tournament or even a friendly match since the 2008 Beijing Olympics.
It was the Samurai club that walked over the Cubans in the inaugural WBC finale in 2006; than four years ago in San Diego, the Japanese again held mastery and eliminated the Red Machine during the second round of WBC II – the earliest exit for the Cubans in a major international tournament in nearly a half century.
With a 2-0 exhibition game blanking in Fukuoka last November the Japanese extended to 31 their string of scoreless innings against top Cuban squads. It was beginning to seem like Cuba simply could handle the crafty pitching styles of professional Japanese hurlers.
But all that angst ended with a bang on Wednesday night in Fukuoka when Yasmani Tomás (a last-minute choice of manager Victor Mesa to open in right field) launched a misplaced fastball tossed by Fukuoka Soft Bank Hawks ace southpaw Kenji Otonari into the left field bleachers to open a Cuban attack that put six runs and ten hits on the board against what was supposed to be stellar Nippon pitching.
The Tomás homer broke a second unenviable string of 20 straight scoreless frames by Cuban batters against the Asian powerhouse over the course of the last two World Baseball Classic editions.
The big blow was supplemented an inning later when José Miguel Fernández opened with a sharp single to center and always reliable Freddie Cepeda (batting right handed against Otonari) ripped a stinging double into the right center field gap to up the count to 2-0.
It was again Fernández (the tournament's leading hitter to date) who opened a third offensive thrust in the sixth with a double off reliever Hirokazu Sawamura; pinch runner Luis Rivera scampered homer from third two batter later thanks to a single into the right field gap off the bat of José Dariel Abreu.
But the biggest blow of the evening came in the home eighth in the form of a towering three-run homer from Alfredo Despaigne that provided crucial insurance runs and upped the widening margin to a seemingly safe six runs.
Takeru Imamura issued a free base to Cepeda to launch the final Cuban rally. After Alexei Bell replaced Cepeda as a pinch runner, Abreu again singled in the hole and Mesa's boys had runners at the corners with none out.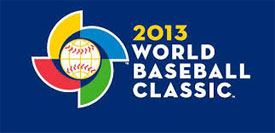 At that point Despaigne drove the ball deep into the left-center field seats and the Cuban dry spell against the Nippon team was all but officially over. Despaigne's game-changing long ball was also the primary factor in his selection as the MVP hero of the Pool A Fukuoka opening round.
In a remarkable reversal of form, it was the Cuban hurlers and not the Japanese pitchers on Wednesday night who revealed near complete mastery. Isla southpaw Wilbur Pérez was solid enough as a starter to work out of three straight mild jams that saw the Japanese leave four on base over the opening stretch.
Pérez was followed by Yander Guevara who also survived minor scrapes for two-plus innings, stranding a pair in the fourth, permitting but a single enemy safety, and striking out five along the way. Guevara was finally finished after walking Yoshio Itoi to open the sixth and replacement Diosdani Castillo immediately surrendered a single to Sho Nakata that sent Itoi scampered to third.
The threat died there, however, when Mesa pulled precisely the right strings by bringing in veteran lefty Norberto González who induced an inning-ending and thus rally-killing 1-6-3 double play.
For all their achievement in the final Fukuoka match the Cubans did briefly stumble in the ninth frame when after an opening out Victor Mesa decided to remove Norberto González (with the tournament pitch count restrictions playing into the decision) and test a pair of national team rookies – Racial Iglesias and Darien Núñez.
Neither was effective as Iglesias (a hero out of the bullpen against Brazil in the opener) walked a pair, a third free pass from replacement Núñez loaded the sacks, and an infield single between short and third by Hisayohi Chono finally broke the potential shutout.
A sacrifice fly and a second single (this time by Hirokazu Ibata) brought the count to a far narrower 6-3 and quickly enlivened a long-silent Japan crowd before Vladimir García finally gunned down reserve catcher Ryoji Aikawa to end the last-minute tensions for the Cuban bench.
Japan has not looked exceptionally strong throughout the entire stretch of pool play in Fukuoka and the seeming flaws in their offense were on full display Wednesday when the Nippon crew achieved base runners every frame until the seventh and yet could never patch together a series of opportunistic base hits that might have put them in commanded early on in the game.
First round performances both here in Japan and also in Taichung seem to suggest that the Cubans and Dutch (Friday's opening Round 2 opponents) have to be given a nod as the Asian sector favorites to advance to San Francisco. Of course one of these long-time rivals will have to start in the hole after Friday (when they meet head-to-head), but the modified double-elimination format means that a hot-hitting Cuban outfit will have more than a single chance to maintain their early momentum.
Nothing is yet guaranteed as second-round tensions heat up here in the Tokyo Dome tomorrow. Cuba has struggled as much with Dutch pitching mastery of late as they have with the Japanese – losing twice in tight contests at the 2011 Panama World Cup and more recently dropping a 5-0 decision in Taichung to probable starter Diego Markwell.
Now that Japan has been wounded and their own possibilities for defending their two Classic titles seem to be shrinking rapidly in the face of a lame offense and surprisingly inconsistent hurling, the Nippon forces may prove a much tougher nut to crack the second time around.
But the three solid performances by Mesa and company in Fukuoka plus the timely battering of Japanese hurlers on Wednesday should be enough at least to momentarily quiet those loud naysayers in the Cuban press and on Havana street corners who have been for several years repeating a most tiresome negative mantra – a despairing mantra that claims Cuban teams are poorly selected, or that Mesa is an inept and incompetent bench leader, or that the quality of Cuban squads has been diminished during the modern era and thus that the baseball sky is about to collapse over Havana and the rest of the Pearl of the Caribbean.
But those endless and predictable complaints have now been temporarily put to rest by a huge and long-awaited triumph over the kingpin Japanese.
Win or lose the next couple of days here in Tokyo, this is undoubtedly one of the best Cuban squads in recent memory and certainly a team now playing with spirit and confidence not witnessed in the half dozen years separating us from the first surprising Cuban WBC charge toward an elusive world tile back in March 2006.
Victor Mesa keeps repeating a single mantra of his own in post-game press meetings – that until his squad finally reigns as world champions something will still be missing from both his current ball club and also from the heart and soul of Cuban baseball.
I wouldn't want to bet on that vacancy miraculously being gloriously filled in the next couple of weeks, but then again I wouldn't now bet against that possibility either.
(*) Peter Bjarkman is author of A History of Cuban Baseball, 1864-2006 (McFarland, 2007) and is widely recognized as a leading authority on Cuban baseball, past and present. He has reported on Cuban League action and the Cuban national team as senior writer for www.BaseballdeCuba.com during the past six-plus years and is currently writing a book on the history of Cuba's post-revolution national team.