Jeep Stolen for Ransom in Mayari, Cuba
By Osmel Ramirez Alvarez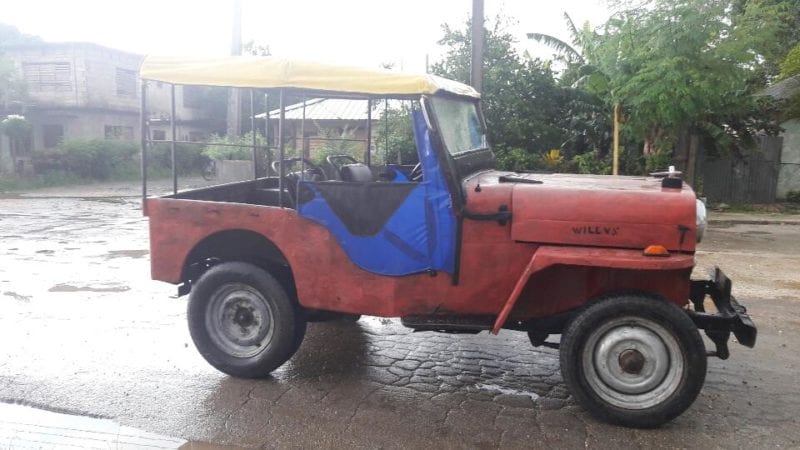 HAVANA TIMES — Kidnapping animals, especially horses, to then ask for ransom from their owners, has already become commonplace in Mayari, where I live in the province of Holguin. It's the Cuban version of organized crime, the kind we see on news shows about Mexico, Colombia or El Salvador.
Young people, almost children, are recruited by "the local mafia", they walk close by pastures and when the person supervising the animals lowers their guard, even slightly, they cover their faces with a T-shirt, move in and now it's stolen. Following this, they ask for a ransom, using some kind of intermediary. The amount asked is normally half the price it would sell for on the black market, which has already become the official market.
These mafiosos started off by stealing and killing cows and oxen to sell their meat to the general population, who are protein hungry. But, asking for ransoms has been better business for them for some time now.
Horse-drawn cart owners, who make a living off of exploiting their horses in public transport, are forced to have savings awaiting a possible robbery and ransom payment. It's rare to find one who hasn't already gone through this painful experience, and it has even happened to some of them on more than one occasion in recent years.
However, the criminals have now taken a more daring step, due to the level of impunity they have. A few weeks ago, they stole an old 4×4 jeep from the '50s.
The owner, Leonardo Gonzalez, was in his own home feeding his animals at the end of his backyard and the "yipe" (Jeep) was parked in his garage. He lives in Piedra Gorda, a rural neighborhood with very few homes, next to the ruined Slopes, where nickel used to go down so it could be transported to the Nicaro factory by railway.
"Several people took part in this robbery, without a doubt, because they must have carefully pushed it until it was out of my home and then they started it once they were quite a ways away, so that I wouldn't hear the sound of the motor," the wronged man commented with regret.
We know that they asked for a ransom of 5,000 CUC and the owner refused to pay it in the beginning, as it's extremely outrageous and wrong to give in to these criminal activities. Then, once his blood had cooled down and he was able to think more level-headedly, he understood that nobody had been able to get anything back by going to the police. If you don't pay up, they take the vehicle apart and sell its parts. In the end, he negotiated with the robbers and paid 4,000 CUC, which is 100,000 Cuban pesos. Quite a fortune in Cuba!
As cars aren't imported into Cuba for commercial sale since the Cuban Revolution triumphed, any junker is worth an outlandish sum of money. This old Jeep was only valued at 15,000 USD because it was in poor condition. With a quick makeover, it could cost up to $25,000.
The jeep owner had inherited this car from his father, an old landowner who had bought it at the Agency before 1959. Luckily, he also inherited a part of the ranch that the Agrarian Reform left him and because he is very hard-working. He had this sum of money saved up in order to pay the ransom. The robbers were surely aware of this before committing the crime.
In order to get his jeep back, he had to travel to another municipality, which is neighboring because of the mountains (Mayari Arriba or Segundo Frente, as it is officially known). It had been hidden there on a hill. This kind of theft-kidnapping is really a very dangerous precedent. Crime has become more organized and criminal acts have become more daring.
One of the few "positive" things our political system's social control has had here in Cuba was that organized crime wasn't a big thing. But this incident and many other incidents prove that this isn't exactly the case anymore. People are afraid that at any moment these criminals might dare to kidnap people, especially children.
It would be the beginning of the end for Cuba's civil peace and a difficult evil to get rid of once it gains too much strength. If only we could prevent this from happening.