Judging Cuba's Ciego-Pinar Series
Peter C. Bjarkman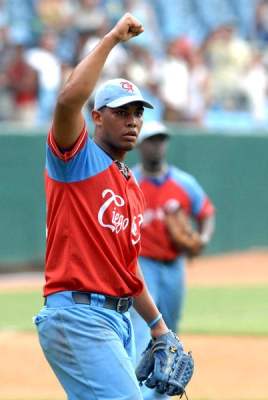 HAVANA TIMES, April 17 — What could be more fitting for a Cuban League campaign that has evolved completely contrary to the expected script? We now have a championship match no one might have expected when this special Golden Anniversary season was launched last November.
The normally toothless Tigers of Ciego de Avila (Cuba's closest equivalent to the old American League St. Louis Browns) are poised to make a first-ever trip to the National Series playoff finals.
Only once during its 35-year history (in 2009) has the Ciego ballclub stood among the league's top three finishers. Pinar del Río's once-proud but lately lackluster Tobacco Growers are celebrating their own first visit to the island's biggest series in three long years.
After one of the worst Vegueros campaigns in decades, Pinar's 2010 edition missed out altogether on last spring's post-season play. Given the prospect of crowning a novel champion for a third time during the current decade – Ciego hoping to duplicate recent feats by Habana Province in 2009 and Holguín in 2002 – it is also a league finale appropriately reflecting a new-found and much-welcomed competitive balance that now seems the rising hallmark of Cuban baseball.
Perhaps, then, it is time for a well-deserved break in the action – a few silent days for Cuban baseball fans to catch their collective breath. With a ten-day recess in place before post-season games resume next Saturday (April 23), we can enjoy some space to reflect in tranquility on a remarkable post-season already unrivaled for constant thrills and innumerable unlikely scenarios.
The year has already featured new home run record busters (Abreu and Céspedes), a pair of upstart league champions (Cienfuegos and Ciego de Avila), even more surprising league runners-up (Pinar del Río and Granma), and a somewhat shocking first-time joint absence of the island's two biggest powers (Industriales and Santiago) from the annual playoff fray.
Although the intriguing possibility of two first-time entrants in the league finals has now gone by the wayside, one can think of perhaps no other playoff round outside of perhaps 2002 (when Holguín faced Sancti Spíritus) with two such Cinderella-like entrants still standing to answer the final bell. When the first pitch is finally tossed at José Ramón Cepero Stadium in Ciego de Avila next weekend we will indeed be witnessing an epic finale entirely fit for an historic Golden Anniversary National Series season.
HOW THEY GOT THERE
That both league semifinal series would be decided in almost perfectly parallel fashion and on almost identical botched infield plays was perhaps only the latest irony of a campaign filled with so many odd twists and turns. On the heels of a pair of Game 5 slugfests (14-10 and 17-3), both deciding Game 6 matches featured surprisingly strong pitching displays. Both games extended into tense extra-inning sessions before being decided by a similar pair of strange bounces that allowed the season's most crucial pair of deciding runs to scamper home in unexpected fashion.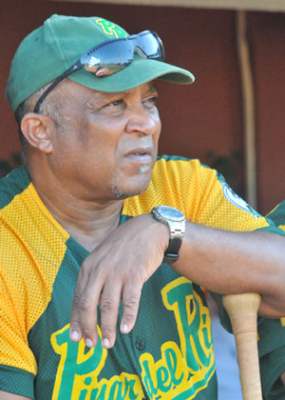 Pinar stuck a final dagger in the heart of Cienfuegos when normally sure-handed Elephant shortstop Erisbel Arruebarruena booted a routine two-out infield bouncer and in the process permitted pinch-runner Osmel Solano to scamper home unmolested from third.
Ciego's stunning comeback victory proved even more dramatic and more improbable. After a last-ditch two-run ninth-inning rally kept the embattled Tigers in the game, slugger Yoelvis Fiss led off the bottom of the eleventh tamely enough with a gifted base on balls. But lead-off walks can often prove fatal in extra-inning stalemates.
Running on Yorelvis Charles's swinging third strike, Fiss slid into second ahead of a wild bouncing heave from catcher Carlos Barrabi. The errant toss skipped away from shortstop Arian Moreno and disappeared into unguarded outfield territory, allowing Fiss to scamper all the way home unimpeded. Granma – a team so often able to survived only when heroic slugging feats compensated for embarrassing defensive lapses – once again was sabotaged by an all-too porous infield defense that committed five errors during the most crucial contest of the entire campaign.
A SEASON OF SURPRISES
This has been a season defined by the unexpected – the unanticipated collapse of efficient island-wide pitching, the ill-timed disappearing act by Industriales under embattled manager Germán Mesa, the unprecedented all-around slugging of José Dariel Abreu.
But in the end perhaps the biggest surprise of all would be this week's apparent return to something like normal baseball fare – and just at the moment of highest post-season drama. Post-season baseball is almost by definition a time when top pitching inevitably subdues even the best offensive attacks. And in the pair of just-concluded showcase series it was indeed seasoned hurlers Vlad García, Yosvani Torres, Ciro Silvino Licea and Norberto González – not headline sluggers Abreu, Céspedes, Despaigne, Fiss and Saavadra – who in the end wrote the deciding script.
The inflated tensions of playoff baseball also tend to dictate that "small-ball" plays and not dramatic over-the-fence blasts will likely separate winners from losers. Imperfect executions of the most routine plays – not the Herculean feats featured in nightly highlight films – all too often provide the subtle moments that settle championship matches. It was delightfully normal in the end, then, that this season's two survivors finally made it to the winners' circle via those unlikely infield bounces that sent Solano and Fiss scampering toward home plate in such dramatic fashion.
The two biggest Cinderella stories of the current post-season have without doubt been Granma and Pinar, two ball clubs given little chance to succeed at season's outset nearly six months ago. Ciego after all has made several respectable playoff runs in recent campaigns, and Cienfuegos owned this winter's best regular season ledger from start to finish. Granma – barely a .500 club a year ago – seemed the biggest surprise for most of the campaign.
Carried by the explosive power displays of Céspedes (the first slugger ever to reach the 33-homer plateau in National Series action), Despaigne (who challenged for home run leadership despite missing contests), and Yordanis Samon (the unsung hero of a mid-order trio that combined for 81 round-trippers), Granma made the strongest run at a first-place finish in club history, in the end falling only two games short of the regular-season Oriente League top slot.
But with the league's shoddiest defense, plus the poor post-season history of ace hurler Silvino Licea, the Alazanzes (Stallions) were perhaps not a very good post-season bet despite all the heralded fireworks. That logically solid assessment proved to be a painful reality by the end of a semifinal series in which Ciego – with slightly better pitching and much better defense – stormed back to win three straight series clinchers, two in enemy territory at Bayamo's hostile Martires de Barbados playing grounds.
Pinar was better than expected from the outset. This rise in performance can be attributed in no small degree to the unprecedented effectiveness of Yosvani Torres as a newfound ace in the starting rotation (the 31-year-old righty won 7 games last year and 10 this time around), the emergence of Lorenzo Quintana behind the plate, the versatile offense and defense (at first and in the outfield) of William Saavedra, and the continued consistency of underrated third-sacker Donald Duarte.
But the Vegueros nonetheless trailed far behind Cienfuegos in the one-sided Occidental race all winter and remained locked in a four-way tussle with Habana, Sancti Spíritus and Industriales for the three-remaining post-season slots that went almost all the way to the wire. It was only on the final two days of play that Pinar del Río squeezed out a final precarious game-and-a-half lead over the Gallos and Vaqueros.
If the post-season found Granma struggling to hang on to its earlier momentum against first Guantánamo and then Machado's Tigers, Pinar finally seemed to reach full stride in the heat of serious playoff competition. A blowout 17-7 opening loss to Sancti Spíritus was the single serious quarterfinal bump in the road. In round two the resilient Vegueros quickly seized momentum with a resounding 13-3 opening road triumph in Cienfuegos and then never relinquished the upper hand against the seemingly stunned league-champion Elephants.
If this writer was guilty of flawed logic in picking Cienfuegos and Granma as likely success stories in the post-season wars, that fault was largely due to my too-easy assumptions that a just-concluded and somewhat unorthodox 90-game regular season might be a portent of equally abnormal playoff scenarios.
I was all too willing to bet against the role of stellar pitching, even in a year marked by such extraordinary slugging displays. Of course pitching was indeed a curse through much of the early post-season going, and especially during all but the final episodes of the two semifinals series. Veteran Granma beat writer Sigfredo Barros was himself quick to point out on the eve of Game Six matches just how shaky pitching often was in the semifinal round.
As Barros reported, 13 of 20 starters in ten second round games failed to survive the fourth inning, 40 relievers were summoned from the four bullpens in those ten matches, and the combined offenses slugged 38 homers. This was hardly a signal of the normal elevation of playoff pitching. But as tensions increased and the year's biggest two series heated up the pitchers belatedly reemerged while at the same time the hitters suddenly cooled.
Céspedes proved a big-game playoff disappointment (hitless over nine at-bats in the final two losses and a single homer in the series), despite his rather meaningless grand slam in a one-sided second game in Bayamo. Despaigne looked like a shoo-in the break Alexander Malleta's post-season home run record (8) but got stuck at the mid-point of the second series and never made it beyond number six. José Dariel Abreu seemed to be largely a non-factor for Cienfuegos while being effectively neutralized by Urquiola, who frequently chose to pitch around him.
But the hurlers retooled right on cue when the going got rough. Torres surprised even more, after an already surprising winter-long performance. The number two Pinar starter (behind Vladimir Baños) blanked the Elephants in Game 4 for his third playoff success, and then returned on two days rest to outduel Norberto González in the sensational extra-inning finale.
Vlad Garcia appeared tired all year and turned in his worst campaign in three winters with a ballooning ERA over 6.00. But then García found new life almost overnight with a "career" outing during a final quarterfinals showdown finale vs. Freddy Asiel; the artistic complete-game 1-0 blanking of Villa Clara was perhaps the biggest win in Ciego ball club history.
In the semis Vlad was the clear MVP performer, making Machado's risky maneuver of using him twice in relief on short notice in the end look like pure genius. And even the two biggest losers turned in credible and gutsy performances. Norberto González bounced back from being rocked in the opener by Pinar to register a brilliant 10-inning final-game outing. González was only victimized in the end by Arruebarruena's disastrous misplay.
Silvino Licea also finally pitched well in the clutch for Granma on two separate occasions. Licea might even have been the ultimate hero of Game Six had he not inexplicably complained of a ninth-inning sore back muscle, causing manager Angel Ortega to reluctantly lift him with the Alazanes one out from victory in the fateful ninth frame.
The biggest star of the post-season has not been Abreu, Céspedes, Despaigne or Saavedra – the sluggers who grabbed most mid-winter headlines – but rather a revitalized Vladimir García. Despite losing his opening start in game 3 of the quarterfinals, three wins in the second round have left in running head-to-head with Pinar's Torres for post-season MVP plaudits. While Garcia has been saving Roger Machado's Ciego outfit, a similar improbable rejuvenated arm has been working wonders for Alfonso Urquiola in Pinar.
Yosvani Torres was a rather mediocre hurler across the first several years of an undistinguished career, tossing 8 complete games in six seasons, winning only slightly better than half his decisions (27-24), and boasting a less-than-stellar 4.01 ERA. But with the loss of Maya and the retirement of Lazo, Torres has now made the most of his opportunities and fortuitously filled a huge pitching hole for the Vegueros. García may yet prove the post-season MVP, but Torres certainly has to be the most improved ballplayer of the year. If Cuba offered a "Comeback Player of the Year" award Yosvani Torres would be a lock for this winter's honor.
A LOOK AT THE SHOWDOWN
The Ciego-Pinar final showdown should provide plenty of drama, especially after the lengthy ten-day hiatus designed to allow tired arms to refresh themselves in both camps. Both clubs are now on an obvious roll and thus brimming with confidence. Ciego might seem to have the better overall talent but only by the slimmest of margins.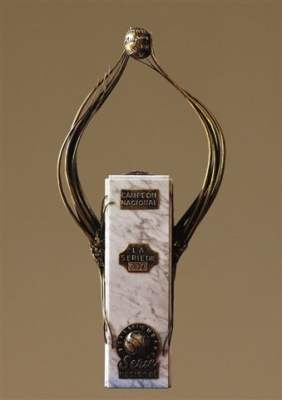 The clubs split their six regular-season confrontations; Torres appeared once (a 3-0 shutout win in Ciego) but Vlad García never took the hill against Pinar. The Tigers won their division title yet only claimed five more games than the Vegueros; Pinar trailed only Cienfuegos in an arguably far more balanced Occidental Division race.
The problem for both teams will likely be the one that faced Villa Clara (with its one superstar pitcher Freddy Asiel Alvarez) in the quarterfinals. Machado can't use Vlad García every day – although he seemed to be trying to do just that in the Granma series. And Urquiola will have to find someone to fill the gaps between three predicted outings for Yosvani Torres.
Of course this series, like all evenly matched affairs, will likely in the end rest on the heroics of some less-celebrated role players. While Duarte and Saavadra and Peraza will be counted on for substantial offense in Pinar – and while Fiss and Charles and Isaac Martínez will be expected to provide the frontline punch in the Tigers arsenal – it will likely be a surprise hero that will tip the scales and determine the final outcome.
There is veteran Mario Vega in Ciego, who never seems to merit mention when national teams are selected, but who has quietly built a hall of fame career over 19 durable campaigns. And there is newly minted Vegueros backstop Lorenzo Quintana who needs only three more long blasts to overhaul Malleta's post-season home run high-water mark.
Who will be the unexpected "hero in waiting" ready to emerge in just the right scenario, with a championship squarely on the line? Who might repeat last year's improbable scenario and replicate the unanticipated mound heroics of Villa Clara novice starter Robelio Carrillo, or the pivotal bullpen role of Industriales unseasoned reliever Yohandry Portal? This is the annual mystery that makes baseball's post-season precisely the unrivaled spectacle that it always is.
As an important sidelight, this concluding series will also likely provide a final rationale for choosing the year's top manager. The ultimate success of either Pinar or Ciego may go a long way to determining who will inherit the reins of Team Cuba for next summer's international season and particularly for the showcase September World Cup matches on tap in Panama.
Urquiola has worked miracles all winter long by inspiring maximum output from a collection of unheralded role players. By stark contrast Machado has been the recipient of considerable recent criticism for his handling of pitching assignments – especially for his apparent overuse of García and his loyalty to the embattled Maikel Folch as a mainline starter. And yet Machado's gambles have in the end all paid off and thus clinched his club's debut trip to the National Series finale.
Baseball victory rests far more heavily on the game-day performances of athletes themselves than on the dugout manipulations of their managers. At the same time, Cuban baseball boasts a recent tradition of handing national team responsibilities to the skippers of pennant winning National Series clubs. Given Cuba's back-to-back losses to the Americans in recent World Cup gold medal clashes, the triumphant manager in next week's championship round may not have long to celebrate before taking on an even weightier and more tension-filled career challenge.
I'll GO WITH PINAR DEL RIO
Having fallen so far off target with my earlier second round-prognostications, do I again hazard a tenuous prediction for the year's biggest seven-game set? I will indeed once more go out on the proverbial limb here. Yet after being blanked with my semifinal picks I must attach a label of "buyers beware" this time around.
Remember that I am an historian and not a soothsayer. My office desk is piled high with reference books and not crystal balls and I do much better with commentaries on the past than with visions of the future. What, after all, is prognostication – especially when it comes to the baseball diamond – other than wild guessing disguised by a transparent layer of often quite lame logic?
All that being said, I will have to cast my vote on the side of Pinar del Río – perhaps in another six-game series. On paper Ciego does have the slight edge of owning home field advantage, but that factor is seemingly negated (if not at least neutralized) by the fact that Pinar somehow plays better on the road than at home in Captain San Luis.
The biggest factor on Ciego's side of the ledger is the Tiger's league-leading defense – not a small advantage by any means. But for Ciego to stem the tide of the Green Tsunami Maikel Folch must somehow regain lost form and step to the forefront with at least one good outing. And unfortunately for Machado and company the evidence of recent weeks is that Folch is largely finished as a frontline starter.
It would be only too fitting, perhaps – in this history-making season laced with so many upsets – to witness a novel champion, one that has never before set foot in the National Series winner's circle. But I just don't see it happening, given Folch's continued ineffectiveness, Pinar's building momentum, and the uncanny abilities of the Vegueros as an unflappable road team.
So how would this be for a surprise ending dimly glimpsed in my now-slightly crack crystal ball? After two seasons in the shadows and after a mostly quiet post-season, Yosvani Peraza slugs the deciding home run in Game Six and thus lifts his Cinderella Vegueros ballclub back on top of the championship heap.
—
Peter C. Bjarkman is author of A History of Cuban Baseball, 1864-2006 (McFarland, 2007) and is widely recognized as a leading authority on Cuban baseball, both past and present. He has reported on Cuban League action and the Cuban national team for www.BaseballdeCuba.com during the past four years and is currently completing a book on the history of the post-revolution Cuban national team.