Jugolandia: Natural Fruit Juice Bar in Havana
By Leydis Luisa Hernandez Mitjans (El Toque)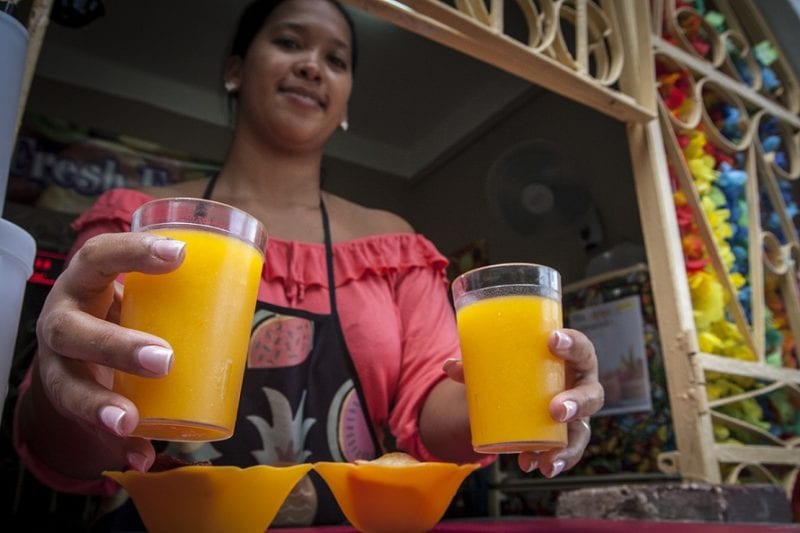 HAVANA TIMES – It isn't luxurious nor comfortable. It's not even a large space where lots of customers can come. Jugolandia is the entrance and hallway to a house located in the Playa municipality. It is the fruit of a desire to set up a profitable business, as well as to contribute to improving and strengthening customers' health and to have an influence on their lifestyle. It's a dream which seems to be on the road to reality, according to people who have gone to frequent this establishment.
"We were always interested in setting up a business. We had something small in mind, which we could get up off of the ground with few resources and which would be both beneficial for us and the people who would come to visit us. So, we decided to start selling fruit smoothies with ingredient combinations that have a positive impact on the body and are also tasty," tells us David Folgueiras, an internal medicine specialist.
Mixed fruit smoothies are one of Jugolandia's specialities. Fruit combinations aren't random, they come from the book Smoothies: Health and Wellbeing, published by the Mexican publishing house Epoca.
Out of the many options featured in the book, David and his wife (Gastroenterology specialist, Dayanis Rivero) select those which are made with easily available fruit in Cuba and Havana. "Some don't grow here, many only appear in certain seasons of the year and, other times, we can't afford to buy them for commercial purposes because they are so expensive. We can't even think about using apples, for example."
Nowadays, mangoes and guavas are the easiest fruits to get a hold of in Havana. Mamey can also be found, he says. Lemons are available (an essential ingredient in many smoothies), but they don't have them a lot of the time "because they are too expensive."
"We have friends who help us out with supplies. Plus, my wife is from Santiago de Cuba and we get fruit from there too; especially mangoes right now," David explains, standing in Jugolandia's entrance.
Nevertheless, he tells us that the bulk of their shopping comes from agro-markets run by the Youth Labor Army (EJT). "At the market on 17th and K Streets (in Vedado), we always find a variety of fruits at a reasonable price, compared to other markets of this kind, if we're buying in bulk at least. There are places where we haven't been able to buy."
In Nuevo Vedado, close to the hospital where David works, you can find the agro-market on 26th and 51st streets. Popularly known among neighbors living nearby as "La boutique" because of how expensive everything sold there is. A similar situation can be seen at different retail points in different municipalities: extremely high prices, not just for retail purchases, but also for wholesale purchases.
"It isn't easy, but I'll tell you something, in places where prices are regulated, such as the agro-markets run by the EJT, we've managed to get a lot and this, along with arrangements and personal contacts, has allowed us to keep the business up and running. To tell you the truth, there have been many times when customers ask us for things we don't have, but their response has been positive, even in these instances."
Health and wellbeing at Jugolandia
Jugolandia is located on 13th Street, between 74th and 76th streets, a little trafficked and extremely quiet area, compared to other places in Playa. Nevertheless, in front of the doctors' newly-turned business owners' home, there is a WIFI hotspot in a park that is almost always full. Plus, in the morning, a group of elderly people have an exercise class right there. They were initially potential customers who are not only regulars today, but they spread the word.
"Ever since we opened, neighbors began to pass by and they seem to really like it. We have realized that people who don't know us and just happen to stumble across us, have been drawn to the sign and want to try something immediately," explains Eligio Prado, an employee at Jugolandia who works Tuesdays, Thursdays and Saturdays. He says that the general public ask for the papaya, pineapple and wheat combination, which goes by the name "Lose Weight I", the most.
"Smoothie recipes are taken from the book but we had the idea to create names for them, as a way for people to know the benefits of the thing they are ingesting. We have all of the combinations here, in plain sight, so people who are interested can make their own smoothies at home too," Dayanis says.
Both of them agree when they say they aren't worried about potential competition: they are happy with a business that brings in revenue and helps other people. "Doctors' vocation," as they say.
Maybe this is why they stress the importance of good practices. "We try to ensure that the fruit we use is in good condition, that the ripening process has been natural and not forced; we make our juices with boiled water and without sugar. The idea is to make everything as healthy as possible."
Most of Doctor Dayami's patients are children. Many of their problems are linked to habits which end up being harmful if done to the extreme. "I have seen how children get a lot better really quickly when, regardless of the treatment, I suggest to parents that they cut out soft drinks and try natural alternatives instead."
Ofelia says that she hadn't seen anything like this here in Havana. That in fact, she just happened to be walking around there and the menu caught her attention. She asked for a smoothie for eyesight (carrot with lemon/lime), but they didn't have any lemons/limes, so she chose the Lose Weight II option. Before drinking it, she took a photo with her cellphone of the sign which displayed what fruits could be blended together and their impact on health.