Klinsmann Keen on Cuban Soccer Player
Omar Claro (Café Fuerte)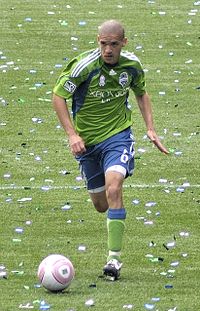 HAVANA TIMES — Renowned US Soccer trainer Jurgen Klinsmann is asking Havana to decide whether Cuban player Osvaldo Alonso is eligible to play as part of the US national soccer team.
At the 11th Gold Cup, held in 2007, Alonso wore Cuba's soccer selection jersey for the last time. On June 10 of that year in New Jersey, the island's team was tied two to two with Panama. Then 21 years old, the promising midfielder decided the time had come to try his luck at another level and he deserted from his delegation.
Six years later, this risky move continues to evoke mixed feelings.
Though Alonso has become an unavoidable reference in any discussion surrounding today's top talents among Major League Socccer defenders, the captain of the Seattle Sounders cannot suppress his disappointment over his exclusion from all player lists drawn up by his former selection.
Cuba's Inflexibility
Today, Alonso, and some twenty other Cuban soccer players who, over the past 10 years, have taken advantage of different tournaments abroad to abandon their country, are considered traitors in Cuba and told that they "can forget about returning to Cuba's national selection."
Ironically, all continue to dream with making the country of their birth proud on the field – an understandable and rather sincere feeling, caught between FIFA's strict statutes and the inflexible characteristic of the Cuban Soccer Association .
"I really don't see myself with a jersey that doesn't have four letters across the chest, but, if those back home continue to ignore me, as has been the case so far, I would of course accept the offer to play for the United States, a country that welcomed me with open arms," Alfonso commented.
Recently, Jurgen Klinsmann himself, currently the trainer of the United States squad, expressed an interest in having the promising young player join the stars-and-stripes team. The German coach, unsatisfied with the reports on Alonso, even travelled to Seattle to see the Cuban player perform on the Sounders' field in person.
"Ozzie has been at the top for the last two MLS seasons," the former German soccer star explained, adding that "he has earned a name for himself out in the field as a solid number  6, he is a respected player who's always there for his teammates when they need him, a role similar to the one Kyle Beckerman played in Real Salt Lake."
FIFA's Strict Regulations
According to Germany's former soccer champion, the 27-year-old Cuban player managed 108 passes (116 is the season record) in the 0-0 game which pitted the Sounders against the New England Revolution club on April 13. Though such a performance would open the doors to the national selection for any other player, Klinsmann has announced that Alonso's case requires some additional administrative measures.
Klinsmann, part of his country's 1990 championship team in Italy reflects on the situation:
"We are very much interested in Ozzie. Unfortunately, the Cuban end has not been responsive. We are waiting for Havana to announce a decision on Alonso's case. This is an administrative and government matter, in which we have no authority. I wanted to have him in the selection as early as this past January…and Ozzie knows this. He deserves a shot, but that's out of my hands right now. It doesn't help that the Cuban Soccer Association hasn't offered a reply yet. Historically, FIFA has been rather strict on these issues. Though we continue to work on this, we can't say we've see any positive results just yet," the soccer coach explained.
As in all other thorny issues involving Cuba, those involved continue to hope that there is light at the end of the tunnel.
Uncertain Wait
According to FIFA statutes, "a player who, on the decision of a State authority, is deprived, definitively and against his will, of the nationality of the country for which he has played an international match (Osvaldo Alonso' case), the said player could, as per the provisions of Article 5, Sub-Article 2, request authorization to play as part of a different association whose nationality he possesses or adopts."
Having obtained US citizenship last June, Alonso could request FIFA's authorization to play in the country's soccer selection. According to his own statements, this process has already been undertaken through his legal representative.
"My agent has already sent FIFA a letter, going over all the details. We're waiting for a reply," Alonso said.
Curiously, FIFA President Joseph Blatter visited Cuba in mid-April. Asked about the desertion of Cuban soccer players during a press conference held at Havana's Hotel Nacional, the Swiss chairman diplomatically passed the question over to his Cuban counterpart, Luis Hernandez Heres.
The question still hangs. Will Klinsmann wait for an AFC decision before asking Alonso to join the US selection and play at the CONCACAF stadium in Brazil in 2014? Is it sensible to hope for a positive reply from Cuba, now that "traitors "can legally return to their country of origin, or is that too much to ask of Raul Castro's recent reforms?