Live Baseball Broadcasting Initiative in Las Tunas, Cuba Squashed
By Glenda Boza Ibarra (El Toque)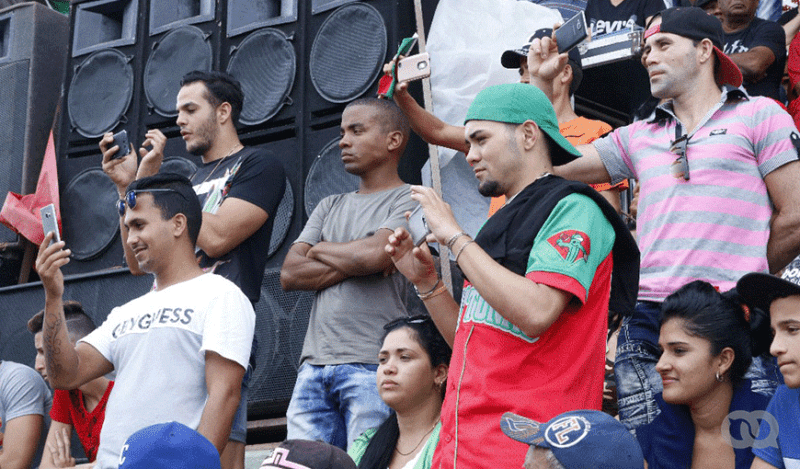 HAVANA TIMES – The first baseball game that Cuban TV (TVC) broadcast during this year's Cuban Baseball League, was the opening game. Las Tunas playing against Villa Clara. This initial game and another two made up the series between the two teams were the only baseball games that TVC broadcast this tournament. Just three games.
However, Las Tunas residents were able to follow a live broadcast of many games. During the series between Las Tunas and Pinar del Rio, at the Las Tunas stadium, Rolando Lluch (the team's statistician) took advantage of the stadium's WIFI service, connected to the Las Tunas fan group on Facebook, and set his phone to record the game as a livestream. Fans were able to watch 21 games thanks to his initiative. Every livestream had an average of 5,000 viewers.
On Saturday November 2nd, Rolando announced that he had been banned from livestreaming games: "I don't have authorization to broadcast, it isn't my job, they say."
OPENING DOORS
The idea of broadcasting games using Facebook Live wasn't initially Rolando Lluch's own. He himself admits that it was Yirsandy Rodriguez (the statistician of the Industriales team), who would sometimes broadcast their games live. This gave the Las Tunas resident an idea.
He began to broadcast gradually, trying it out, until he was finally able to broadcast an entire game. The initiative was a huge success among Las Tunas fans (which have multiplied after the last two successful seasons).
"We could watch the game on Facebook," Reyner Pena Baez, a Las Tunas native living abroad, told us. "We even decided to create a crowdfunding campaign to buy better equipment and improve the quality of the broadcast," he said.
People were really interested in the idea. They soon had the funds they needed to buy cameras. Everything was ready and planned. They would connect the camera to Lluch's laptop and do a livestream of the game on a YouTube channel they named "LenaTV". They would reach a greater audience than they were on Facebook.
While Lluch shared statistics about every game, Las Tunas fans living in other countries helped to design logos and posters, to promote the channel, pitching ideas for the live broadcasts. A spontaneous and collaborative movement was born for the Las Tunas team. Without meaning to, Lluch became a kind of community manager of this fanbase. Things materialized because of their love for baseball.
SHARING GOOD IDEAS
The initiative in Las Tunas was so successful that several other provinces wanted to follow in suit. Colleagues in Cienfuegos told journalist Darilys Reyes Sanchez (who recently passed away in a tragic car accident) that they were getting things ready at the 5 de Septiembre stadium so they could broadcast their team's games live.
The journalist had spoken to Lluch so he could share details about his broadcasts and to help guide her on how they could replicate this initiative elsewhere. It was one of the projects that the Cienfuegos woman (a hardcore baseball fan) left unfinished.
Others, such as sports journalists of Camaguey's newspapers, managed to get government support to broadcast games of the second stage of the national series online.
They themselves recognized that it was Rolando who shared every one of his "secrets" to broadcast in high quality and to get a large number of viewers. What the Las Tunas resident had done "from the heart", could now be implemented in other provinces. It was good news, there's no doubt about that.
However, it was when Facebook live streams of Camaguey and Las Tunas at the Julio Antonio Mella stadium happened at the same time, that obstacles appeared for the Las Tunas fans.
KILLING THE INITIATIVE
Reynier Pena announced in the Las Tunas Lenadores group that Lluch would no longer be able to broadcast games, as he has been banned because "he is not a journalist, nor does he have legal authorization." We still don't know who gave the order to cut these broadcasts. Lluch has preferred to remain discreet and isn't giving too many details about what happened.
After the bad news came, there were a hundred comments of outrage, in a matter of seconds, on Pena's post. How could anyone want to stop an initiative like Lluch's? Who was he hurting by livestreaming a baseball game on Facebook?
Hours later, another post in the same group suggested that Lluch had been the problem, that he had been neglecting his job because he was paying more attention to the broadcast, that "this" didn't enter in his job spec, that he had "regulations" to follow.
However, Lluch has refuted these accusations: "Let them go ask manager Pablo Civil himself," he wrote. "I don't have authorization to broadcast, nor can I do it within my function as the team's statistician."
Who told Rolando he couldn't carry on livestreaming? If it hasn't interfered with his work up until now, if it hasn't been a problem, why are they telling him that he needs a permit now to be able to stream a game on Facebook Live? These are some of questions that fans in the Facebook group are asking. Do they want to "give credit" to somebody with "official" support for this initiative? some people suspected. Don't the fans matter for anything?
Nobody has any official answers to these questions yet. Lluch, Pena and the rest of the team that made these livestreams possible, regret that they aren't able to continue to broadcast.
"We had all the software set up so we could add in interviews between every inning, statistics, showing the scoreboard the entire time," they said. "We had lots of ideas."
Meanwhile, the baseball fan community has expressed its annoyance and disappointment on social media: almost 500 subscribers to LenaTV channel are waiting for the first livestreams on YouTube; the 40,000 members of Las Tunas Lenadores Facebook group will have to make do with just photos and comments about every game. They'll have to wait for the national Cuban TV to start broadcasting games again if they want to to see Las Tunas play.
—–
[HT Editor's note: Such events are nothing new in Cuba. At most workplaces, individuals taking initiative to improve whatever they do is most often considered a negative instead the opposite. Those in charge prefer things to stay exactly how they are until they are given a new orientation "from above".]