Luis Enrique Dedicates Latin Grammy to the Struggle in Nicaragua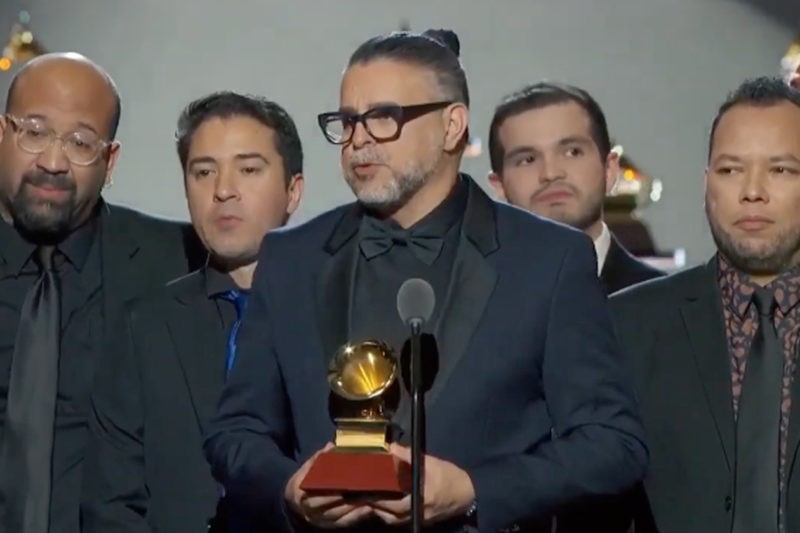 The Nicaraguan singer used his acceptance speech for "Best Folk Album" to express that the people of Nicaragua "continue struggling for their freedom."
By Yader Luna (Confidencial)
HAVANA TIMES – Nicaraguan salsa musician, Luis Enrique with his Venezuelan group C4 Trio won the Latin Grammy award for "Best Folk Album", this past week with his recording project titled "Tiempo al Tiempo". He used the award ceremony to dedicate it to the people of Nicaragua who "continue struggling for their freedom."
When the "Prince of Salsa" went up on stage visibly moved, to receive the trophy, he said he wanted to dedicate the award to the Nicaraguan people who continue struggling to "be truly free" and also dedicated it to the "Madres de Abril" (Mothers of April), whose children were killed during the protests.
"I want to dedicate this award with much love to my country, which continues struggling for its freedom, which continues struggling for its sovereignty, to all the mothers of the students who were cruelly killed since April of last year," he stated.
¡Felicidades! Luis Enrique + C4 Trio Mejor Álbum Folclórico ???? #LatinGRAMMY pic.twitter.com/pzYDkQ85y0

— Latin GRAMMYs (@LatinGRAMMYs) November 14, 2019
Luis Enrique explained to the Latin Grammy audience that "Nicaragua continues to be in the middle of a war, even though there are those who want to make it seem another way."
"Nicaragua continues to struggle to be truly free", he insisted during his speech.
With the people of Venezuela
The Nicaragua artist used the moment, accompanied by the Venezuelan group C4 Trio, to also dedicate a few words to the people of Venezuela and the millions who have had to migrate to other countries, fleeing the persecution from Nicolas Maduro's regime.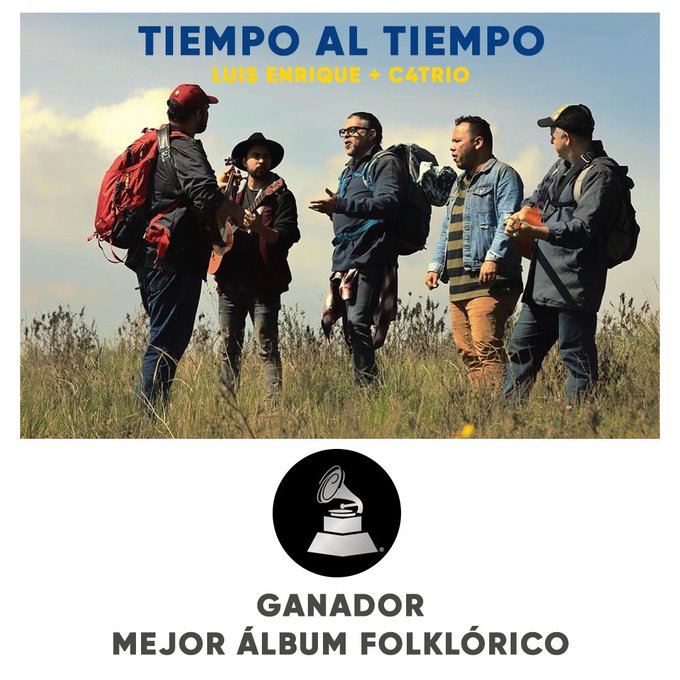 Luis Enrique added: "I also want to dedicate this award to all the Venezuelan families who have had to leave their country, to all wayfarers to whom we also dedicated our video "Añoranza" (Yearnings), to tell you we are with you, you are not alone, in the struggle for the freedom of Venezuela and for peace for all our countries".
The voice of immigrants
Luis Enrique's music was also recognized with the Latin Grammy for best musical arrangement for his song, "Sirena."
The artist has dedicated his single "Añoranza", from the record "Tiempo al Tiempo" to all those who had to migrate from their country seeking a better life or fleeing, especially Nicaraguan and Venezuela people.
"Beyond being a protest song, it's a song made with love for our countries, for people who go through this", declared the Nicaraguan singer recently in Billboard magazine.
"With Nicaragua in my heart"
While promoting this song, Luis Enrique has insisted in being grateful for life and that he continues "carrying Nicaragua in his heart."
"Bolivia, Venezuela, Nicaragua, continue suffering, many forced to exile, seeking a "better life", holding only onto a yearning to return to be with their loved ones", he wrote in his Twitter account.
Jorge Glem from C4 Trío said about the song "Añoranzas" to Billboard, that they are three Venezuelan and a Nicaraguan "who are going through the same thing and we share the same feelings."
"Yes, we long for that freedom. We are going to achieve it if having hope and letting our people know that we are connected with them that we are also suffering. That's why I feel it connects with many people. We are telling a story of which in some way we are a part of and it's real", added the Venezuelan.
You can listen to the entire record "Tiempo al tiempo":
Mon Laferte's protest at the Latin Grammy
The Chilean singer Mon Laferte appeared at the red carpet of the Latin Grammy in Las Vegas (United States) with a message painted on her exposed breasts: "In Chile they torture, rape and kill."
Before appearing on the red carpet, Laferte won the Best Alternative Album award for "Norma" in the Latin Grammy and she used her speech on stage to ask for justice for Chile and make visible the struggle of the youth in the country.
"This is for Chile", she stated.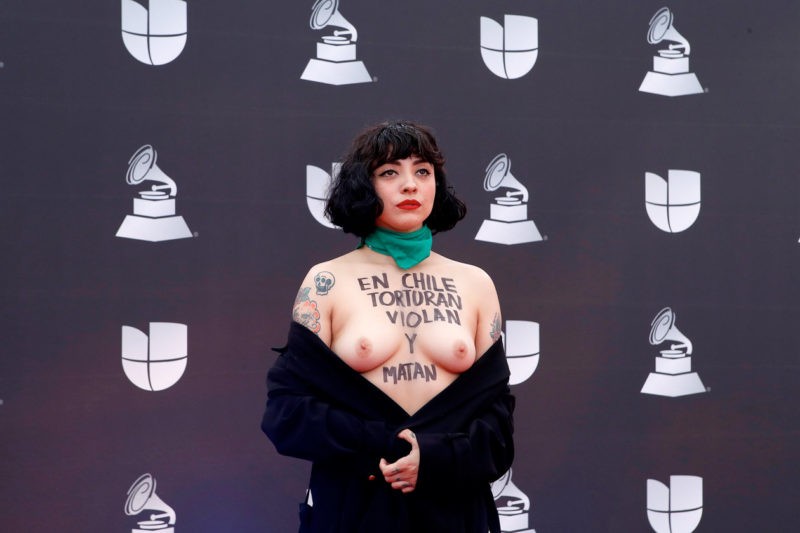 She recited a poem by Chilean Singer La Chinganera, about what the Chilean people are experiencing.
"Chile hurts me inside, you bleed through my every vein, I feel the weight of every chain, which imprisons you to the center. Chile outside, Chile inside. Chile to the sound of injustice, the boot of the militiaman, the bullet that does not listen—they won't stop our struggle until justice is done.", she recited.