Lula, a Legend of the Left, Surrounded by Corruption Allegations
By Isaac Risco  (dpa)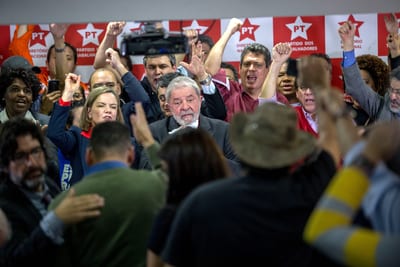 HAVANA TIMES — Wearing a red shirt, Lula cried on camera a few months ago, when he fervently rejected accusations against him in the "Lava Jato" (Car Wash) graft scandals. "Let them prove my corruption," the former Brazilian president demanded. Now, on Wednesday, he was sentenced to nine and a half years in prison for taking part in the huge corruption scandal that revolves around the state-owned oil company Petrobras.
Even though it had been anticipated for a few months now due to investigations into the case that has been baptized "Lava Jato", Luiz Inacio Lula da Silva's fall from grace has shaken Brazil and Latin America.
Lula, now 71 years old, continues to be very popular especially among the poorest classes in the region, who see him as more than just a former Head of State.
From humble beginnings and an old labor union leader, the charismatic Lula became Brazil's first working-class president in January 2003.
Then real successful administration was added to his symbolism: during Lula's two terms in office, until December 2010, the South American giant established itself among the global powers after bringing millions of people out of poverty thanks to an unprecedented economic "boom".
With Lula, Brazil consolidated itself among the group of the most industrialized countries in the world, G20, and became a member of BRICS, a forum of the world's five major emerging national economies. "He's the most popular politician on Earth," said US president Barack Obama back in 2009, with regard to the Brazilian leader, whose image seemed able to transcend the barriers between Left and Right ideologies.
Born in 1945 into a poor family from the North-East, in one of the most symbolic regions in Brazilian public imagination, the future president arrived in Sao Paulo, where his parents emigrated in search of a better life, when he was still a child. In the voracious industrial metropolis, Lula began working when he was still a teenager as a lathe operator in a factory.
The young worker became one of the leaders of the thriving union movement there, which stood up to the military dictatorship in the city. And in 1980, he was one of the founders of the Partido de los Trabajadores (Workers' Party) (PT), which would then become the largest Leftist party in Latin America in the following decades.
After having been a congressman for Sao Paulo, Lula was a presidential candidate three times in Brazil before being elected on his fourth attempt. The PT leader, experienced in aggressive union fights, surprised everyone when he extended his hand to business to encourage economic growth after becoming president. Meanwhile, he created social aid programs such as the famous "Fome Zero" (Zero Hunger) program to help those classes most in need.
"Lulismo" soon won over supporters in Latin America as a successful alternative to populist Leftist movements such as that headed by Hugo Chavez in Venezuela.
Unlike his successor Dilma Rousseff – who was removed from her presidential seat in 2016 in a controversial "impeachment" trial -, Lula was a skilled forger of political commitments which allowed him to push forward his progressive social agenda. His supporters believe he is a master in "realpolitik".
However, his detractors believe that deals with economic and political powers led him to also plot. "Lula became corrupt and he corrupted Brazilian society," Helio Bicudo, one of his oldest companions in the struggle, said accusing him in 2015. The PT "became a party of interests for some people who were looking for power," Bicudo claims, co-founder of the party in 1980.
The Brazilian Attorney General accuses Lula of having been the "chief ringleader" of the corrupt network in Petrobras, a scandal which embezzled millions in recent years via bribes to companies who were interested in winning juicy tenders from the oil company.
According to investigators, the former president and his wife accepted, among other gifts, an apartment in Guaruja, on Sao Paulo's coast, in exchange for facilitating contacts with Petrobras to other companies. The sentence issued Wednesday refers to this case. Other accusations point to an intermediary role he played in the business of Petrobras in Africa.
Lula is denying the charges and is accusing his rivals of orchestrating a "political vendetta" to stop him from running as a presidential candidate again in 2018.
Leftist movements view the controversial impeachment of Rousseff and conservative Michel Temer taking office as a counter-attack by the old political elite who lost their power for 13 years, between 2003 and 2016, while there were PT Governments. Many international onlookers also believe that the legal persecution of Lula has a political undercurrent.
"They don't forgive the fact that a worker became president," the former president shouted in a public appearance in Sao Paulo in September, when he came out to reject the Attorney General's charges, wearing a red shirt and surrounded by his followers.
However, even though the outcome of this trial is still uncertain and the drama surrounding the "father of the poor" in Brazil is far from ending, Lula's image is currently in tatters.