Miguel Diaz-Canel is the New President of Cuba
By Guillermo Nova (dpa)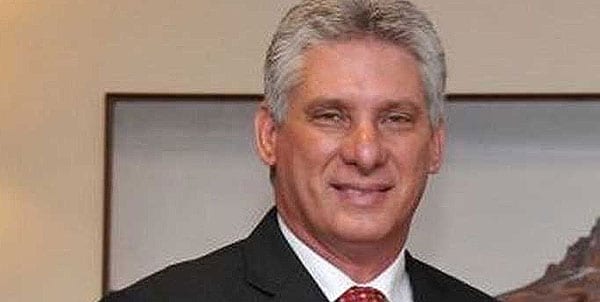 HAVANA TIMES – The National Candidacy Commission today proposed to the Cuban Parliament the designation of Miguel Diaz-Canel as the only candidate to be the next president of Cuba, replacing Raul Castro.
The 605 National Assembly deputies, elected without opposition on March 11, voted today for the new president of the country and five vice presidents. The results of the vote, expected to be unanimous, will be announced on Thursday.

Salvador Valdes Mesa, 72, a former secretary of the Central de Trabajadores de Cuba, the only permitted labor organization, and a former Minister of Labor, was proposed as the new first vice president. Until now, he was one of the vice presidents of the Government.
Although the announcement of the only candidacy was made Wednesday to the 605 deputies, the result of their vote will be made public this Thursday, according to the official legislative program.
The other proposed vice-presidents are the historic Commander of the Revolution, Ramiro Valdés; the Minister of Public Health, Roberto Morales; the Comptroller General, Gladys Bejerano; the president of the National Institute of Hydraulic Resources, Inés María Chapman; and Beatriz Jhonson.
The parliamentary session today began its two-day meeting with the election of the leadership of the National Assembly, which maintained continuity with the reelection of Esteban Lazo as president and Ana María Mari Machado and Miriam Brito as vice president and secretary, respectively .
Raul Castro appeared dressed in a jacket and tie, without his traditional military dress as head of the Army, accompanied by members of his Government and applauded by the rest of the deputies.
The 605 deputies today vote on the proposal of the National Candidates Commission but the results will be released on Thursday, although no changes are expected.
Díaz-Canel is a 57-year-old engineer who was previously Minister of Higher Education and headed the Communist Party of Cuba in the central province of Villa Clara and eastern Holguin.
The arrival to the presidency of Miguel Díaz-Canel represents the generational change that Raul Castro has been preparing during the last years giving responsibilities to leaders born after the 1959 revolutionary triumph.
The average age of the National Assembly is 49 years and 87 percent of the deputies were born after 1959, according to official data from Parliament.
Politicians such as the economic vice president Marino Murillo, 57, the communist leader Mercedes López Acea, 53, the Minister of Public Health, Roberto Morales, 50, or Foreign Minister Bruno Rodríguez, 60, already occupy prominent positions.
Raul Castro, 86, will leave the Presidency but will remain at the head of the powerful Communist Party of Cuba until 2021, when the it holds its next congress.