Music Made from Exile: The Life of Three Nicaraguan Artists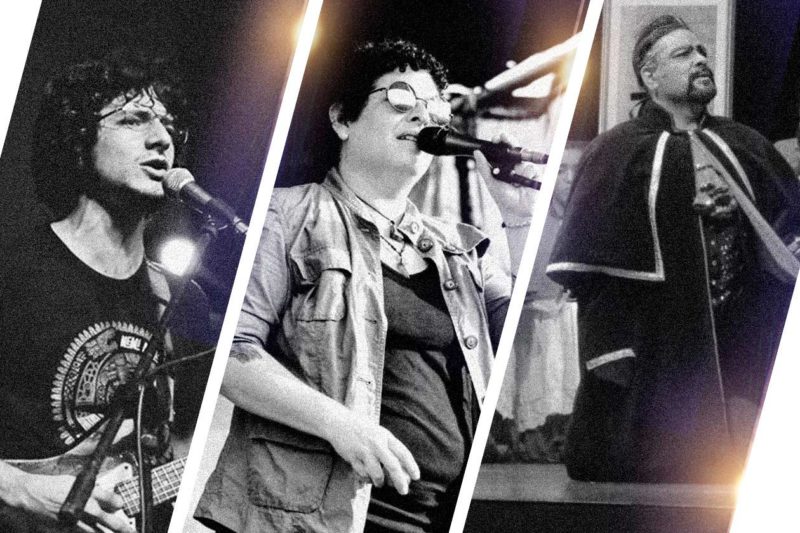 Three Nicaraguan artists tell us in first person what it is like to make music in exile. They left the country to protect their lives and have not stopped creating. Here are their stories.
By Franklin Villavicencio (Confidencial)
HAVANA TIMES – Three things bond Gaby Baca, Bruno Cortina and Mario Rocha. The first is that they are musicians, the second that they raised their voices during the April 2018 protests and the third is that they have not stopped making music, even in exile.
The three had to leave Nicaragua, because of threats, to protect their families and in Bruno's case, a mixture of both added to the search for new opportunities.
Among the seventy thousand+ Nicaraguans condemned to exile since that April, according to figures from the Inter-American Commission on Human Rights (IACHR), there are dozens of musicians, painters, writers and artists. Despite the exile, they continue to create compositions that make up the soundtrack of the April rebellion.
We talked with three Nicaraguan artists who told us what it's like to live from music from exile.
Gaby Baca, Nicaraguan singer-songwriter
If as an artist you earn little, as a migrant you earn less. To continue to produce is a true feat to which I always give credit to the solidarity of other people, who are in the same circumstances.
There are some days worse than others, there are days when you miss being there and your tires go flat. We are moving forward according to what is achieved. What exile does bring is an explosion of creativity, which is not translated only in new songs, but also in the search for ways to continue contributing. Creativity is something basic to make the music and for subsistence, to continue producing and contributing without any other help than what can be given by my two hands and people's solidarity.
Exile has translated into much nostalgia, but also in positive feelings such as solidarity and love. Those feelings that are so dual are those that result in artistic growth and great creativity.
My rap songs have been strong and forceful in the face of very strong events. I could not stop being critical to what was around me. All this situation with which they drag us towards hate, thus I seek refuge in love and sound.
A very strong tension began in my surroundings, I felt that I was increasingly more insecure than ever, and I had to leave because of that. Mafe (a rapper and colleague) and I planned a tour that we had to move forward. We left by land to Costa Rica and like that began our tour: first throughout Central America and then Europe.
And so the trip was transformed, in each place we were arriving we met people who would share their struggles with us, their desires and what each one in his territory could change and contribute. That became a great teaching. In every place I have visited, I always find a Nicaraguan, and although they are a few you always hear a big tumult.
Being able to bring not only music, but also our way of talking, our jokes and our happiness; trying to focus on that although there are very hard moments in the trip. Your body wants to give up, but you know that you have to lift your spirits.
I would like to continue working from my country. The place where I like to live is in Managua. I want to feel that I can contribute to the fight without fear and without horror. I do not want to see a dynamic of arms. This is the third war that I see in my life and that is definitely what is not needed.
Bruno Cortina, Nicaraguan musician
My departure was at the end of May 2019. The reasons could be summed up in the search for new opportunities, for security and for my family, since I was very exposed in the protests and the cultural events that were taking place outside the UCA, since the Indio Maiz reserve fire.
I continue to make music despite the obstacles that exile represents. The conditions that facilitate the creative process are reduced. In my case I have self-produced, using everything I have at my disposal, and the change has been resounding.
Once an acoustic record that we are working on is finished, it will have enough experiences and emotions for everything we have lived in each of the countries in which we have been. Thanks to instant communication, it is easier to communicate with other colleagues and friends, so as to create songs with social messages and of the struggle for our rights.
I believe music is essential in every protest. None of us knew how to control that inner urge to bring music to those cultural sit-ins. Music works as a shield against fear, because it catalyzes emotions.
It is impossible to separate music from politics and culture. That is why there are many artists that have been censored, because dictators know the power of music to move people.
In exile everything changes, from the life plans you had to your goals. It's about starting from scratch. It has been very hard to accept this setback that the country has had in every aspect, but mainly cultural and artistically.
To all artists in exile, I would like to tell you that what is happening in our country will be one of the most difficult moments of our life, but I am certain that after this dictatorship ends, we will be reborn with a force that we cannot imagine.
Mario Rocha, lyrical singer
As a musician one goes into exile without knowing what awaits you. Since I joined the protests I was threatened with death but I resisted in the country for three months. Then came a time where I could no longer continue, because first I had to protect my life and continue working. Nicaragua gave me no assurance of any of that.
I could not withstand the fact of seeing that the kids were being slaughtered, I could not keep quiet. It is no secret to anyone that I collaborated with "Incanto" (owned by Laureano Ortega). In my social networks I made clear my repudiation of the Police, towards the barbarity that was being committed. I left "Incanto" and told them that I could not be indifferent to what was happening and that it was unethical that after pronouncing myself I continue supporting the project.
Ten days later I had death threats from false profiles. Also, defamation, harassment, even to the point of telling me that they will leave me without (vocal) cords.
One of the most difficult days for me was May 30, 2018, when I was going to sing a song that I had composed for the mothers. Suddenly, shots began to be heard by the UCA. Since I was on top of a platform, I was an easy target. One as a musician, does it because its ok, there was something that moved us to do things despite the danger.
Here in Costa Rica I am in several projects. I am a chapel teacher in a parish in "San Jose" and I have an independent training project. I want to form a "blue and white" choir with Nicaraguan exiles. This arose from the need to continue making protest music.
Exile is the hardest thing there is. I had in Nicaragua a life as an artist, a family, a house, everything a person needs. I had a professional career as a soloist and opera singer. Being obligated to leave your homeland is the most difficult thing there is.