Nicaragua: Citizen Solidarity Fills Gaps Left by Gov. Negligence
in combating COVID-19
Supportive actions include distributing hygiene and food kits, offering virtual medical consultations and free medicine to diminish the impact of the pandemic.
By Juan Carlos Bow (Confidencial)
HAVANA TIMES – Nicaraguan citizens have responded with solidarity to the Ortega regime's negligent management of the COVID-19 pandemic. Handing out prevention kits and food packages; offering medical consultations with free medications; and disinfecting vehicles at no cost, are some of the measures through which Nicaraguans are supporting one another in times of pandemic.
Everyday citizens and organizations that were born after the civic rebellion of April 2018 have been working since April 2020 to contain the chain of COVID-19 contagions and mitigate the economic impact of the pandemic in many families.
Preventing COVID-19 was the original focus of all the citizen initiatives. To do this, the principal measure they have implemented is handing out packets of hygiene supplies: soap, hand sanitizer, face masks, face shields, bleach and gloves.
Katherine Benavidez, a member of the National Blue and White Unity movement in Ciudad Sandino, stated that her work began by "trying to make people aware that they should be staying home." However, they soon noted that this "wasn't at all functional, because people had to get out and go to work. So, we saw that we had to develop a campaign of prevention."
Citizens act despite the regime's passivity
The pandemic officially began in Nicaragua last March 18, with the announcement of the first confirmed case of COVID-19. From that day through to the present, the Ministry of Health has reported 3,439 positive cases and 108 deaths from the novel Coronavirus. However, the independent monitoring group "Citizen's Observatory" has registered 8,508 suspected cases and 2,397 deaths linked to the new virus, including 137 cases classed as pneumonia.
Since the beginning of the public health crisis, the regime of Daniel Ortega and Rosario Murillo have refused to implement any restrictive measures under the argument that if they do so, "the country dies", referring to the potential impact on the country's largely informal economy. Their management of the pandemic has been criticized by experts and national and international medical organizations.
"The pandemic forced us to see the need that existed in Nicaragua, because we know that there are no sanitary measures on the part of the government. So, like the saying goes: 'Only the people will save the people'. We youth have taken this initiative," comments Adonis Aleman, who coordinates the Association of Nicaraguan Youth and Students.
Roger Reyes of the Carazo Departmental Coalition explained that the initiative of giving out food was born "from seeing so much need in the Carazo department," and observing the "negligent" role of the municipal authorities.
Initiatives in the departments
Because of Managua's population density, the majority of the solidarity initiatives have been concentrated there. However, in the departments of Carazo, and the town of Camoapa in Boaco department, diligent citizen movements have also arisen.
In Carazo there's the Departmental Coalition and the group "Love for Carazo"; in Camoapa, a Citizens' Committee has been organized. In both cases, the initiatives have taken on the task of giving out prevention and food packages, as well as offering medical consultations and free medicine.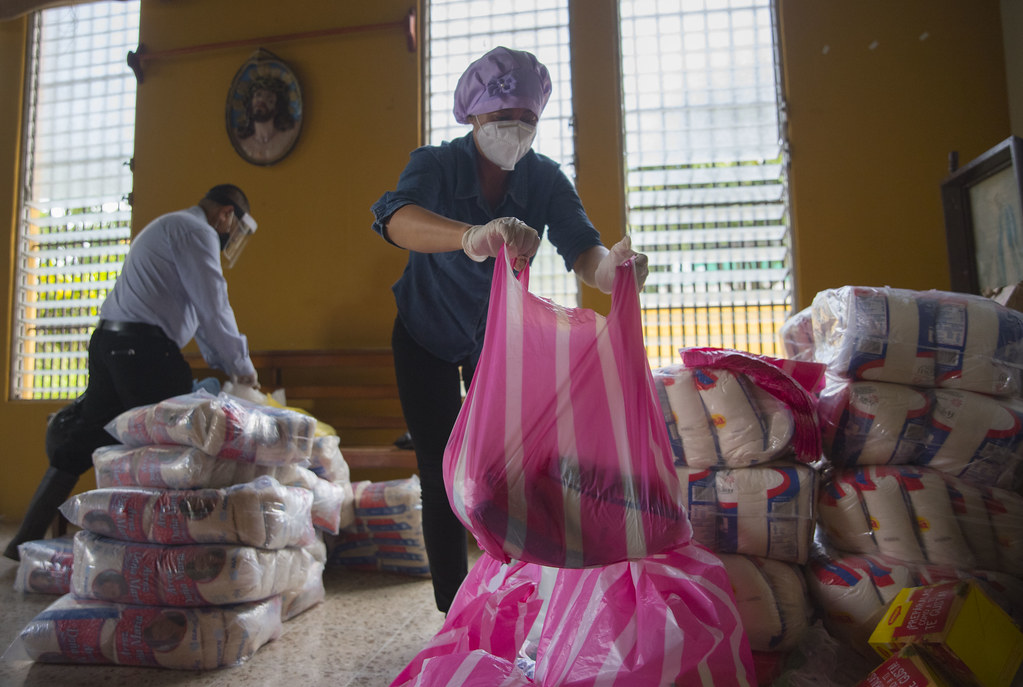 "There's a commission of seven doctors that offer telephone consultations to patients, prescribe medication for them, and order exams. Later, if there are economic difficulties, they send them to us so that we can help. We've supported them with medicine, x-rays and laboratory exams," stated Ramon Mendoza, coordinator of the Camoapa Citizens' Committee. This committee is made up of a representative from the Mayor's office, the Red Cross, the Catholic and Protestant Churches and the general population.
"The [initial] idea was to offer the protection kit and a food package to those people who were sent to quarantine. But once formed, we've seen thousands of needs come up," he commented.
Limiting attention to the local area
Carazo and Boaco are in tenth and twelfth place respectively in the index of suspected cases in each department, according to the unofficial count compiled by "Citizens' Observatory".
According to this list, up until July 15 Carazo registered 212 suspected cases and some 51 deaths linked to the novel Coronavirus. In Boaco, 178 suspected cases have been reported, and some 46 deaths associated with COVID-19.
Both departmental initiatives have received requests for support from citizens of neighboring departments, but in these cases the aid offered them is limited to the medical consultation, since they lack the resources to broaden their scope of action.
"The idea is to support Camoapa. We don't want to create too many expectations, since economically it would be false to say that we can. Camoapa is extensive. If we begin helping other municipalities, we could receive an avalanche [of requests] and we wouldn't have the capacity," highlighted Mendoza.
Work hindered by the national police
The citizen initiatives face the harassment and fear that the National Police represent. Last June sixth, the youth Esly Cerda, together with a companion, was fumigating and delivering prevention kits to poor families from the municipality of La Conquista in Carazo when he was detained by police agents.
"I was on my motorcycle together with a friend when suddenly we were detained by a police officer. Apparently, our crime was transporting a pair of pumps for fumigating the homes," Cerda told Confidencial. The police impounded his motorcycle and held it for three days.
The youth's experience served as an example for the participants in the other initiatives, who have tightened their security measures. "Some of us have been dealing with persecution since April 2018, so that we don't make any public announcement when we're going to make deliveries," Benevidez noted.
"Once we went to one of the principal avenues of Jinotepe, Carazo [to distribute prevention kits]; the next day, the Police were on that same street, believing that we were going to have another distribution. That's why we don't make a habit of returning to a place after we've held a distribution. It's for security reasons," Reyes related.
Campaign to undermine them
In addition to fear of the National Police, the citizen initiatives have faced campaigns to discredit them on the part of Sandinista sympathizers.
From their social media accounts, Ortega fanatics have accused the citizens of giving away masks infected with Coronavirus, or they discourage them by indicating that only "coup promoters use them".
"Those [campaigns] quickly deteriorated, because people's reality is different. People have a lot of need, so they'll take the kit. They're not interested in who's giving it out. If it were them, [Sandinista functionaries or sympathizers], they'd be sporting their t-shirts and identifiers. We don't bring anything that distinguishes us, there's no badge that says we're blue and white," explained Dolly Mora, a member of the Nicaraguan University Alliance.
Distributed equally to all
Despite the regime's harassment, the solidarity promoters continue with this effort which has benefited thousands of Nicaraguans of all creeds and political tendencies. Each of the initiatives consulted by Confidencial has distributed at least a thousand prevention kits.
"As a citizens' committee, we strive to support all the population, no matter who they are. If a policeman comes here and needs our support, we'd give it to them the same way," assured Mendoza.
Reyes stressed that: "In the virtual clinic, we've attended people who work for the government or who are Sandinista sympathizers, but not Ortega supporters. They're clear that the regime isn't guaranteeing their safety in terms of health or methods to prevent the pandemic."
These initiatives are supported mainly with the aid of the local residents; some receive support from Nicaraguans outside the country. Any in-kind donation or economic contributions should be channeled through the initiatives' Facebook pages.
"We have people who help us, but not necessarily with money. They give us gallons of liquid soap and we divide it into small bottles to distribute. Some entrepreneurs make gallons of alcohol and bleach. There are also workshops that make masks and have donated some to us. It's a network of solidarity," Mora noted.