Nicaragua: He Fought against Somoza, and now against Ortega
David Solorzano was 17 when he picked up a rifle and joined the Sandinista guerrillas. Thirty-nine years later, the Ortega regime is after him for having rebelled.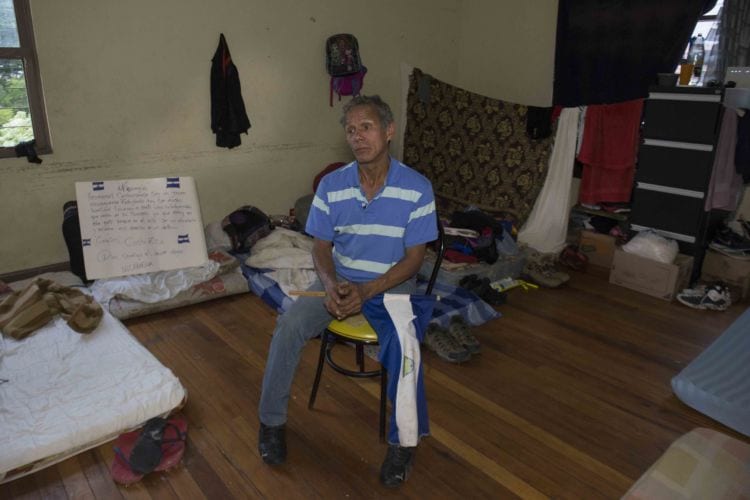 By Roy Moncada (La Prensa)
HAVANA TIMES – July 17, 1979: all eyes are on Managua. That day, dictator Anastasio Somoza Debayle boarded a plane that would take him to Miami. It was the end of the Somoza dictatorship.
Meanwhile, somewhere between the small cities of Ocotal and Esteli, David Solorzano, a scrawny adolescent of seventeen, already had ten months of combat under his belt, fighting for the country's freedom on the Carlos Fonseca Amador northern front.
Exactly 39 years later, on July 17, 2018, that young man, now 56, was leaving his home in Masaya and fleeing via the back roads towards Costa Rica. Those from the Sandinista party were after him, the same people with whom he had fought nearly forty years before.
What had happened? Solorzano had decided to add his voice to the protests against Daniel Ortega after seeing on April 18th how the regime sent its forces to beat up a group of elderly people in the city of Leon. And how they had also brutalized the youth in Managua, all for daring to protest against the reforms to the Nicaraguan Social Security Institute.
Before that, he says, "I was blind, like a coach horse". And now, from exile in Costa Rica, he has made the slogan "Ortega y Somoza son la misma cosa" ["Ortega and Somoza are the same thing"] his own.
Solorzano's participation in the protests consisted mainly of staying at one of the roadblocks in Masaya, his native city. The roadblock was very close to the police station in that city. He spent three months behind this barricade, day and night and didn't leave until July 17, when he had to retreat from the advance of the paramilitary in the so-called "Operation Clean-up". After several hours under attack that day, he realized that he had to flee or he would end up being killed by the regime. The hardest thing, he admits, was seeing that those attacking him were his own former companions in struggle, from the decade of the seventies and eighties.
Solorzano fled, skirting the edges of the Masaya lagoon. He later walked without stopping for a number of hours, until he emerged between the two towns of Masatepe and Catarina. He passed three other towns – Niquinohomo, Diriomo and finally Nandaime, where he slept under an avocado tree. At dawn, he resumed his trip to Costa Rica.
By July, when he was leaving the county, the toll of those killed by the government repression had already passed 250, according to the human rights organizations.
His life in Costa Rica
In a refugee shelter in San Jose, Solorzano adds wood to a rustic fireplace and sets some beans on it to cook. Hours later, these will be devoured by some fifty Nicaraguans who sleep in that shelter.
Being able to eat beans may seem a small thing, but not for Solorzano. When he first got to Costa Rica, he suffered both hunger and cold. He arrived without a peso in his pocket, with only the clothes on his back and no friends or family members in the neighboring Central American country. He had to sleep in the La Merced park, which has become known as the "park of the Nicas" due to the number of citizens of that nationality who are there day and night, sleeping on pieces of cardboard.
He ate every once in a while, thanks to the charity of some religious figures he met. These were sad days of misery, of uncertainty, and of desperation. But just when he thought he'd die of hunger or cold, bearing up under the rain, an organization that aids exiled Nicaraguans took him to a shelter, where in addition to a mattress and a sheet, there was food.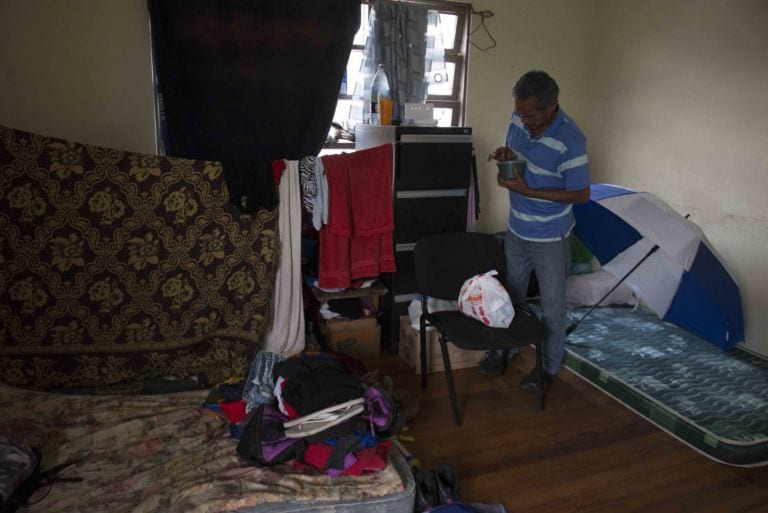 On the road to Costa Rica, he recalls, a good Samaritan gave him fifty cordobas (US $1.50) which he used to take a bus to the border at Penas Blancas. However, some 70 kilometers before he got there, in a village called Ochomogo, some police were inspecting all the vehicles.
Solorzano realized that he smelled of gunpowder from his time at the barricades, and the thought of a police inspection frightened him. So he got off the bus, crossed a river, and continued his journey on foot.
That night, he slept where the night found him, and the next day, now July 19, a truck driver gave him a lift to Penas Blancas at the border. The truck driver was coming from Guatemala, and after listening to his story, in a gesture of good will, he paid a coyote to help Solorzano get across the border via an unmarked crossing.
He entered illegally, but later presented himself to the immigration authorities and requested political asylum. He told his story, the months he spent behind the barricades in Masaya, one of the cities most heavily punished by the repression from Daniel Ortega's regime. He was given a date for his asylum interview.
"He's left the people off to one side
Solorzano is only one of many Sandinista ex-combatants who became disillusioned by Ortega. Some, like him, have suffered persecution, and others are behind bars, like the retired former members of the military Carlos Brenes and Tomas Maldonado, both now political prisoners accused by the regime of terrorism, organized crime, obstruction of public services and aggravated damages.
"He (Ortega) has left the people off to one side. In Masaya, in Nicaragua, you can't raise the Nicaraguan flag. I bet you that on September 14 (Nicaragua's Independence Day) you won't put it up on the door of your house – if you put it up, it's a sin. That's Daniel's wrongdoing, and that's Daniel-ism, not Sandinism," comments Solorzano at the house where he's cobbled together a room where at least eight people sleep.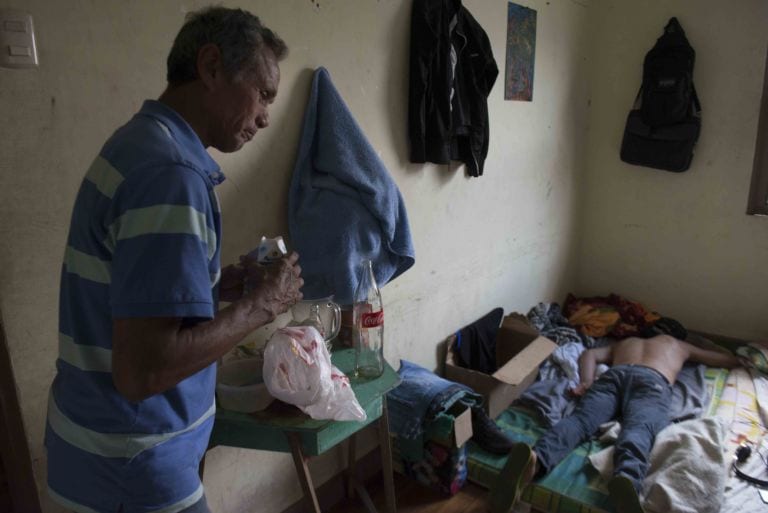 If he hadn't joined the protests against the regime, if he'd decided to close the door of his house and merely dedicate himself to caring for his three grandchildren, without regard for what was happening outside; or if he'd simply opted to continue earning his living unloading trucks at the Ernesto Hernandez market and doing temporary work as a bricklayer, he wouldn't have had to flee from Masaya with the smell of gunpowder on him from all the mortars he threw. But he has no regrets.
Solozano continues to call himself a Sandinista. He says that he hasn't changed, the one who changed was Ortega. He says that he still has the same ideals as when at 17 he pointed a rifle to help overturn the Somoza dictatorship. But, yes, he feels betrayed.
This man of 56 hasn't lost hope of returning to Nicaragua. Meanwhile, he's surviving in Costa Rica. The only thing he hopes for, he says, is that history stops repeating itself, and that there never be any more names like Somoza, or like Ortega.