Nicaragua: The Children of Ortega's Political Prisoners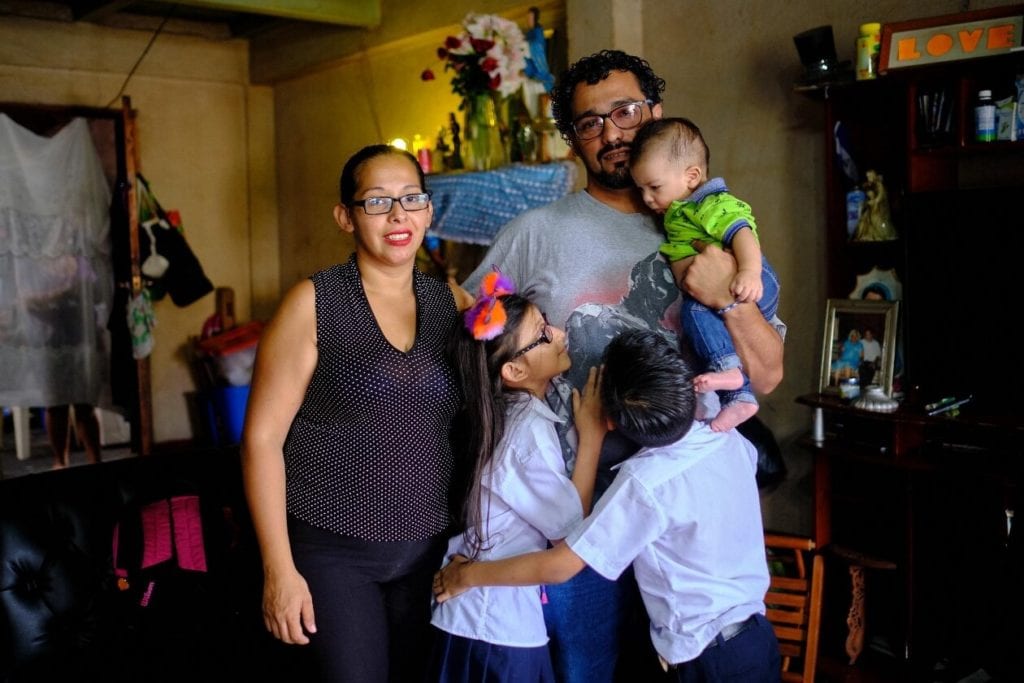 The socio-political crisis has greatly affected the lives of Nicaraguan children; these repercussions are multiplied for the children of the political prisoners.
By Monica Garcia Peralta (Confidencial)
HAVANA TIMES – It's 1:00 p.m. on Monday, May 20. Abril Ariana, 10, Roberto Leonel, 8, and Angel Neomar, 3 months old haven't had their Dad at home for months. Their mother, Mazkiel Hernandez, has made countless visits to the El Chipote jail, to the La Modelo prison, to the courts and to the local and international human rights organizations to denounce her husband's detention.
Suddenly, she sees on social media that the regime has announced a new release of political prisoners. Hopefully, she scans the official list and finds the names of 100 prisoners who'll be released from prison. They aren't totally free – they're entered in a policy known as "family coexistence or house arrest", as the regime has called this attempt to maintain the abduction of Nicaraguans who protested. Even so, Mazkiel wishes for her husband to get out at last.
Eleven months have gone by since they imprisoned him. This Monday, the two older children still have their school uniforms on, since they've just gotten home. The baby sleeps. Mazkiel reads down the list, seeing several names she recognizes: "Roger's getting out! She keeps reading, "Chico, Hamilton, Dilon…" she recalls.
"Papa, come home!, Papa come home!" intones Abril.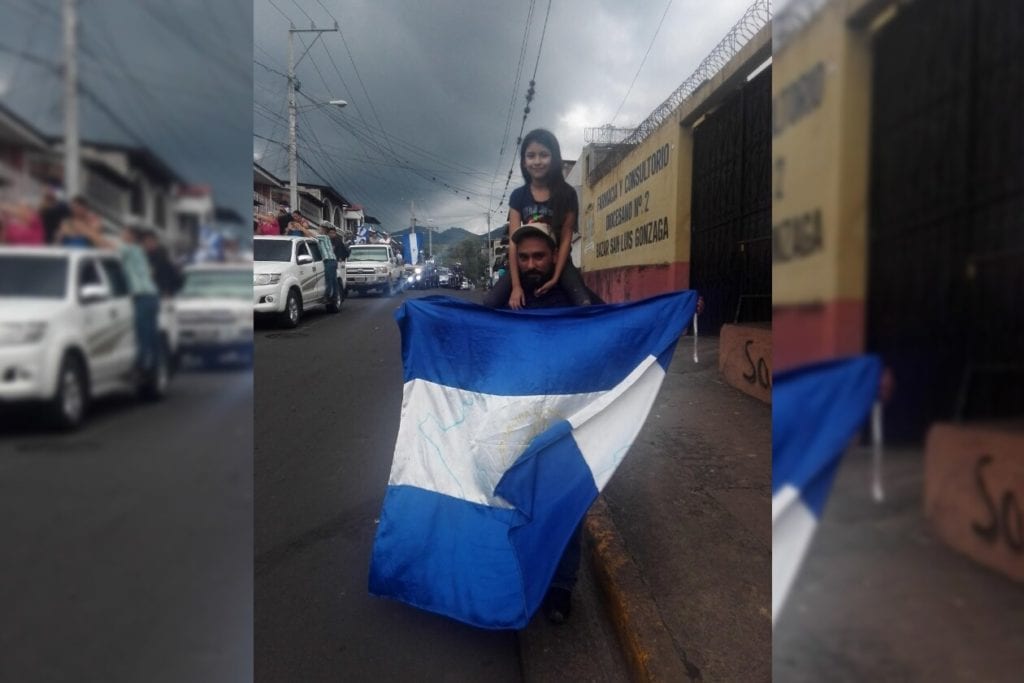 Mazkiel had planned for years not to have children, but "God sent me a present," she affirms, speaking of her baby, now 3 months old. Last June, she and her husband Roberto found out she was pregnant just one day before the paramilitary grabbed him on his way to Managua to leave some aid for the students wounded in the April protests.
"I thought that [Roberto] could possibly be released, but at the same time I didn't believe it because his sentence was for 23 years for "organized crime", plus another 20 years for "terrorism", and the third sentence, which was one where they'd linked him with Eddy Montes, hasn't been dictated. I didn't think so, but I kept reading and my little girl kept saying: 'Papa, come home!' and there at number 96 was Roberto's name," says Mazkiel.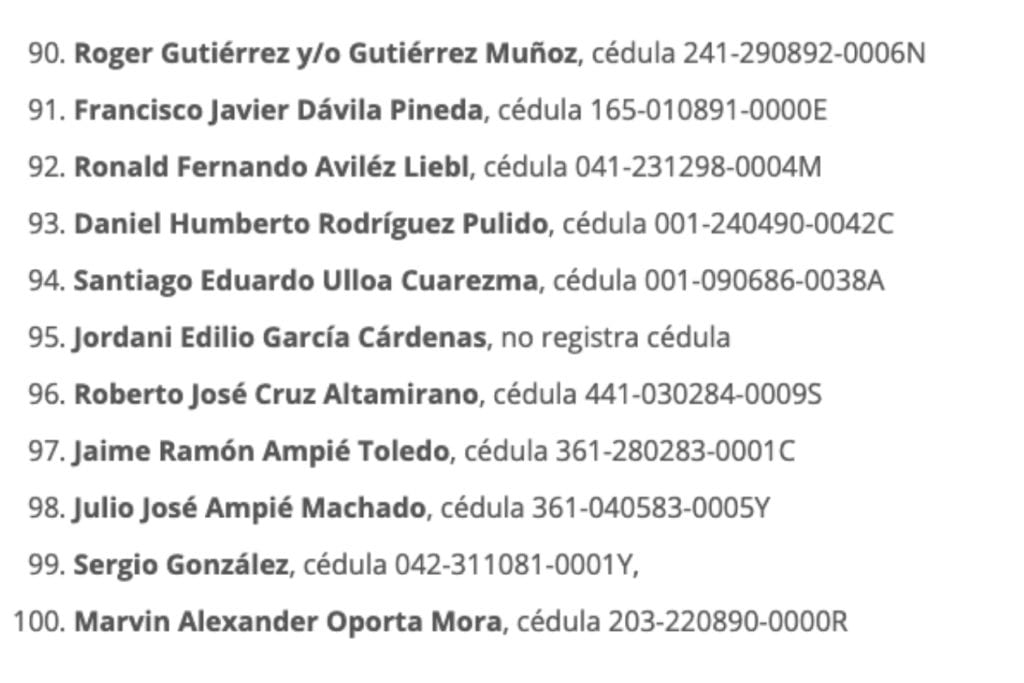 When she read Roberto's name on the official Police list, she was filled with excitement, but the one who felt it most was April. She burst out crying, and from that moment on until 4 pm when her father actually arrived, she could say nothing except to repeat: "Daddy's coming!" as she kept going to the door awaiting the moment of her father's arrival. He'd been gone for 320 days.
Children are the most deeply affected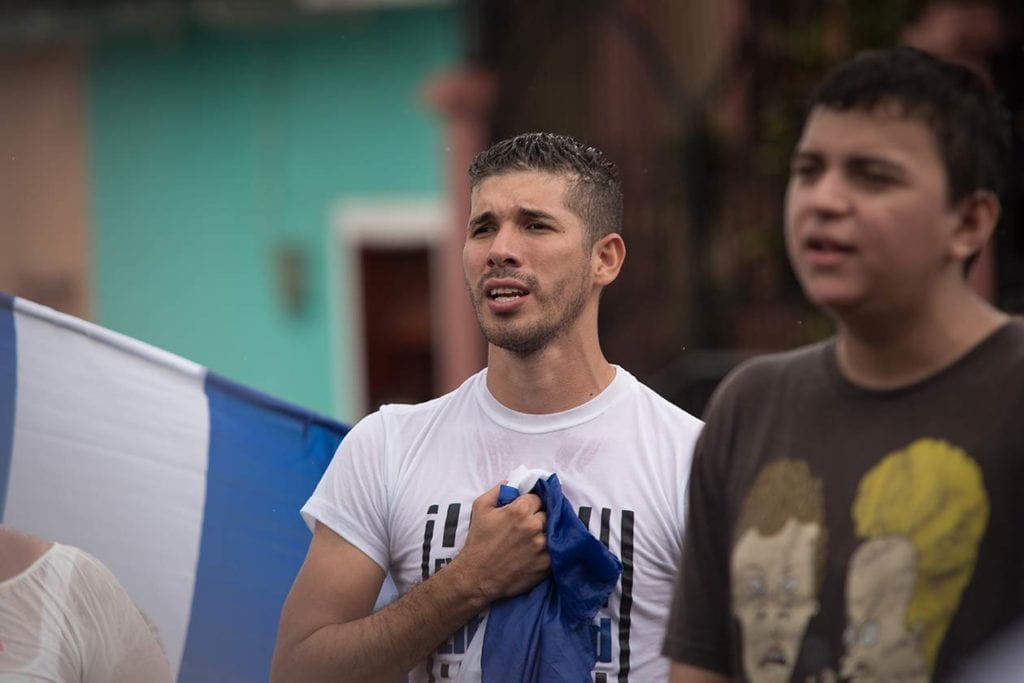 Mazkiel states that she feels happy, just like her children. April gets up at night to check that he's in bed there. However, there are still dozens of people with children deprived of their liberty and with no certainty of when they might be released, despite the fact that the Ortega regime has promised their total liberation before this June 18.
That's the case of Edwin Carche's five-year-old daughter, who's only been able to visit him once in the penitentiary where he's been held. She doesn't yet fully comprehend what it means that her father is in prison. Edwin's other daughter is only three and lives outside the country.
"Initially we told her that her father was working and that he'd be back soon. But Edwin suffered a lot for her, and he asked me and his mother to let him see her, so we promised that we'd take her. We didn't want to expose her to this. We've also tried to maintain her on the margin, without making her name or any details public, for her safety," states Edwin Carcache Sr., father of one of the most well-known political prisoners of the civic struggle.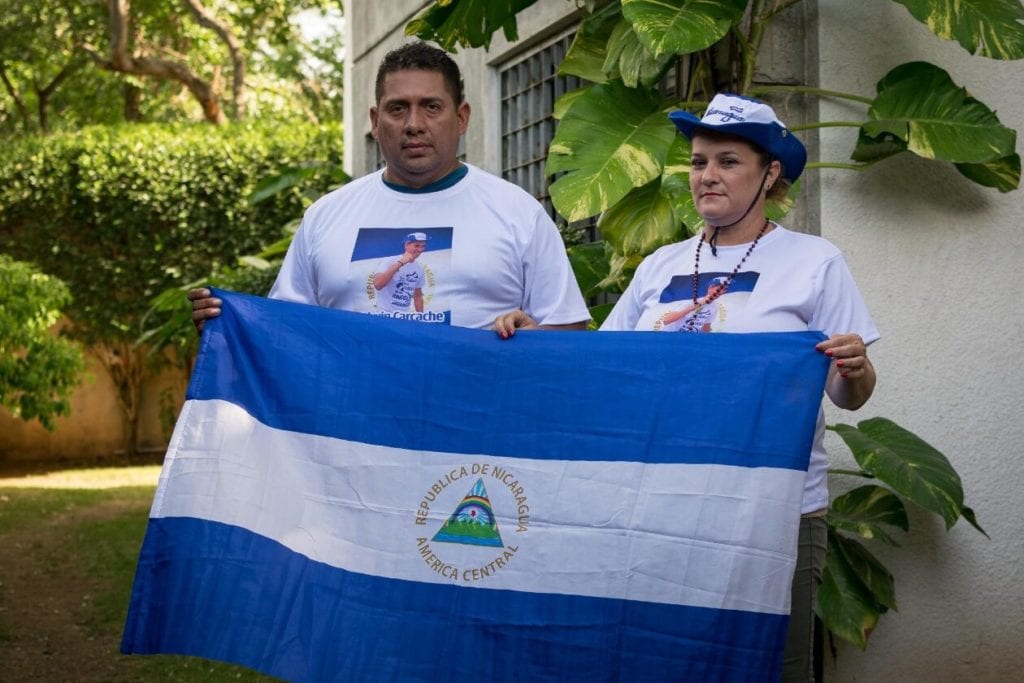 As Carcache senior tells us, the day came when they took her. "She cried a lot, and he cried a lot. She kept saying, 'Daddy, I want to go now, and I want you to come with me.' That's the only time we took her," he explains.
The father of this political prisoner affirms that the family has made an effort to keep the little girl in school and maintain a normal routine. Both he and the girl's grandmother have always tried to be there for her, to bring her presents or toys and sometimes they tell her that her Dad sent them "in order to keep his memory alive, so that she doesn't think he's abandoned her," he states.
Trying to protect them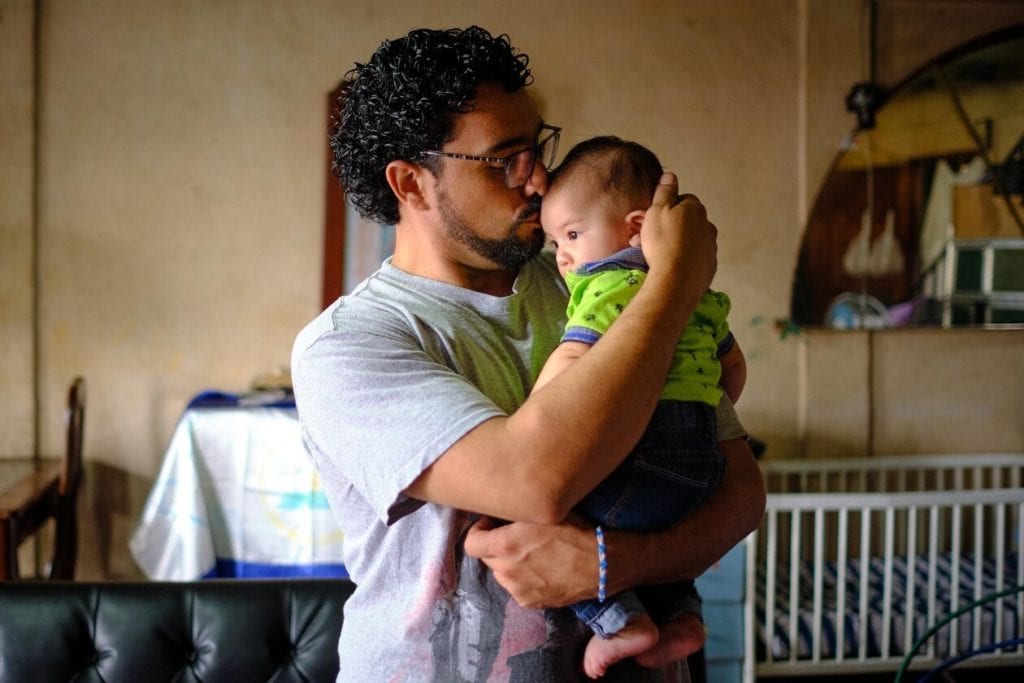 Just as the Carcaches have tried to protect Edwin's daughter, Mazkiel has also tried to shield her children. The day she had to tell them that their father was a prisoner, she didn't know what to say. She decided to present them with a neutral panorama by simultaneously giving them the news that they'd be having a new baby brother.
"I gave them both the bad news and the good – that even though Roberto wasn't with us, God had sent us a baby. I told them that their father was a prisoner and that we wouldn't be able to talk with him. It was hard and complicated, and we didn't even want to take them to the prison at first. I'd go alone for the visit, because that day their reaction was of great sadness for their father, although also somewhat happy for their new little sibling," recalls Mazkiel.
In 2018, Mazquiel had to take them out of school because both she and Roberto's mother had received threats and she didn't want anything to happen to them. "My little boy would look out the door with terror; he still can't go near the door. He looks at the police with a mixture of hate and fear. The little girl suffered a lot. Even now, when she went back to school, the principal sent her to the psychologist because she was crying a lot, and some kids told her a bunch of things," she detailed.
Prison visits
"I've always told Edwin that you can separate from your partners but there's no separating from your children. He knows this very well. He always demonstrates this with his two children, at least that's how he was before becoming a prisoner. But even while in jail, when he has the chance to greet them he does so," recounts Edwin's father.
Edwin's little girl, who lives in Nicaragua, didn't know that her father was in jail. However, at one moment he saw him on the news and immediately recognized him. After this, she kept asking and wanted to go see him. "Until finally I took her, but he suffered a lot and she only knew that she wanted to take her Daddy out of there. For that reason, we've opted to keep her on the margins," recounts Carcache's father.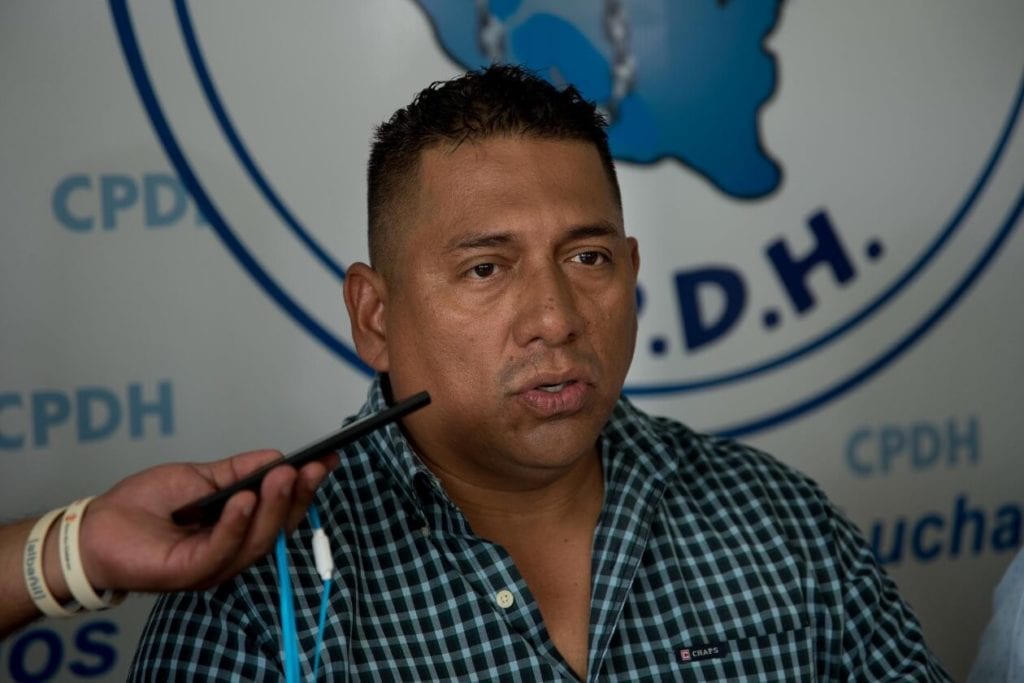 Mazkiel, also tried in the beginning not to bring her children [to the prison visits] but she couldn't hold out under the ever more frequent requests of her children to see their Dad. She agreed to take them when Roberto Cruz had been in prison for three months.
"We had decided that we weren't going to put the children through that, but principally the little girl began to ask to see her Daddy. So one day, I got them ready and I took them. When he saw them, he began to cry and he told me that he hadn't wanted them to come. So he saw them, they were there, but my little girl cried for practically the full two hours that the visit lasted, saying that she didn't want to leave him there, that we can't leave him there," Mazkiel recalls.
After this though moment, April would count the 21 days between visits and wouldn't for anything in the world stay home. Both little ones had to bear up under the long lines, sun and fatigue, just like Mazquiel who was pregnant. They had to get up early and would return late to Matagalpa, but they didn't complain because they wanted to see their father.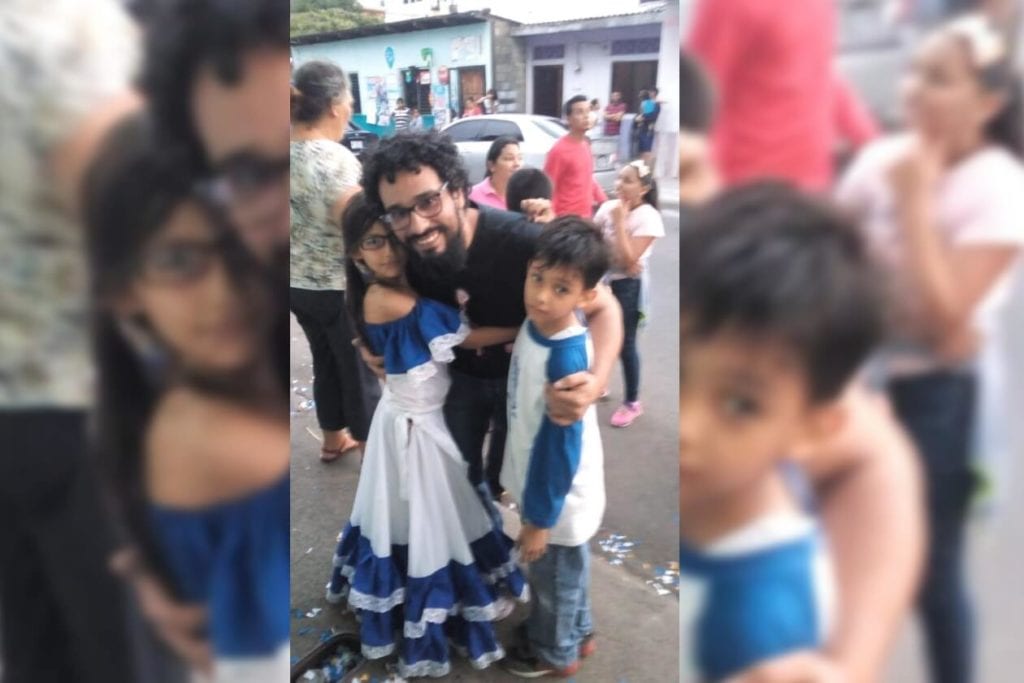 "He was so sad to see her crying and then he was crying. He's a very strong man, but not where his children are concerned. My children shouldn't have had to go through everything we went through. One day I said to April: 'We need you to be strong. Your Daddy is left feeling very sad in there. We return home where we have our little beds, our food. But your Daddy doesn't, he stays there inside, all alone. It's a lot sadder for him, and I want you to be strong and show him that," Mazquiel recalls among tears.
For his part, Roberto, now out of prison, continues to dream of a better Nicaragua for his children's future. "To work for them, have them finish their studies. We're not thinking of fleeing this country. We have to offer them the greatest possible protection, the best possible education and that's what I'd propose to the rest of the parents, so that they don't make these same mistakes. Try to explain the situation in which all this happens and give them love and affection," Cruz affirms.
"We have to teach our children that you have to study, you have to work to earn things. We know that there are still children who don't have their father because they're in jail or in exile. But there are also more than 300 families who were left without their loved ones, who will never return," Mazkiel concludes.