Nicaraguan Doctors in Exile, Humanitarian Clinic in Costa Rica
Doctors attending Nicaraguan exiles in Costa Rica while dealing with their own challenges.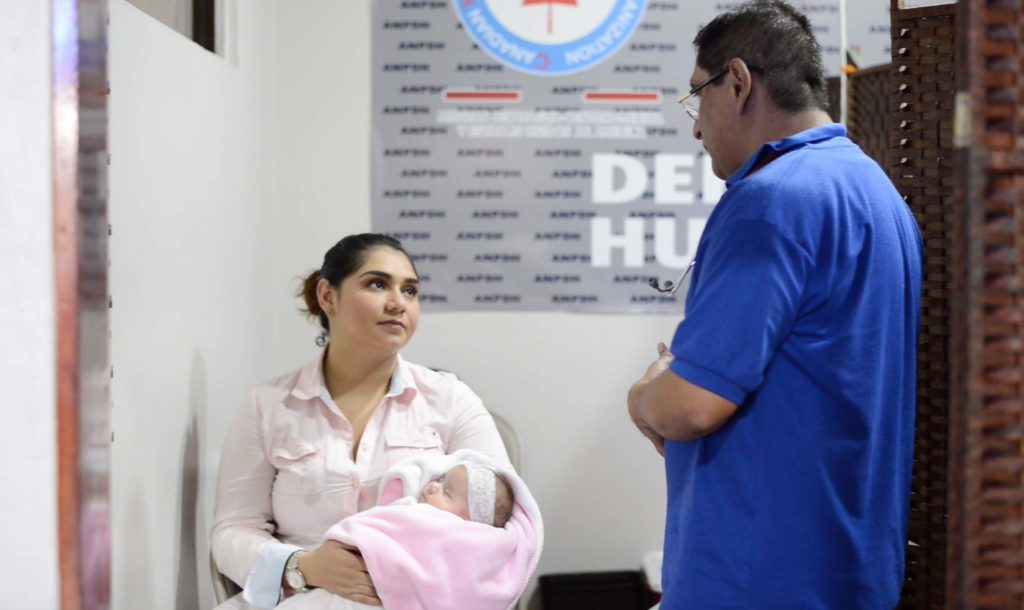 More than 20 doctors run an improvised clinic while trying to recuperate their academic records, currently being erased by the National Autonomous University of Nicaragua UNAN.
By Wilfredo Miranda Aburto (Confidencial)
HAVANA TIMES – The garage is filled with refugees. They are seated in plastic chairs arranged in rows, as though ready for prayers, or mass. But the people – mostly women with children – aren't listening to the voice of a pastor. Far from it. They are waiting to be called by a medical doctor in street garb, sporting blue latex gloves and a stethoscope around the neck, who will invite them into the examination area.
"Celsa María Lara Chavarría!" – calls out a doctor, loudly.
"Here I am, here I am" – responds a petite woman. Celsa María rises with some difficulty from her plastic chair.
"This way, please" – invites the doctor.
This is the typical routine of doctors and patients. But in this case, the doctor, Oscar González Arreaza, is not seeing a patient in a health clinic or hospital, nor does he provide private consultations. This doctor is attending other Nicaraguan refugees in a house in the San Pedro neighborhood of Montes de Ocá, San Jose; and what he provides is humanitarian assistance because in Costa Rica he cannot practice his profession legally.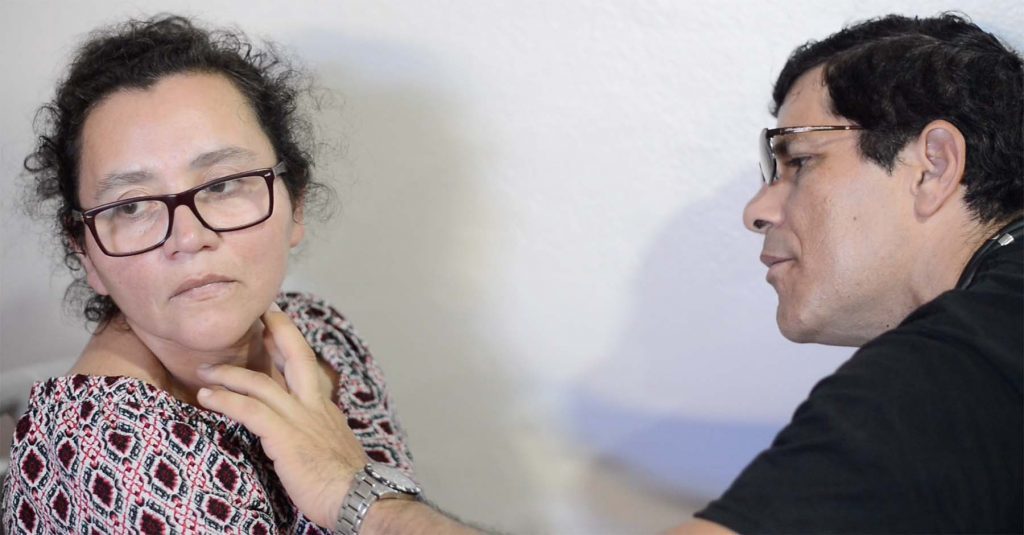 Dr. González Arreaza indicates to his patient where she will be seen. The area is at the end of a corridor formed by thin, recently installed room dividers. There are two chairs available, placed facing each other in the same way one arranges seating for two enamored adolescents during their first encounters, under the careful eye of family members. The doctor writes down Celsa María's name on a piece of paper and begins to examine her. He quickly determines that the pain is in the woman's foot.
Dr. González Arreaza is so intent on his examination that the dozens of patients filing past him accompanied by his colleagues don't distract him from his work. It's Saturday and services at the improvised clinic are in high demand. The refugees prefer to be seen by these doctors because less paperwork is required than if they were to recur to the Costa Rican health system.
***
When the first wave of political exiles descended upon Costa Rica in mid-2018 – doctors included – medical attention became a high-priority humanitarian concern. Among the medical doctors in exile one finds generalists as well as specialists, fired by the Ministry of Health (MINSA) for having cared for the wounded, in defiance of the Ortega-Murillo dictatorial policy of closing hospital doors to "the terrorists".
Dr. González Arreaza arrived in San José in August 2018. After having volunteered his services (to the wounded) in Nicaragua's Polytechnical University (UPOLI), the regime's sympathizers began to harass him. He was forced to abandon his work as a bariatric surgeon at the Solidarity Hospital. Dr. González Arreaza is one of the best in his field – so much so that he was a national instructor in laparoscopic surgery.
"Upon witnessing the cruel manner in which students were being attacked, I went to the UPOLI to attend the wounded. It was a purely humanitarian mission, fulfilling my Hippocratic Oath," he said. "I was motivated by the way in which they were being refused treatment by the majority of state-run hospitals.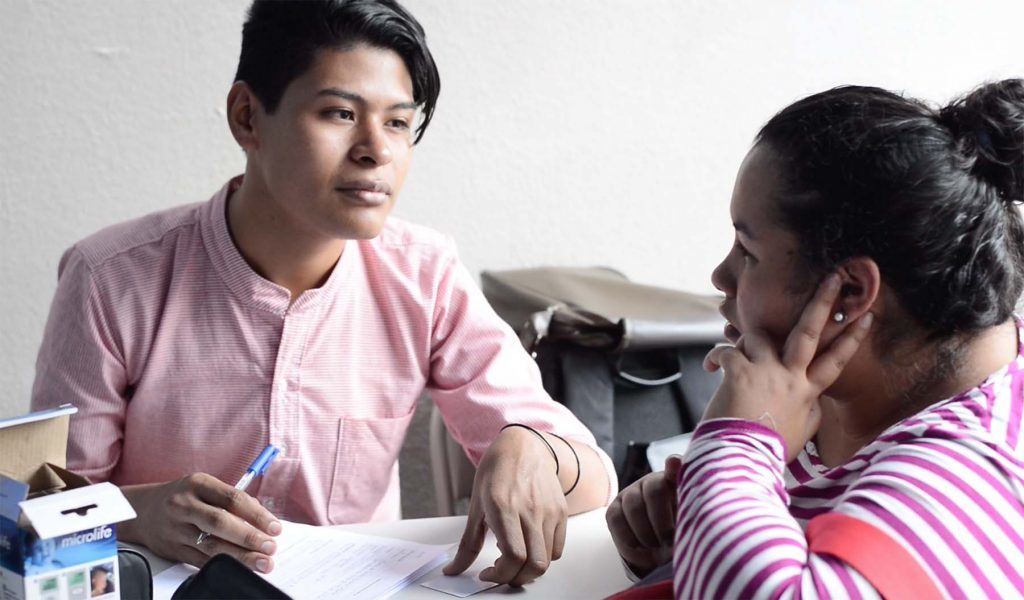 The price paid by González Arreaza for this humanitarian assistance was stigmatization and persecution. "They were labeling and harassing me. I had to treat the wounded while being objected to all their threats and recriminations," he said. Everything changed when the threats began to include his children, forcing him to flee into exile with his family.
Upon arriving in Costa Rica, he began to understand the magnitude of the immigration drama. He immediately began providing assistance, along with other colleagues, in a makeshift hospital in the La Merced park, and later in the convent of the María Auxiliadora nuns. However, due to the doctors' own difficulties in San José, services had to be suspended for a few months.
Dr. González Arreaza began to take on work as an Uber driver, a bicycle messenger, and providing a few services in order to survive. At the same time, he sold a few of his belongings in Nicaragua. However, his desire to continue attending to the exiles continued. More than three months ago, some 26 exiled medical doctors joined forces and with the help of organizations formed by Nicaraguans intent on supporting the refugees, they formed an improvised clinic to provide attention every Saturday. The doctors are accompanied by exiled medical students.
"We've relied on other doctors, our counterparts, from within the Nicaraguan diaspora who have been here since before the crisis began. They have supported us in our efforts to help the refugee population," said González Arreaza. "We've been offering these consultancy services in order to provide humanitarian assistance."
***
Rommel Meléndez, general practitioner and specialist in sexual and reproductive health, is attending a patient on the other side of the partition, opposite his colleague Dr. González Arreaza. On this same Saturday, a Nicaraguan exile has arrived who recently gave birth. The mother has body pain at night, especially in her back, and has no idea why. The doctors can't give a diagnosis on the spot, due to a lack of equipment and supplies, but they try to help in any way they can.
The doctors are also prohibited from writing prescriptions in Costa Rica. Because they don't possess a Costa Rican corresponding medical license, they are prevented from practicing their profession. The Costa Rican Medical College is very strict in this regard. In order for a Nicaraguan medical doctor to obtain a corresponding medical license in Costa Rica, they must pay the equivalent of US $700. But in reality, the real obstacle is the requirements established by the University of Costa Rica for taking the qualifying exam. Due to their current situation – being politically persecuted and in exile – the doctors are unable to access the required documents on record in Nicaragua.
"We have problems obtaining the documentation required from Nicaragua" noted Dr. Meléndez, who worked for MINSA in the municipality of La Concepción before being fired for treating wounded opposition members. "The problem is, we doctors are on the UNAN-Managua "lists". We've been singled out. So, when we're asked in Costa Rica for our grades, our transcripts, our course requirements, our theses, we don't have them… when we ask for them in Managua, we're told our records don't exist."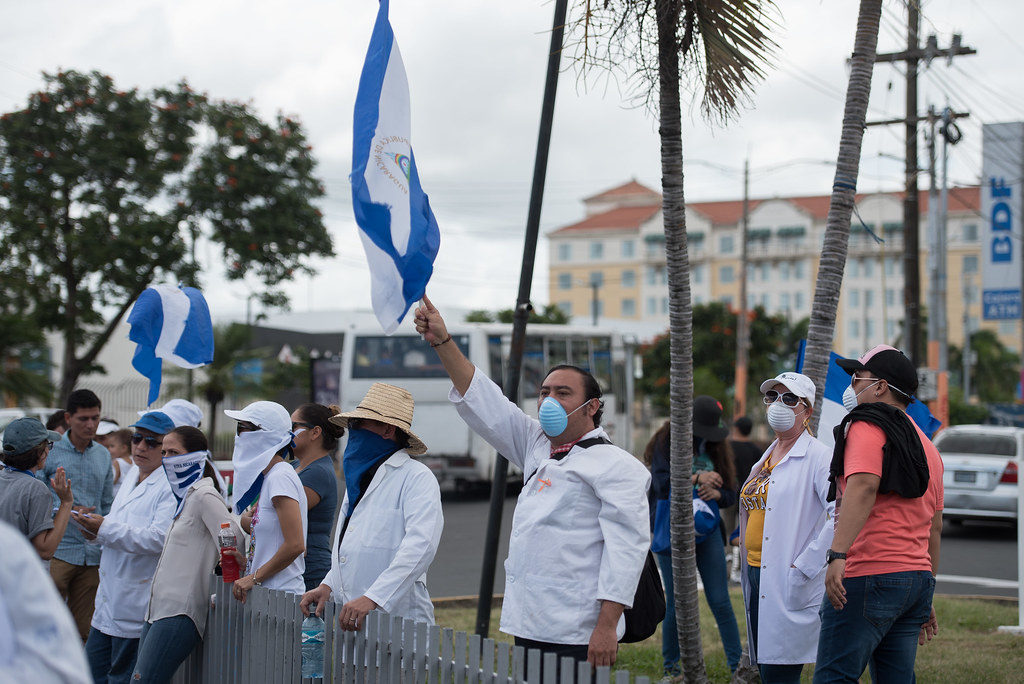 The difficulties described by Dr. Meléndez are similar to old Stalinist practices. Just as Stalin erased his old comrades-turned-foes from photographs, authorities at both the Managua and Leon campuses of the UNAN Medical School erased the records of doctors considered "coup-mongers". Dr. Meléndez asserts that his thesis was found by chance by a colleague in a UNAN-Managua garbage dump.
Dr. González Arreaza explains that sometimes they are able to obtain some documents through colleagues in Nicaragua, who put themselves at risk in asking for them. "The UNAN is so bent on complying with the dictatorship's requirements, they've destroyed all the records of all the opposition doctors on "the list" – their doctoral theses, teaching records, etc., are not to be found. It's as though we never existed, as students or as doctors," said this bariatric surgeon.
***
Another problem the doctors face in attending to those in exile is the lack of medicines. When possible, they provide the refugees with medicine samples that they've been given. Some Nicaraguan colleagues established in Costa Rica have also donated medicines that they had in excess. The pharmacy in their makeshift clinic is always short of analgesics, antispasmodics, medicine for treating gastric complaints, disorders of the colon, antibiotics, dermatological medicines and healing agents.
The demand is high, and resources are scarce for these 26 exiled doctors.
"We supply the patients with medicine based on their needs. But we lack many medicines, such as analgesics, antibiotics and back-up supplies," complained Dr. Meléndez.
One of the alternatives to which the doctors in exile have resorted in response to the lack of medicines, and the refugees' inability to buy them in Costa Rica, is to prescribe "in the old style". "We have to prescribe in such a way as to practically return to 19th Century medicine…we tell the patients to make potions or concoctions to complement the medicines we are able to give them. Why? Because we don't have enough. It's all we have available now. We have the knowledge and the ability, but we have to make do with what we have," explained Dr. González Arreaza, upon wrapping up with his patient, Celsa Maria Lara Chavarría.