Nicaraguan Immigrants Fear Deportation When the Temporary Protected Status Ends
Over five thousand Nicaraguan immigrants will lose their legal status in 2019
By Danae Vilchez (Confidencial)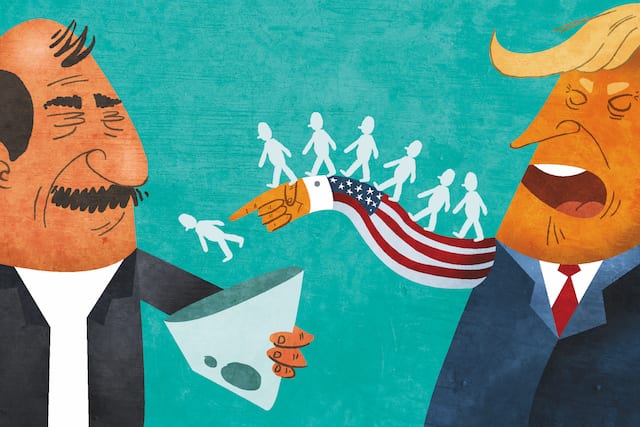 HAVANA TIMES – Yanira Mairena is a Nicaraguan who's been living in the United States for 27 years. For the past ten years she's been an activist in the group "Domestic Workers of New York", an organization of Latina women that fights for immigrant rights. Last January 21st, Yanira participated in a national protest in Washington D.C. to ask the government to continue the Temporary Protective Status (T.P.S.) Program.
This program offers citizens of countries affected by war, natural disaster or extraordinary circumstances the possibility of obtaining special residency permits. The US granted TPS to Nicaragua in 1998 after Hurricane Mitch battered Central America.
However, efforts to stop the cancellation of Temporary Protective Status for Nicaraguans found no echo in the White House. Last November 7th, the executive branch presided over by Donald Trump ended the program which affects 5,349 immigrants, Yanira among them.
"This is discrimination. We've made a life here, we've paid taxes, we're not taking jobs away from anybody, we do the jobs that the 'gringos' don't want to do," expressed Yanira, who works as a caregiver for the elderly.
She left Nicaragua because she felt that the country didn't offer her any opportunity for growth. She left a son behind in her birth city of Matagalpa and has a 25-year-old daughter who was born in the United States. In 1998, she applied for TPS to legalize her immigration status and obtain a work permit. From that point on, her working conditions have improved.
Yanira has made her home in New York City. She has a six-year-old granddaughter and has no intention of returning to Nicaragua.
"With or without papers, we have rights. Since my daughter is now of age, she can request me as a citizen. But I feel bad for those who don't have the opportunity that I have," the Nicaraguan declared.
"We're at a crossroads"
In contrast to Yanira, the story of "Sara" – whose name we've changed in order to protect her identity – doesn't seem to offer any possibility of a happy ending.
"Sara" is 91 and suffers from dementia. Her mind wanders between her native Estelí and Managua after the 1972 earthquake. She doesn't seem aware that she now lives in California, according to "Eva" (also not her real name) her closest family member and principal caregiver.
Sara was born in 1926. When she was 12, her mother died of breast cancer and she went to live with her godmother, who was Eva's mother. There she formed close bonds with the family that took her in as one more of their own.
"She was the first person to see me when I was born. She and I share an unconditional love. She feels that I'm her daughter, and to me she's my second mother," states Eva, who emigrated to the United States in the 80s and is now a citizen.
Sara remained in Nicaragua with Eva's mother until the latter died in 1992. Later, following a lengthy application process, they managed to obtain a tourist visa so that Sara could travel to the United States. In 1996, the two were reunited.
As Eva tells us, they agreed that Sara should remain in the United States until she could find a way to adjust her migratory status. In 1998, she took advantage of the possibility of accessing TPS. Since then, every year and a half for 19 years they've paid around US $1,000 to renew this permit that, among other things, allows Sara to have medical insurance for emergencies.
"We've used the emergency medical insurance some four times in the last two years, because she faints on me. I can't leave her alone because she forgets everything, she gets up and she can fall. Her legs are very weak and she suffers from osteoporosis," stated Eva.
For Eva, a 68-year-old breast cancer survivor, taking care of Sara by herself isn't easy. Her greatest fear is losing access to quality medical attention for the elderly woman, although the phantom of deportation terrifies her even more.
"When I saw that the TPS program had been cancelled, the world crashed down around me because she's an old woman. What popped into my head was: "What am I going to do?" because I don't have help from anyone. In Nicaragua she has nobody, and if they deport her I'd have to go with her and leave my home. We're at a crossroads," the Nicaraguan said.
For the moment, her plan is to wait for January 5th, 2019, the deadline that the Trump government has announced so that the Nicaraguans presently covered under TPS can normalize their migratory status or leave the country.
Eva and Sara live in their house in Los Angeles, California, waiting for a miracle that would keep the Trump government from tearing them from their home.
Pressures from the White House
The Temporary Protective Status program is one of the few immigration programs managed by the executive branch of the United States, specifically by the Department of Homeland Security (DHS).
The interim secretary of Homeland Security, Elaine Duke, stated in a communique that the conditions that led the US to grant TPS status to Nicaragua "no longer exist," and that as a result, the program "must be terminated."
Sources cited by the prestigious newspaper The Washington Post assured that the White House pressured the head of DHS to expel the Nicaraguans who currently reside in the United States.
According to the Post, General John Kelly, Trump's cabinet chief, called Duke to warn her that prolonging the stay of Central American citizens under TPS would amount to "impeding the global strategy" of the Administration.
In her official statement, the secretary of the Department of Homeland Security noted that Daniel Ortega's government never requested any extension of said program. In contrast, the program was extended for six additional months for the 86,000 Honduran citizens, whose country did in fact lobby in Washington.
Francisco Aguirre Sacasa, former Nicaraguan ambassador to the United States and the chief negotiator for awarding TPS to Nicaraguan citizens in 1998 under the government of Democrat Bill Clinton, says the actions of the diplomatic mission from our country were deficient.
"The Government should have taken a more proactive position, not a reactive one. They needed to do some lobbying, albeit discreetly, because the truth is that relations between Washington and Nicaragua aren't friendly," declared Aguirre Sacasa.
Martha Cranshaw, director of NicasMigrante, a human rights organization for migrants and their families, affirmed that the decision of the United States government was due in part to the discourse of Daniel Ortega and his wife, Vice President Rosario Murillo, emphasizing Nicaragua's economic growth and the drop in the country's level of poverty and unemployment. Cranshaw pointed out that the image they've sold of a country that's growing at the rate of a "European power," was a factor in the US government's decision.
Up until now, the only official reaction from the Nicaraguan government has been a communication from Vice President Rosario Murillo, vaguely encouraging citizens to report to the nearest consulate, without specifying what actions these might offer in support of the immigrants. "We haven't received any requests through the consulates on behalf of our Nicaraguan brothers and sisters," Murillo asserted.
Nicaraguan Alfonso Hernandez, president of the Central American Civic Association in Boston, Massachusetts, said this demonstrates the disconnect between the government and its embassies with the immigrant community in the United States. According to him, neither Francisco Campbell, the ambassador in Washington, nor the consulates have close relations with the Nicaraguans residing in that country.
"The government is disconnected from the immigrant community, and the truth is that the community doesn't see them as a support, in contrast to the relationship that exists between Salvadorans or Hondurans and their consulates," explained Hernandez.
"Many will remain undocumented"
The TPS program includes some 413,500 Salvadorans, Hondurans, Haitians and Nicaraguans. Although for the moment the program has only been terminated for Nicaragua, the panorama is also murky for the citizens of the other 3 countries, assures Patrick Young from the Central American Immigrant Law Center in Long Island, New York.
"We saw this coming. Our greatest concern is that there's no other program they can apply for. They have two options: either legalize their status through marriage or through their children or remain undocumented. Many will be taking the latter option," Young indicated.
According to data from the Center for Immigration Studies, over half of these 413,500 immigrants have been in the United States for over twenty years. In this time period they've given birth to 273,200 children who now hold US citizenship.
Analysts interviewed by Confidencial assured that the cancellation of Temporary Protective Status is a clear message of hostility towards foreigners in the US, including those who have legal documents. According to Aguirre Sacasa, this is one of the actions that Trump is implementing.
"Really, it was less of a problem for Trump to cancel TPS for a bare 5,000 Nicas than to punish tens of thousands of people from El Salvador and Honduras, countries where he also has more interests," stated the former Washington ambassador.
For her part, Cranshaw noted that the policies of the Trump government are focused on maintaining the seasonal work programs in the United States; that is, people who arrive to work the harvests of citrus, grapes, tomatoes and apples, and who then return to their countries without establishing permanent residency in the United States.
No policy for receiving returned immigrants
The Nicaraguans with TPS consulted by Confidencial assured that they have no intentions of returning to Nicaragua. However, Cranshaw felt that Ortega's government should establish clear public policies so that those who find themselves forced to return receive government support.
"The government needs to get organized and offer something to those immigrants who are going to return. They should study the law regarding attention to national citizens to see if there's a provision to provide incentives upon their return," concluded Cranshaw.