Nicaraguan Prisoners' Families Fear "Political Vengeance"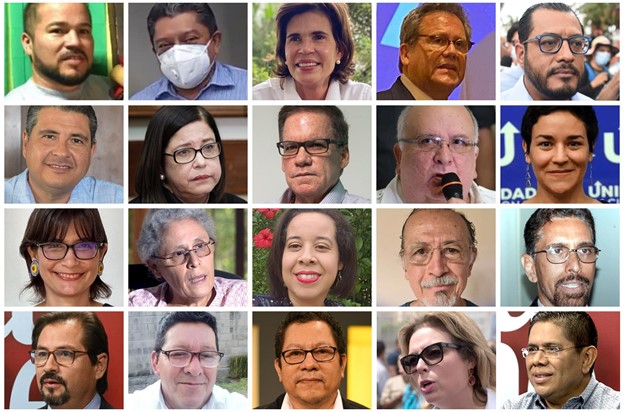 Political Prisoners' relatives call on the international community to remain alert for possible consequences of Daniel Ortega's tirade against the political prisoners.
HAVANA TIMES – Relatives of the regime's political prisoners fear that Daniel Ortega's recent angry speech, in which he called the prisoners "the Yankee imperialists' sons of bitches", could pave the way for police and prison officials to carry out "acts of political violence" against their detained relatives, or any other dissenting voices.
"Referring to political adversaries as "sons of bitches" and "stateless people" seems to be aimed at deepening the dehumanization of those who are imprisoned. These prisoners are already locked up, incommunicado with no respect for their human rights and basic freedoms, and without due airing of the legal processes against them," family members denounced in a statement. The statement spoke of their indignation and concerns raised by Ortega's "hateful, perverse and misogynist" words.
Over 160 political prisoners are currently imprisoned in either the "Evaristo Vasquez" police complex – better known as the "new Chipote" jail – or in the national prison system. The most recent 39 prisoners of conscience were arrested during a period that began at the end of May 2021, in the run-up to general "elections" aimed at assuring Ortega a fourth consecutive term as president.
Adding to these 160 political prisoners, at least another 20 people have been declared missing in the last three days. "Their whereabouts is unknown," denounced the relatives' statement. At the same time, they noted that all those currently in jail were detained arbitrarily, with no respect for due process, no access to attorneys of their choice, no regular family visits or to the food families are normally allowed to supply, nor to medications and clothes from their families. These totally inhumane conditions have caused them serious physical deterioration.
Sandinista leaders celebrate their victory with insults
The Sandinista strongman celebrated his continuity in power on Monday, November 8th, together with Rosario Murillo, his wife and vice president, plus the inner circle of Police and Army commanders. His "victory" came after an electoral process that has been called a "farce" and a "circus". Over 40 countries have already refused to recognize the election or accept its results as legitimate.
Ortega's speech at the celebration was a harangue against the international community. Ortega declared: "Just as President [Franklin] Roosevelt said: 'Somoza may be a son of a bitch, but he's our son of a bitch', those who are prisoners there are the Yankee imperialists' sons of bitches. They should bring them to the United States, so they can serve there as what they are: slaves of the empire, traitors to the homeland, because those people aren't Nicaraguans, they have no country," Ortega shouted.
These remarks have left the prisoners' families concerned about the consequences of Ortega's words. They recalled the death of political prisoner Eddy Montes who was fatally shot on May 16, 2019, in the prison known as El Modelo. Montes was killed by "a public employee who felt authorized to shoot to kill."
Montes' death remains unpunished. "This death, like many others, hasn't been investigated in any way, despite the demands of the family members and the international community," they noted.
In the statement, the relatives consider that Ortega's words "aren't acceptable from the mouth of a political authority." They expressed to the Nicaraguan people and the international community their concern for the "eventual consequences this speech could have on the lives and physical integrity of our family members, and on the socio-political climate in the country," the statement read.
"We call on the national and international community to remain alert to the grave consequences that could result from Ortega's terrible, demeaning expressions.
In recent months, the family members have denounced that the political prisoners in the "new Chipote" have been victims of torture. They've posted alerts regarding the "physical deterioration" evidenced by the prisoners' "extreme and rapid weight loss". Most of these prisoners are estimated to have dropped between 12 and 36 pounds. Relatives have also denounced that many of the prisoners are not being allowed access to sunlight and have been submitted to exhaustive interrogation sessions.