Old Havana's Mental Health Center
Teaching Essential Life Skills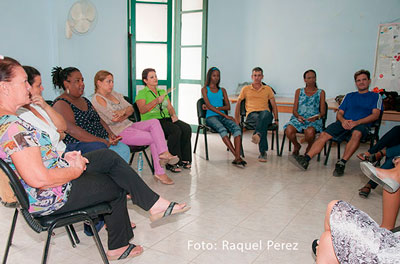 HAVANA TIMES — "I'm on medical leave for three months. I'm being treated at my neighborhood's mental health center," a good friend of mine who has just gotten a divorce tells me. This immediately raised my curiosity and I managed to go into the facility with her.
What I ran into was the interior of a gigantic, colonial house in Old Havana, recently restored by the Office of the Historian, where a group of psychiatrists, psychologists, medical doctors, occupational therapists and social workers endeavor to prevent and cure the mental illnesses of community members.
About twenty people were waiting to start a group therapy session, where each can speak about their problems. I asked them whether they find it hard to "get things off their chest" in front of so many people. A young woman replies: "their opinions help me heal and mine helps them heal."
Among the patients was a young journalist who has trouble relating to people. "This was so frustrating it plunged me into a deep depression," she tells me, adding that "here; I've discovered the mechanisms and complexes that set off my fears."
Maria Teresa Gonzalez came to this hospital because of the intense stress her work at the bank was causing her. She tells us she "would not have been able to move forward alone. Here, I learned to like myself, to feel good about myself, not to stress out over external things. I came to understand the importance I alone have."
"The pills were a temporary solution, but they were no guarantee I wouldn't fall into a depression again," Luis Muñoz says. The 30-year-old man adds that "in the day hospital, I came to understand that I was the only one responsible for my depression and, therefore, the only one that could overcome it."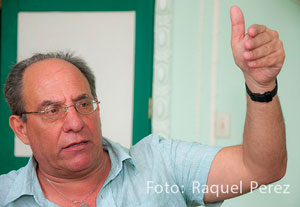 Anything Detrimental to Health
The clinic treats patients suffering from depression, stress or mental illnesses and employs specialists in child psychology, sexology, alcoholism and drug addiction. Those in the day shift work from 8:30 in the morning until 4 in the afternoon, eating their breakfast, a snack and lunch at the hospital.
Dr. Ana Julia Clemente, the director of the mental health center, explains to me that the facility is designed to provide service to a population of more than 100 thousand inhabitants of Old Havana and states that "we are responsible for treating anything that could be detrimental to the mental health of this community."
In addition, there is a psychiatrist and a nurse from the institution in each of the 5 polyclinics located in the municipality and they will soon be opening a stress clinic, where patients will be taught techniques to cope with the hectic pace of everyday life.
Dr. Clemente explains that, "being located within the community allows the center to respond to its specific needs. All services are entirely free of charge and open to everyone, from those receiving social aid (who don't even get charged for their medication) to workers and company managers."
The institution's greatest achievement has been the reduction of hospital admittances in the municipality stemming from mental health issues. The aim of the center is to keep the patient within their family and community (save in those cases where the diagnosis calls for institutionalization).
The psychiatrist at the center is Dr. Isidoro Bali, and the most common cases he treats have to do with "stress, the empty nest syndrome, neurotic traumas, depressions, schizophrenia, alcoholism and nicotine addiction. We have patients who have drug addictions, but they are very few in number."
Dr. Bali uses many different techniques. In addition to group, couple and psychotherapy, patients also become involved in art classes, film critiquing, museum visits and physical education. Once a week, they participate together in recreational activities that include everything from going to a disco to a day at the beach.
The psychiatrist tells me that the center works to open patients up to the world, "get them out of their houses and away from the TV, to enjoy a sunset, a concert or an art gallery, taking advantage of the fact that going to the ballet is cheaper than having a beer in Cuba."
The aim of the center is for the patient to re-structure their personality as quickly as possible. Following the first three months of daily treatment at the clinic, patients return once a week to receive assistance in terms of their re-incorporation in society, until they are discharged.
"In Cuba, those 5 to 10-year psychoanalytic treatments aren't common," Dr. Bali explains to me, adding that "the clinic is not a place to come to rest for a while and then go back to the same old routines. On the contrary, it is designed to teach patients the skills needed for a healthy life."
—–
(*) A HT translation of the original published in Spanish by BBC Mundo.