On Aroldis Chapman's Breakout Season
Some Needed Historical Perspectives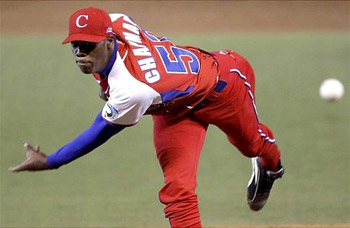 HAVANA TIMES — There should be little doubt that third-year Cuban big leaguer Aroldis Chapman has now proven wrong the numerous doubters and naysayers with his rather overpowering summer-long 2012 performances out of the Cincinnati bullpen.
The young Cuban missile thrower remained locked in a virtual dead heat with Pittsburgh's Joel Hanrahan throughout August and a good part of September for the senior circuit lead in games saved, he posted some truly eye-popping numbers across his near 70 games of strictly single-inning outings (68 games and 71.2 innings), and he even stirred up a bit of premature Cy Young Award buzz during the Dog Days of August (especially across Cincinnati media circles).
Equally impressive were Chapman's final saves ratio of 38 in 43 opportunities, his lopsided SO/BB ratio of 122/23, and his eventual strikeout rate of 1.71 batters per inning (a projected figure of 15.3 Ks per each nine frames thrown). With less than a month of the season remaining (on September 10) the 24-year-old Cuban still clung to a seemingly even-money chance of breaking the Cincinnati franchise record for saves (44 by Jeff Brantley in 1996) and thus claiming at least a small page in the history of the storied Cincinnati franchise.
Had he managed down the stretch to overhaul Craig Kimbrel (Atlanta) and Jason Motte (St. Louis) for the league lead, the Cuban flamethrower would have also become the eighth Cincinnati reliever to claim a saves title since 1970, the first since Jeff Shaw turned the trick with 42 back in 1997.
A slow September would in the end keep Chapman out of the record books and tarnish some of the luster from one of the better big league seasons enjoyed by a Cuban-born and Cuban-trained pitching talent.
Not only did the stellar southpaw fail to overhaul Brantley in the Cincinnati record books, but he also fell a trio of saves short of matching Danys Báez's high-water mark (set in 2005) in that department for Cuban natives. He was unable to outstrip either Kimbrel or Motte for the senior circuit leadership and was eventually tied for third slot by Philadelphia's Jonathan Papelbon; four American League hurlers also topped Chapman's saves totals, thus leaving him tied for seventh among the year's best big league closers.
Of course it should be acknowledged that Cincinnati's large NL Central Division lead down the pennant-race stretch might have been no small factor in the apparent September swoon, likely reducing Chapman's number of available save opportunities. With veteran Jonathan Broxton (27 saves, 33 chances, 60 games, 58.0, mostly with Kansas City) sharing a substantial part of the late-season, late-inning closer duties it was all too easy for manager Dusty Baker to rest Chapman down the stretch and thus save his arm for the upcoming post-season wars.
In brief, after a couple of tame seasons as an ongoing work-in-progress (with an overall pre-2012 6-3 won-loss mark and only one save as a part-time reliever), Aroldis Chapman has been finally making a noteworthy dent on the big-league scene. But is now the time to rubberstamp the long-prevailing opinion in Cincinnati that the Cuban flamethrower was well worth a $30-million-plus investment?
Should the hype be renewed and should we be once again repeating the 2010 press barrage that prematurely anointed Chapman as "the best-ever pitching prospect to come out of Cuba"? Or rather would it be more proper to observe that Chapman's rather immense but also rather one-dimensional talents have now proven little more than that he is the perfect fit for the modern-era big leagues – a new school type of baseball filled with highly restricted specialists carefully molded for limited and thus also highly limiting on-field roles?
Two things seem rather obvious in the light of a coming-of-age season that saw the "Cuban Comet" amass a team-high 38 saves while working only 71.2 innings over 68 game appearances (only the barest fraction above one full inning per appearance).
The first is that Chapman has emerged as the ultimate prototype among modern-era "specialists" – a fast-balling lefty who displays his wares to any given opposition lineup for less than a half-dozen or so batters during a full six-month season.
Any big league batsman of note will eventually hit even the best aspirin-tablet 100-plus fastball once he has had the chance to time the delivery across several repeated at-bats; but the adjustment may be nearly impossible with only one look at Chapman all summer long.
This is not to belittle the accomplishment of Aroldis Chapman under today's playing conditions. But would those strikeout totals continue and that miniscule ERA hold up once the workload and thus the exposure were doubled? Likely not, although it must also be pointed out that Chapman might have posted even slightly more impressive numbers in the saves department had he not been forced to split Cincinnati's "closer" assignment with Jonathan Broxton (25 appearances and 4 saves) after that latter was acquired from Kansas City in late July.
A second claim to be made about Chapman's "breakout" 2012 season also seems safe from contradiction: the latest sensational Cuban import still has an extremely long way to go before he matches the likes of Dolf Luque, Luis Tiant or Camilo Pascual (or even Danys Báez, Orlando Hernández and José Contreras) when it comes to the best-ever single-year campaigns by exiled Cuban big leaguers.
Dolf Luque's 1923 season in Cincinnati has long stood the test of time as the best-overall performance of that franchise's glorious century-plus past; Tiant's pair of sub-2.00 ERA seasons were built on regular workloads approximately three times as large as Chapman's; Pascual was a league strikeout pacesetter (with better than 200 each campaign) for three seasons running; Miguel Cuéllar earned a Cy Young (the first ever for a Latino import), both Liván and El Duque Hernández walked off with MVP awards under the pressure of post-season play, and Danys Báez still owns the highest single-summer saves total among his island-born countrymen.
In touting the successes of Chapman's season, the whole thing certainly looked much more spectacular at the end of August than it did at the outset of October. Admittedly this had much to do with Cincinnati's wide gap in the pennant chase and also to a lesser degree with the arrival of Broxton.
During the Dog Days stretch of late August there seemed to be at least a couple of record performances well within Chapman's grasp. He seemed on a direct course toward outstripping Báez by posting the most single-season saves ever logged by a Cuban-born big leaguer. While still locked in a head-to-head clash with Pittsburgh's Hanrahan (who also faded down the stretch) the Holguín phenom was also knocking on the door to become the first-ever Cuban to claim a big league saves title; Báez himself had fallen short of such a distinction with his own 41 back in 2005. That year Báez was actually fifth in the circuit in this department behind Francisco Rodríguez (California), Bob Wickman (Cleveland), Joe Nathan (Minnesota), and Marianao Rivera (New York).
What did hold up was Chapman's eventual ERA mark (1.51), which now stands as one of the most impressive ever posted by a Cuban hurler, even though it does come with a very huge asterisk. It makes very little sense to compare Chapman's earned run performances to those of Tiant (1968, 1972), Luque (1923) or even Cuéllar (1966) in light of the extreme differences in year-long exposure and workload.
Most MLB Single-Season Saves by Cuban-Born Pitchers
41 Danys Báez (Tampa Bay Devil Rays) in 2005
38 Aroldis Chapman (Cincinnati Reds) in 2012
30 Danys Báez (Tampa Bay Devil Rays) in 2004
25 Danys Báez (Cleveland Indians) in 2003
19 Pedro Ramos (New York Yankees) in 1965
(Red typeface indicates post-1962 Cuban League "defector")
If nothing else, the just-completed season has underscored both Chapman's huge potential and also his equally bulging downside; his saves have played a major role in a NL Central Division title and have managed to overshadow several embarrassing off-the-field escapades that grabbed a few unwanted mid-summer headlines.
There were many critics and doubters when Chapman was inked to his windfall contract in 2010 and I was at the forefront of those who doubted his true big league credentials. There is little question now that Chapman has finally demonstrated he is indeed a legitimate major leaguer. But before the fireworks of pennant celebration begin lighting up the Cincinnati river front, the current Chapman season might best be put into some historical perspective.
There should be little if any argument about my earlier claims suggesting the Holguín southpaw was certainly not the top pure talent (read here, top "prospect") in Cuba baseball at the time when he fled his homeland. He was not the second coming of El Duque or even of Maels Rodríguez (and certainly not the equal of Pedro Luis Lazo in his prime). There were simply too many chinks in the armor and some of those chinks remain visible.
So where does one stellar if not record-breaking season leave Chapman among top Cuban-born big leaguers? I would contend here that Chapman still has a difficult and lengthy road to travel in order to earn a significant page in Cuban baseball lore. He certainly has not experienced a year like Luque had back in 1923 in the same National League city; Luque remains unchallenged as Cincinnati's greatest island important no matter how much damage Father Time as done to his image among short-memory modern-era fans.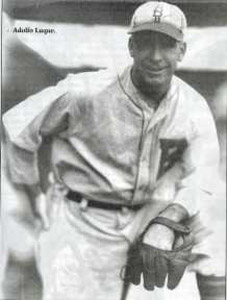 Neither has Chapman come close to matching Tiant's mastery and durability during more than a decade of 1960s and 1970s stardom. Luque and Tiant were not merely crowd-pleasing and radar-gun busting diamond sideshows; they were in fact legitimate Hall of Famers (despite their still-inexplicable absences from Cooperstown).
Not until Chapman hoists a Cy Young trophy (not likely indeed as long as he remains a "one-inning-and-out" mop-up reliever) will he stand shoulder-to-shoulder alongside Miguel Cuéllar. It is still not even all that certain that he will replace Danys Báez on the Cuban saves leader board, although that is the one pitching feat that may now be most reachable.
Let's look, then, at a summary of some of the top single-season pitching outings by Cubans who have found their way onto the prime-time stage of the North American major leagues. As good as Chapman was this year, he has worked his way onto but two of the following half-dozen-plus categories. Such is the inevitable fate of a one-dimensional modern-era closer.
Most MLB Single-Season Wins by Cuban-Born Pitchers
27* Dolf Luque (Cincinnati Reds) in 1923
24* Miguel (Mike) Cuéllar (Baltimore Orioles) in 1970
23 Miguel (Mike) Cuéllar (Baltimore Orioles) in 1969
22 Miguel (Mike) Cuéllar (Baltimore Orioles) in 1974
22 Luis Tiant (Boston Red Sox) in 1974
(*=led the league for that season in this department)
Most MLB Single-Season Losses by Cuban-Born Pitchers
23* Dolf Luque (Cincinnati Reds) in 1922
20* Pedro Ramos (Minnesota twins) in 1961
20* Luis Tiant (Cleveland Indians) in 1969
19* Pedro Ramos (Washington Senators) in 1959
18* Pedro Ramos (Washington Senators) in 1958
18* Pedro Ramos (Washington Senators) in 1960
(*=led the league for that season in this department)
Most MLB Single-Season Strikeouts by Cuban-Born Pitchers
264 Luis Tiant (Cleveland Indians) in 1968
221* Camilo Pascual (Minnesota Twins) in 1961
219 Luis Tiant (Cleveland Indians) in 1967
206* Camilo Pascual (Minnesota Twins) in 1962
206 Luis Tiant (Boston Red Sox) in 1973
(*=led the league for that season in this department)
Best MLB Single-Season ERA by Cuban-Born Pitchers
1.51 (71.2 innings) Aroldis Chapman (Cincinnati Reds) in 2012
1.60* (258.1 innings) Luis Tiant (Cleveland Indians) in 1968
1.91* (179.0 innings) Luis Tiant (Boston Red Sox) in 1972
1.93* (322.0 innings) Dolf Luque (Cincinnati Reds) in 1923
2.22 (227.1 innings) Miguel (Mike) Cuéllar (Houston Astros) in 1966
(*=led the league for that season in this department)
(Red typeface indicates post-1962 Cuban League "defector")
Most MLB Single-Season Complete Games by Cuban-Born Pitchers
28 Dolf Luque (Cincinnati Reds) in 1923
25 Dolf Luque (Cincinnati Reds) in 1921
22 Dolf Luque (Cincinnati Reds) in 1925
18* Camilo Pascual (Minnesota Twins) in 1962
18* Camilo Pascual (Minnesota Twins) in 1963
(*=led the league for that season in this department)
Most MLB Single-Season Game Appearances by Cuban-Born Pitchers
73 Danys Báez (Cleveland Indians) in 2003
70* Miguel (Mike) Fornieles (Boston Red Sox) in 1960
68 Aroldis Chapman (Cincinnati Reds) in 2012
67 Danys Báez (Tampa Bay Devil Rays) in 2005
66 Diego Segui (Seattle Pilots) in 1969
65 Diego Segui (St. Louis Cardinals) in 1973
65 Pedro Ramos (New York Yankees) in 1965
(*=led the league for that season in this department)
(Red typeface indicates post-1962 Cuban League "defector")
Most MLB Single-Season Innings Pitched by Cuban-Born Pitchers
322.0 Dolf Luque (Cincinnati Reds) in 1923
304.0 Dolf Luque (Cincinnati Reds) in 1921
291.0 Dolf Luque (Cincinnati Reds) in 1925
274.0 Pedro Ramos (Washington Senators) in 1960
267.1 Camilo Pascual (Minnesota Twins) in 1964

Best MLB Single-Season Winning Percentage by Cuban-Born Pitchers
.842* (16-3) Sandalio Consuegra (Chicago White Sox) in 1954
.771 (27-8) Dolf Luque (Cincinnati Reds) in 1923
.750* (24-8) Miguel (Mike) Cuéllar (Baltimore Orioles) in 1970
.750 (12-4) Orlando (Duque) Hernández (New York Yankees) in 1998
.714 (15-6) Luis Tiant (Boston Red Sox) in 1972
(*=led the league for that season in this department; list based on a minimum of 15 decisions)
(Red typeface indicates post-1962 Cuban League "defector")
This summary list does not of course include some stellar achievements over the short year-end trial of post-season action. Both Liván Hernández and half-brother and Orlando Hernández were playoff MVPs in their earlier big-league seasons. And Dolf Luque as well claimed important World Series wins in an much earlier era – becoming the first Latin important to claim a pitching victory in the Fall Classic (during the Black Sox Series of 1919) and also registering the deciding win of the 1933 title match between the New York Giants and Washington Senators.
Pete Ramos singlehandedly saved not only eight-straight crucial games but also a league pennant for the 1964 New York Yankees. Chapman's own post-season sojourn has so far been credible but hardly spectacular (2 NLDS outings, 5 game appearances, 4.2 total innings, 4 runs surrendered, one loss, and no wins or saves). If the $30 million investment was intended to contribute mightily to a Cincinnati trip into the Promised Land of World Series glory it so far hasn't even come close. But then we still have a long and winding road stretching out there before us. Aroldis Chapman may very well still eventually have his day in the big league post-season sunshine.
Here then is my own personal selection of the top one-year performances by Cuban big-league mounds men. Quite obviously it is a subjective ranking and one subject to hours of pointless debate. But two claims can likely be made without much fear of contradiction.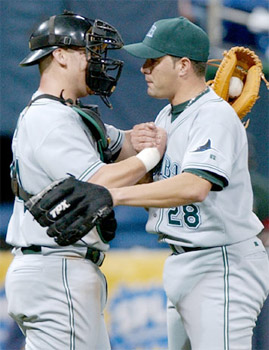 The first is that this listing does indeed reflect the best-ever one-year mound performances by more than a century of Cuban big leaguers, even if there is plenty of room for argument about their relative weights to be assigned to such performances. And a second seemingly indisputable claim might be that Chapman may well belong on this list, but his status among Cuban big league super achievers is not yet in the same ballpark with the likes of Luque, Tiant, Cuéllar, the Hernández Brothers, Camilo Pascual – and perhaps even largely overlooked, and all too quickly discarded Danys Báez.
Top Ten Single Season MLB Achievements by Cuban-Born Pitchers
(1) Dolf Luque in 1923 – Enjoying indisputably the best-ever season for a Cuban big leaguer (either pitcher or position player), Luque paced the National league with his 27-8 mark, a .771 winning percentage, six shutouts, and a 1.93 ERA. The victory total and ERA ledger still stand nine full decades later as Cincinnati ball club records. A single season earlier Luque had also paced the National League with a career-worst 23 losses. The first Cuban to win a World Series game (1919), to post 100-plus victories, and to win 20 games in a season, Luque in 1923 also become the first of his countrymen to pace either league in either games won or ERA percentage.
(2) Luis Tiant in 1968 – Tiant posted a remarkable league-best .160 ERA for Cleveland in what would later be known as "the year of the pitcher" (Bob Gibson authored an even-better 1.12 mark that same season over in the senior circuit). "Little Louie" also won 21 games and posted a league-best nine shutouts. This was the first of four eventual 20-win seasons for Tiant and the first of two sub-2.00 ERA campaigns (the other being his 1.91 mark in 1973 with Boston).
(3) Mike Cuéllar in 1970 – The Santa Clara native became the first-ever Latin American and still the only Cuban ever to walk off with a Cy Young Award, splitting the trophy with Detroit's Denny McLain. Cuéllar also finished eleventh in the AL MVP balloting and tied teammate Dave McNally for the AL best ledger with 24 victories (against 8 losses). For added measure he also led the circuit with 21 complete games for the World Champion Baltimore Orioles and eventually hurled a complete-game victory in the World Series Game 5 title clincher.
(4) Pedro Ramos in 1964 – A longtime league pacesetter in losses with Washington, Ramos was a late-career September sensation after being traded to the Yankees from Cleveland for $75,000 and two players to be named later (they would be Ralph Terry and Bud Daley). In only 13 relief appearances Ramos saved eight games, posted a 1.25 ERA and struck out 21 batters (walking none) in the same number of innings. The heroic effort allowed New York to hold off Chicago and Baltimore in a tight AL pennant race but Ramos unfortunately was ineligible for World Series action. (The following year he also led the Yankees bullpen with a career-high 19 saves).
(5) Liván Hernández in 1997 – The first "defector" to make a huge big league splash, Liván posted a 9-3 mark in his rookie campaign for the World Champion Florida Marlins and finished second in the National league top rookie voting. He also walked off with both the NLCS and World Series MVP trophies, the first time any rookie had claimed either distinction. Hernández posted unblemished 2-0 marks in both the NLCS and World Series and tied a LCS record with 15 Ks in his NLCS Game 5 outing against Atlanta.
(6) Orlando Hernández in 1998 – Liván's half-brother rang up a sterling 12-4 (3.13 ERA) mark in his debut season with the pennant-winning New York Yankees – a feat underscored by his unique status as a 29-year old rookie. Duque finished fourth in American League rookie-of-the-year balloting. He then capped the impressive season with solid Game 4 ALCS victory over Cleveland and also a Game 2 World Series victory in the Yankee sweep of San Diego's Padres. (Hernández would also win the ALCS MVP award one season later.)
(7) Camilo Pascual in 1963 – The veteran curve-ball ace won 20-plus games (21) for a second straight season for the third place Minnesota Twins and also paced American Leaguers in complete games (18) for the second consecutive year and also in strikeouts (202) for the third year in a row. Pascual received the fifth highest number of AL MVP votes among pitchers in an era when only a single CY Young trophy was awarded in the two major leagues.
(8) Sandy Consuegra in 1954 – As a true one-year wonder, Consuegra enjoyed a remarkable 16-3 season (.842 winning percentage) for the Chicago White Sox while posting his sole career campaign with double figures in the victory column. The ledger included two shutouts and an additional three saves. Of his 39 game appearances, nearly half (17) were in relief.
(9) Danys Báez in 2005 – The Pinar del Río native finished fifth in the American League in saves while also posting the most ever in that department (41) by a Cuban native. Báez registered saves in 61% of the team victories for a Tampa Bay ball club that finished last in the AL East and was tied for the second fewest wins among all 30 big league clubs. He authored a team-best ERA of 2.86 (while the Tampa Bay team ERA was actually a dismal 5.39).
(10) Aroldis Chapman in 2012 – Chapman anchored the bullpen staff of the division champion Cincinnati ball club with third most National League saves and stellar numbers for both strikeout frequency and strikeout/walks ratio. Nonetheless his overall numbers seem tainted to a degree by the mere fact that Chapman remained on the hill for only a single inning in all but a couple of his 68 season outings.
The biggest question now surrounding Chapman's career is one of durability – yes he can throw with the best of them, but as a pure thrower rather than savvy pitcher how long will that elastic arm hold up? One arm-taxing 105 mph heater too many and that remarkable arm could turn into a dead appendage in a split second.
Aroldis also had his stellar moments in Cuba but could never sustain them for long; he led the league in Ks on a single occasion (2007, but with only half the totals of earlier paragon Maels Rodríguez a half-dozen seasons earlier). He would shine briefly in his maiden outing with the National Team (the 2007 Taipei World Cup) but failed to impress in a handful of other pressure-packed international outings (especially the 2009 WBC) and several times lost his slot on the Cuba A Team roster.
Inconsistency has always been a problem, one perhaps avoided in large part this year through exclusive use as a short-appearance one-inning fixture. Any flame-thrower is extremely fragile and to underscore that point one has only to look at what happened to Chapman's perhaps even more promising countryman Maels Rodríguez.
Maels once struck out 263 Cuban League batters (in 2001, with only 76 walks) in a mere 178 innings; Maels tallied percentages that match those posted this year by Chapman (yes, against lesser competition, but also across twice the work load). But less than two years later (while still not 25 years old) his arm was dead (his 100 mph heater reduced to an 85 mph floater); in the mere wink of an eye a most promising career was suddenly over. Such a scary prospect unfortunately always looms right around the corner for a lights-out cannon-ball hurler like Aroldis Chapman.
—–
(*) Peter Bjarkman is author of A History of Cuban Baseball, 1864-2006 (McFarland, 2007) and is widely recognized as a leading authority on Cuban baseball, past-era and present-era. He has reported regularly on Cuban League action and the Cuban national team as senior writer for www.BaseballdeCuba.com during the past six-plus years and is currently writing a book on the history of Cuba's post-revolution national team.