On the Outskirts of Town with Bruno
By Erasmo Calzadilla, Photos: Irina Echarry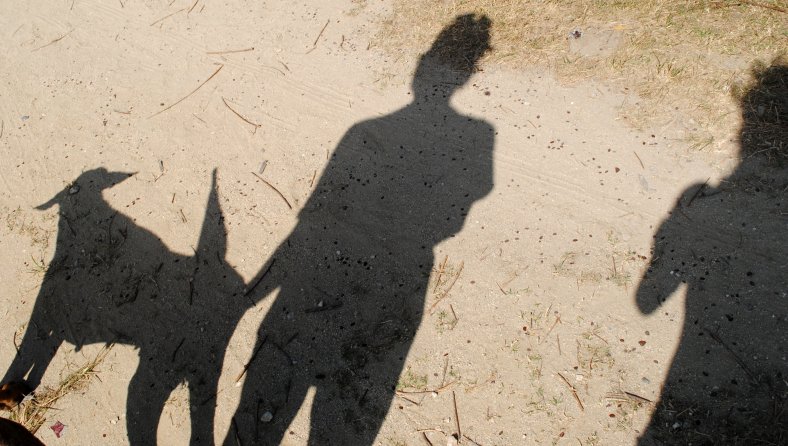 HAVANA TIMES, January 18 — Bruno is an old Doberman pinscher that I found all beat up a few years ago.  After feeding him and attending to his injuries with love, he became beautiful.  In fact he was so attractive that everyone liked him, especially the neighborhood dogs; but now he has some kind of skin disease again.  (Photo 1)
Earlier today, Irina and I took him to the Los Pinos veterinary clinic, a few miles from my house.  We made the trip on foot along the freeway the runs along the south edge of the city, and the following is what we experienced.  (Photo 2)
For people who are irresponsible, the sides of this freeway (known as "Ocho Vias," or Eight lanes) are veritable garbage dumps; here they throw away anything that's useless.  When beginning our trek, our welcome was a carpet of rotten oranges.  Fortunately fruit is biodegradable though, and later I'll pick up some of these oranges to use for composting.  However, less than a half mile away, another more interesting surprise waited.   (Photo 3)
Thrown away for what appeared to be years were some 30-odd cans and a tank full of toxic industrial waste that included dimethyl benzene and derivatives of benzene – carcinogens.  The scent of the solvent thinned the atmosphere even for me, someone who has a terrible sense of smell.  (Photo 4)
What could we do about this?  Irina and I are looking for an institution here in Cuba where we can report the existence of polluting residuals and other substances that damage the ecosystem, but we haven't found one.  If someone would like to give us a little direction, we'd appreciate it.   (Photo 5)
Thank God not everything is ugly along Ocho Vias.  Leafy carob trees with layers of yellow and white flowers can be enjoyed at times.  (Photo 6)  Irina told me that forests and fields like this make her hallucinate without wanting to when she's stressed out, and I told her about some of my adventures with the entheogen that protects the seed of the Campanilla Blanca, one of the species of flowers that adorns the sides of the highway.  (Photo 7)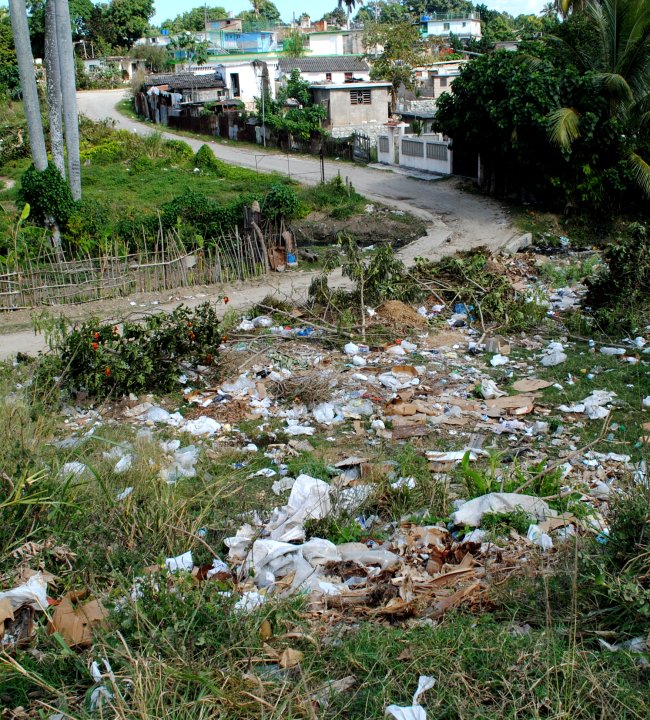 At the 100th Street exit ramp the ugliness promptly returned.   (Photo 8)  A dump of residential and industrial garbage was growing at the foot of the La Guinera neighborhood, and surrounding it was the dirtiest river I'd ever seen in my life.  (Photo 9)
On the side of the highway and standing out in the sun were two men trying to sell TV antennas.  The youngest was able to persist, but the older one finally had to sit down on the hot asphalt.  A wave of new "businesspeople" has sprouted up as a result of the mass government layoffs and with the help of new laws, but I don't believe that licenses were issued for the selling of antennas, which means these guys could have been picked up at any moment.   (Photo 10)
Other fighters that we ran into were those who could almost be called miners of "recebo" (a mineral admixture of concrete).  They were digging a hole on the side of the highway, and in such a way that if they continued with the same momentum they would have soon gone under the whole road.
A few miles further on the pendulum again swung towards beauty.  (Photo 11) This past decade there began the construction of a beautiful neighborhood that today has almost been completed.  It is so new that no one knew what it was called or who would be its privileged occupants.  It had beautiful and varied architecture, not block after monotonous block of the same design like in the Electrico or Alamar neighborhoods.
Some of the units were already occupied, and from one of them a curious little dog didn't miss a single footstep we took.   (Photo 12)
But when we ran into a crystalline stream we couldn't have been any happier.  We were almost cheered up enough to take a drink, but we quickly noticed that its waters flowed out of a broken pipe. (Photo 13)
I've read in the conservative newspaper Granma that more than 60 percent of the water pumped in the city escapes through leaks.  This was one to them, and it was so old that a small forest had grown at its expense.  Havana is suffering from a drought, but it still hasn't been possible to solve this problem. (Photo 14)
And speaking of leaks, in the middle of the "energy revolution," street lights remained on even under the noontime sun.  (Photo 15)
Then, near our goal, we went by the famous 100th and Aldabo Street Police Station, jokingly referred to as the 100th and "the End" ("Acabo" in Spanish).  Behind the walls of the station a huge sign read "REVOLUTION IS FIDEL."  We didn't photograph it because we were seriously trying to make it to the clinic, without having any problems with the authorities.
Los Pinos is a normal neighborhood with modern one and two story houses, but it has a section where one can note its age. (Photo 16)  A train station in ruin and some beautiful large wooden houses with gable roofs survive from a past that is becoming blurred.   (Photo 17)
When we found the clinic it gave us a bad feeling from its being so shabby, but inside was a kind and attentive vet who restored our calm. (Photo 18)   A staphylococcus and a fungus were enjoying Bruno's skin; now the problem is to get them to go and be headaches somewhere else.

Click on the tumbnails below to view all the photos in this gallery