Paya Buried, Cuban Dissidents Arrested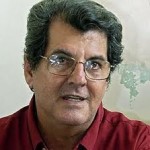 HAVANA TIMES (dpa) — Guillermo Farinas and other Cuban dissidents were detained Tuesday in Havana, at the end of the funeral mass for Oswaldo Paya.
Paya, 60, regarded by Cuban authorities as a key opposition figure, was killed in a car accident late Sunday. The car he was travelling in hit a tree near the town of Bayamo, in eastern Cuba, authorities said.
Dissident groups have raised suspicions of foul playing a role in the accident, and indirectly accused authorities of playing a part in Paya's death, although no evidence has emerged to support the accusations.
A funeral mass for the dead dissident, a practicing Roman Catholic, was led by Cardinal Jaime Ortega, archbishop of Havana, despite the fact that Paya had accused the Roman Catholic hierarchy of not pressing the Cuban government hard enough for reform on the communist island.
"Oswaldo (Paya) had a clear political vocation and, like a good Christian, this did not pull him away from faith," Ortega said before more than 400 people. "He endured the heartbreaking role of being a Christian layman who makes a political choice in complete loyalty to his ideas."
The mass took place in a church in the El Cerro neighborhood of Havana, which Paya attended regularly. Farinas and others were detained a few blocks away.
Short-term detentions are frequent in Cuba when authorities seek to undermine dissident activity, as was evident during Pope Benedict XVI's visit to the island in April.
Elizardo Sanchez, leader of the Cuban Human Rights and National Reconciliation Commission, said 10 people were detained along with Farinas.
Like Paya, Farinas was awarded the European Parliament's Sakharov prize for freedom of thought.
Paya was buried at the Colon cemetery in Havana.
Harold Cepero, another Cuban dissident, was also killed in the accident with Paya. Two other passengers in the car, a Spaniard and a Swede, suffered minor injuries.
Sanchez described Paya as "without a doubt the most important leader of the opposition in Cuba."
In 1998, Paya launched a petition known as the Varela Project, named after a Cuban religious leader, to call for greater civil liberties in Cuba, including the right of assembly and freedom of expression.
The Cuban government dismissed the text as a "strategy of subversion," though it was signed by more than 25,000 people, far more than the 10,000 required under the Cuban constitution to be considered by lawmakers.