People at Havana Film Festival
Irina Echarry, photos: Caridad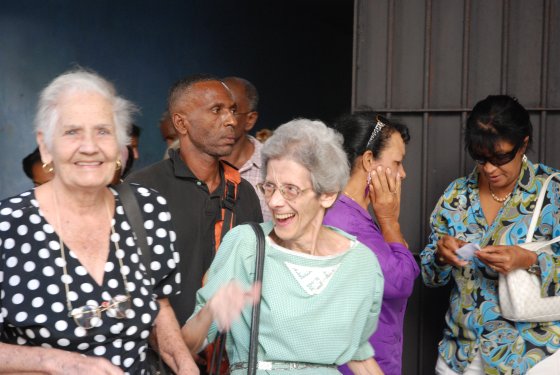 HAVANA TIMES, Dec 10 – Almost everyone is saying the same thing: There's little atmosphere at the Havana film festival this year.  In the past, the streets were filled with people anxiously running to get to any cinema on time to see the next film.  What's happened?
Martha, around 50, believes, "The problem is that we no longer have illusions about anything.  You get inside these places and everyone is mistreated.  Yesterday I went to the Yara Cinema, and I couldn't get in because my husband had taken the film festival passbook; I only had a ticket from it.  When I presented that at the box office, they didn't accept.  Isn't it the same thing?  They were going to tear the same ticket out of the passbook any way.  All at once they started talking down to me, like they were upset.  That was a real turnoff."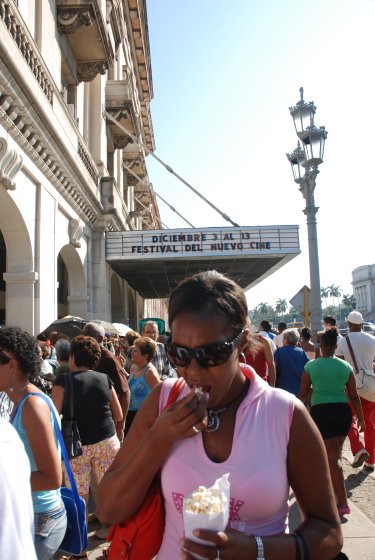 Martha looked at me suspiciously when I told her that at the Riviera Cinema there's a doorman who greets everyone who enters, and later he thanks them for coming with a big smile; he even asks the public if they liked the movie.  It's true, though, that this is the exception.
Measuring his words, Jorge Armando talked about the issue: "I don't think the lack of atmosphere is because of that; I'd say that rudeness and abusiveness is only a part of the problem.  Rather, in past years there was more of a desire to learn.  People would form long lines to see a film from Argentina or Brazil.  Now, technology has brought us closer to all cultures.  Somehow we always expect to see something new, from all continents.
"But kids these days aren't so interested in what's happening on the American continent.  I can understand that.  Thanks to television we've been saturated with Bolivia, Venezuela, Ecuador… Really, I understand it…not everything is political.  For that reason (and for the quality of the films) they prefer to see the more international selections.
"The Norwegian series was well received, just like the Finnish cinema.  That cinematography reveals deep existential tragedies, and people here prefer to see that over a Peruvian or Venezuelan movie, even though it's is not about politics," concluded Jorge Armando.
They don't always prefer it.  In fact, I believe the European 'tempo' still hasn't won many followers in Havana, though there are many contrasts.  I've seen the dark theatre remain almost empty while Horten, a recently retired Norwegian railway man, narrates his story to us.  However in the Danish film 'Anti-Christ' -a gruesome delight about pain and affliction, with blood, screams, anguish and gripping scenes- the audience remained frozen in their seats until the very end.
Simply the max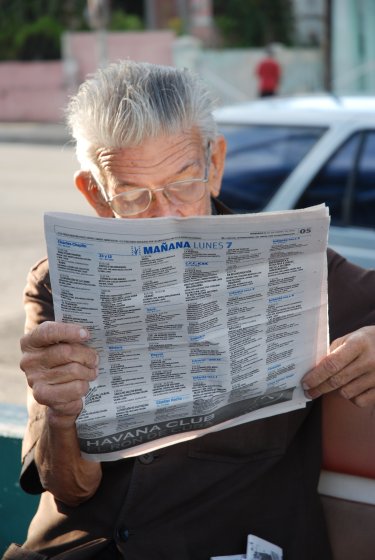 For Yamira, not yet 20, "The festival is the max.  When I finish school I come here with a group of friends, and we always have a great time.  Last year I saw something like ten movies.  My mom says it was better in the past, but I think she's getting a little old. To her, everything in the past was better than what's out now.   I can't completely go by what she says."
Everyone has their own impressions. Maybe there's no longer so much of a need to run from one cinema to the other because there are more options, or because the programming is better organized.  What is undoubtedly lacking, though, are cooler temperatures.
I agree with Amanda, a 70 year-old housewife who goes to the cinema every morning: "It's barely beginning, you have to give it time, many people take vacation time during the festival… so there must be a reason."
The Havana Film Festival continues through Sunday December 13. Here's the program.
Click on the thumbnails to see all the photos in this gallery