Quality Basketball Returns to Havana's Sports City
By Jose A. Rodriguez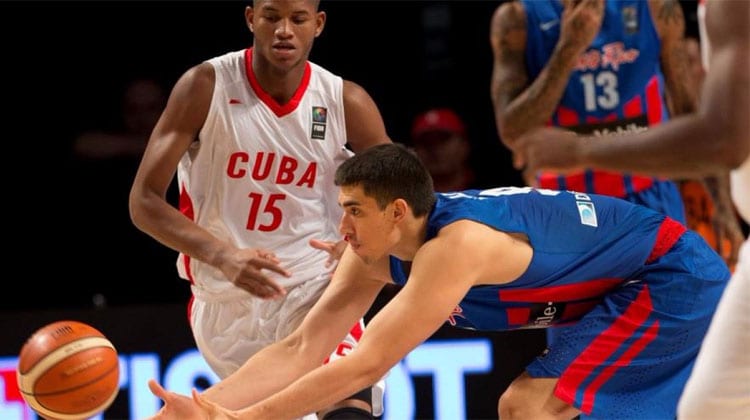 HAVANA TIMES — The new qualifiers for the 2019 Basketball World Cup meant that Havana's Sports City Coliseum (Ciudad Deportiva) was able to receive a national team from Puerto Rico, an excellent opportunity for fans of the game.
Thanks to a donation from the International Basketball Federation (FIBA), the sporting arena also put on its best face and the floorboards were painted, huge screens were put up and clocks on top of the backboards and the players' dressing rooms were reconditioned after a month of hard work.
However, nothing would have made fans enjoy the prominent event at the capital's sporting facilities more than a good performance by their players, but this didn't happen last Sunday, or at least we were only able to see glimpses of this.
The area hadn't held an official international game since the 1999 Centrobasket, when the hosts won with 67 points to 63 precisely in a face-off with the Puerto Rican team.
Now, Puerto Rico has given them a lesson in modern basketball, after a comfortable 92-72 win, a victory that began to take shape after the second quarter when they took a 20-point lead that was never put in danger.
When the Cubans reacted in the last two quarters, the rival coach, Eddie Casiano, put his best players back on the court and kept the point difference.
The home team was completely ineffective, incapable of even dominating its own side of the court as they lost the ball on countless occasions, passed wrongly and even shooting without taking aim.
And the worst point of the game was in the second quarter, when it took them five minutes to score their first points and in the end, they only managed to get nine, leaving the scoreboard at halftime with an already unbeatable 29-51.
The star of the visiting team was Ramon Clemente, who scored 15 points and three rebounds, who didn't play very long in his team's first game against the United States, while team players who stood out on the Cuban team were Javier Javier Justiz, with 21 points and 15 rebounds, along with Jasiel Rivero (23 and 5).
Justiz said at the end of the game that he had trained a lot and came really motivated to the game, and Rivero recognized that his nerves got the best of him at the beginning of the game as it wasn't until the third quarter that he started to play like people expected him to.
Karel Guzman, was the other player who made a two-figure contribution to the game with 13 points, also felt audience pressure.
"If I told you there wasn't any pressure, I'd be lying. It's the first time that the arena has packed out like this to see a basketball game. At the last game (66-72 against Mexico) we went out on the defense and things went well. That's why we were so close to winning, although they knew how to take better advantage of important moments and we didn't. Now, we didn't defend anything and that's why they won with such a big lead."
On the other hand, the captain of the Puerto Rican team, Angel Daniel Rodriguez, didn't want to take merit away from his rivals: "We never expect any game to be easy, especially when you're playing an away game. We know that the Cuban team has a lot of pride, they are good players. Today, we were better but we give them a lot of credit because they are battlers and they never give up," he remarked.
Casiano, who was a player who made Cuban fans suffer quite a bit back in his day with his wicked aim from the perimeter, said that they hadn't practiced a lot before playing in Havana but that the team came to work together for this significant win.
"We knew that it wouldn't be easy to get a good score against the Cubans, but the Puerto Rican players were quite effective in making hoops and this helped lead us to victory. We had very good defense and we knew how to mix that up with our offense, which threw the Cubans off their game," he added.
Regarding the Cuban team, he said that it is a very young team with a lot of talent to work on, noting they need time to earn competitive experience and to enter a higher level in basketball in the Americas.
The Puerto Ricans are mostly semi-professional players, who didn't have a court to practice on because of the destruction the island suffered after Hurricane Irma swept through and that some team players only arrived two days before the game from their international teams.
Meanwhile, Yoanis Zaldivar, the host team's coach, recognized the fact that Puerto Rico played better on the court and deserved to win. "They have a lot of long ranger shooters who caused quite a bit of damage and our defense wasn't was it needed to be on more than one occasion. Some players also became frustrated when they saw the difference in scores on the board grow, and that led them to commit a lot of fouls. Nevertheless, I believe in this new generation and I know that they have what it takes to get ahead, but they have to work together."
But, Jose Ramirez, the Cuban Federation's coach, was sorry that they lost last Thursday against the Mexicans because he believed that this could have spurred his players on.
"You have to take advantage of opportunities and we had opportunities with Mexico. Maybe that would have inspired the team to have played better. This is just beginning and these kinds of games are new for us, with players who come from abroad two days before a game after completing their contracts; we have to sort this out so that there is a better connection between all of them," he stated.
He also mentioned two notable absences, that of point guard Osmel Oliva, who is sick with Zika, and forward William Granda, who has a foot injury. "Oliva should be playing as our point guard in February again, which was the weakest position we had today; Granda's situation is more serious, because he's injured the fifth metatarsal, the foot's support. Fans support has been very good but it's up to us to give them a better game so they keep on coming."
The 16 teams from the Americas taking part in the qualifiers, divided into four groups, are striving for one of seven places given to the continent in the 2019 China World Cup. Argentina and Uruguay are at the top of group A at the moment, with two victories in two games, and Brazil (2-0) is in the lead in group B, and in group D, the Dominican Republic (2-0).
Cuba (0-2) is in Group C behind USA (2-0), Mexico and Puerto Rico (1-1).
The 12 best line-ups of this first round will go into the second round divided into two groups with six teams in each, where the first three and the best fourth place will qualify for the world cup.