Relatives of Victims in Nicaragua Demand Justice not a Clean Slate
The Mothers of April organization is taking the Amnesty Law to court. The group says that this law, passed by the Ortega dictatorship, is unconstitutional.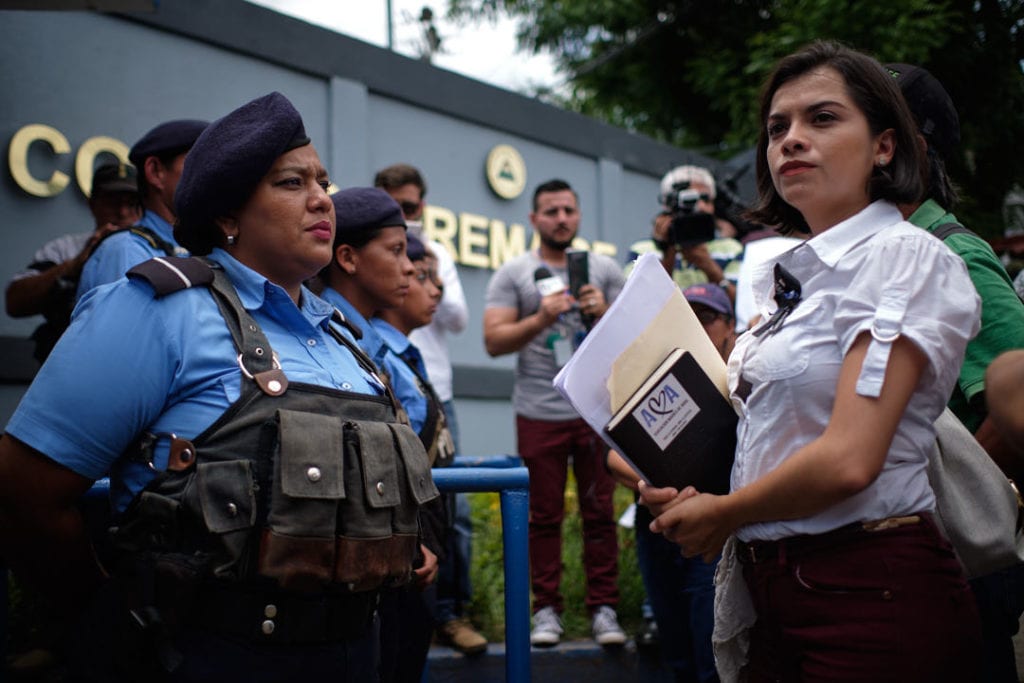 "This law does not include us. It's for them", says Alejandra Rivera, mother of Daniel Rivera, who was killed on May 30.
By Maynor Salazar (Confidencial)
HAVANA TIMES – The Madres de Abril Association, with its dozens of mothers, fathers, sisters, brothers and other relatives of the those killed in the massacre perpetrated by the Ortega police and paramilitary forces, presented the Supreme Court with a writ saying that the Amnesty Law of June 8th is unconstitutional. The bill became a law when it was approved by the Sandinista legislators, who hold the absolute majority.
"We are not willing to say, 'Let's just let it go, and move on.' We are not willing to let impunity prevail. We are going to do everything that is humanly and legally possible", said Francis Valdivia Machado, sister of the university student and rapper, Franco Valdivia, who was killed in April 2018 in the city of Estelí.
The group of 30 family members arrived at the Supreme Court at 11 o'clock in the morning. When in an organized fashion they approached the entrance of this State institution, their entrance was blocked by the police. No explanation was given to them as to why they could not enter.
"Why aren't you letting us go in?". "What orders have you been given?" "Aren´t you able to speak?" These were the questions Valdivia Machado asked to the police, who stood there in silence, holding their shotguns and AK47s.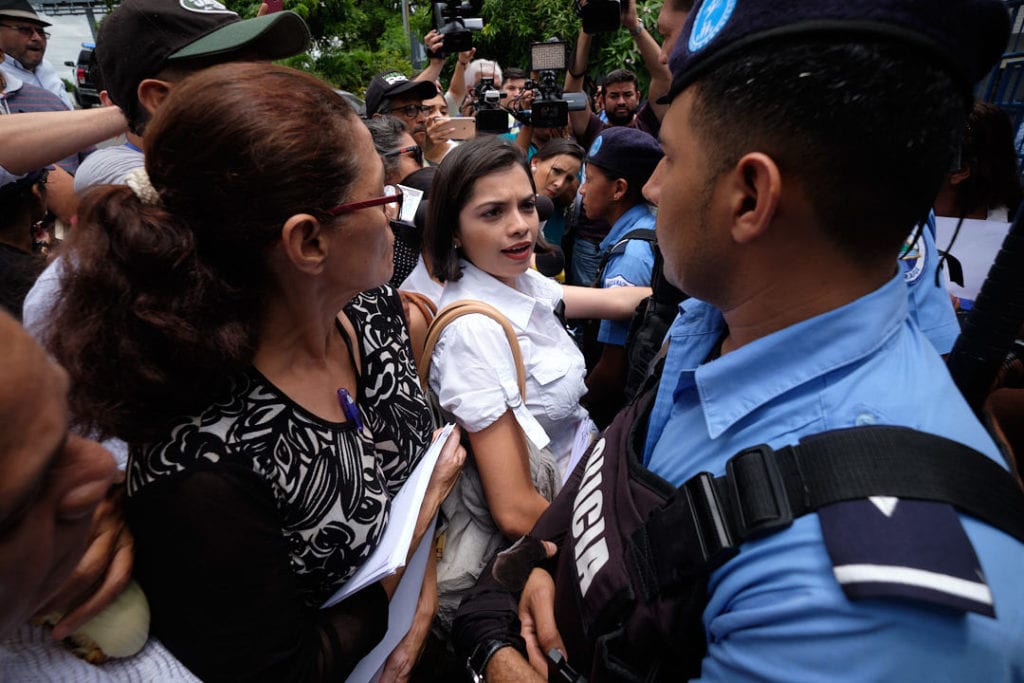 Twenty minutes later security guards told the Association that they could go in, five at a time. One of the first ones to go in was Alejandra Rivera, the mother of Daniel Rivera, who was killed by paramilitaries on May, 30, 2018, near the National University of Engineering.
"They took the demand from us, we had to sign it, I took out my ID card and that was it. They were taking pictures of us but I told them not to. I think they did it so they can show off about how they accepted the document", Rivera said. She is against the Amnesty Law because 'it does not do us any good; it's for them. What we want is truth and justice. That's why we are doing this, so they won't use this law so they themselves go unpunished.'
Margarita Mendoza, is the mother of Javier Munguía Mendoza, a young man who was kidnapped and then showed up, dead, in the morgue, in May of 2018. She is also against the Amnesty Law; she feels that it goes against her right to find out who is actually guilty of killing her son.
"With this law, the murderers of our children get off scot –free, and we aren't going to put up with this. We will keep on, using all legal recourse. We are here now, and we are going to keep going. My son is innocent, but they say he committed a crime he did not commit. My son is innocent, in the same way that all those who were killed were innocent. None of them was a delinquent. They were students, professionals. And that's why we're here; we're representing them. It's not fair that when they kill, their crime goes unpunished", said Mendoza.
Javier Munguía disappeared May 8, 2018 and his body showed up at the morgue on Friday, May 11. The forensic staff told his mother that he had been strangled. But when Doctor Nelson García examined the body, at the petition of the family, it was found that Javier had been hit; four times in the face and once in the chest.
Pablo Cuevas, lawyer for the Permanent Committee for the Defense of Human Rights, explained that Javier died from 'mechanical asphyxiation', but that it couldn't be determined on which day he was killed. Cuevas said, "The report stated very clearly that he was not tortured, but those five blows were found on his body. They found the damage on his neck, too, showing he was strangled or asphyxiated."
Alianza Cívica is asked to include the theme of Justice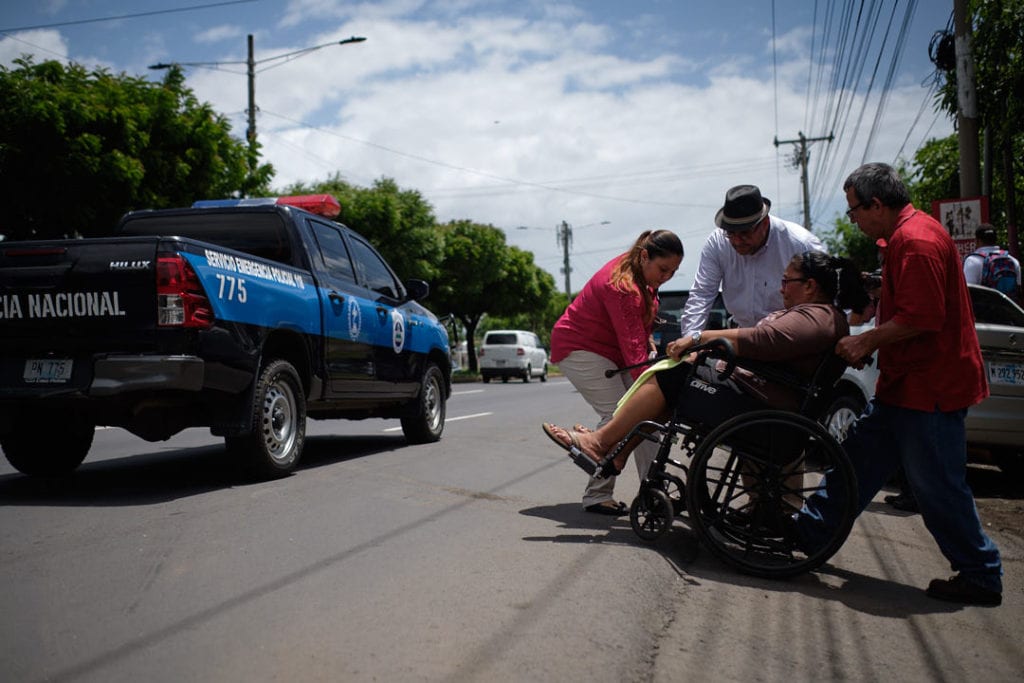 The 30 people, family members of the victims of Ortega's repression, left the Supreme Court and walked back to the bus that had brought them to this public building. As they walked, they chanted and shouted their demands. The police immediately responded by following them in their vehicles, with their sirens going.
The group of mothers and relatives were taken to a hotel in the capital, where they and members of Blue and White National Unity, former political prisoners, mothers of political prisoners and representatives of Nicaraguan Medical Unity held a press conference.
Francis Valdivia, president of the Association of Madres de Abril, said that the first message she wished to give was that all the victims shared the same fate.
She also informed the public about a letter that was sent on June 24. Three short-term and medium-term demands were made in the letter. "One is that our association immediately be included in talks related to justice. We think that it is we who should be there, independently, taking our rightful place, we who are the direct link to the victims. We also demand a greater role for all sectors in the negotiations. Up to now, the Civic Alliance has not given us an answer", said Valdivia. She said, too, that she cannot imagine there's any hope for justice as long as the present government is in power, or until early elections are called.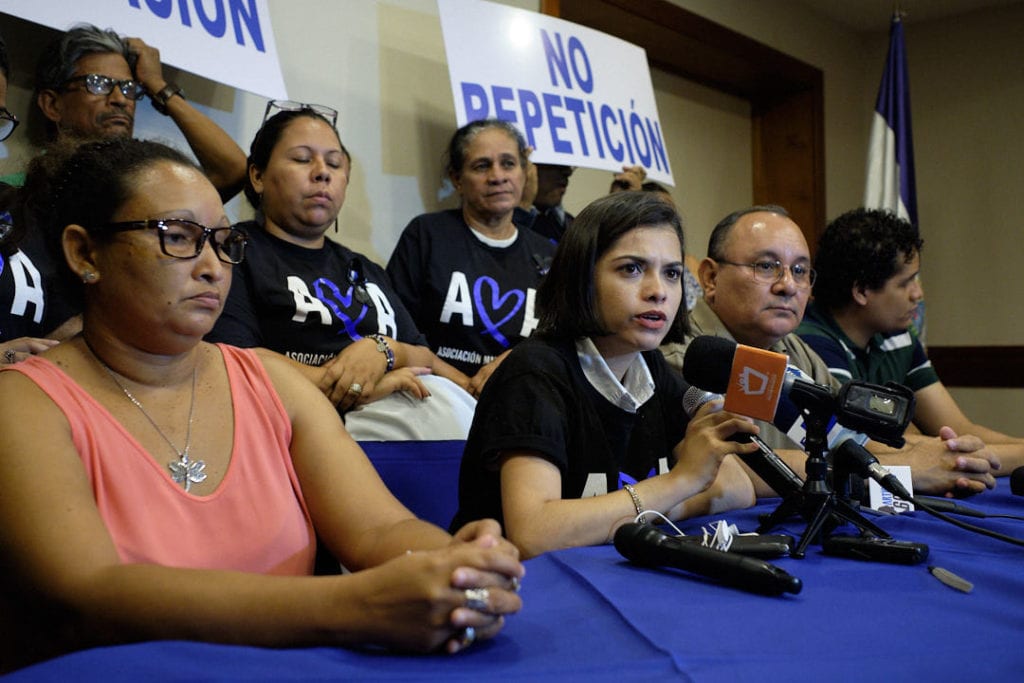 Rodrigo Espinoza, a former political prisoner, said that he rejects the Amnesty Law because it is designed solely to cover up the atrocities committed by the government of Daniel Ortega and Rosario Murillo and to take away any possibility of punishment for those guilty of crimes against humanity.
"We ourselves don't need any Amnesty Law, because when we were on trial, there was never any proof of our having committed a crime. This is why we reject the amnesty. We support the Madres de Abril because no crime must go unpunished", said Espinoza.
José Luis Borge, representative of Unidad Médica, said that his organization rejects the Amnesty Law because it aims to free from guilt the very ones who caused the repression.
"The murderers have to be put on trial. We demand that the Inter-American Commission on Human Rights, Meseni [its follow-up mechanism] and the United Nations be present before any national dialogue takes place, and that the victims of the repression must be fully represented in the dialogue", concluded Borge.