Silent Bible Reading on the Havana Malecon Seawall
By Jesus Jank Curbelo (El Toque)
Photos: Alejandro Ulloa
HAVANA TIMES – On Sunday December 1st, at ten in the morning, Fernando Rodriguez leads a group of Christians who have come together to read the Bible. The Malecon is full of fishermen, tourists and people marching about their daily business.
Fernando greets those who come to join them, with his shirt buttoned up, his hair perfectly styled. The 43-year-old man is a pastor of the Evangelical League of Cuba (LEC), a religious institution that has over 240 churches across the country.
People arriving bless each other and sit down to read. They are so concentrated on what they are doing that this noisy stretch of the Malecon, in front of the Focsa building, becomes strangely silent which brings things to a halt, in spite of cars and people who have nothing to do with the meeting. "The Bible holds an important place within our faith: we live our lives according to its principles," they say.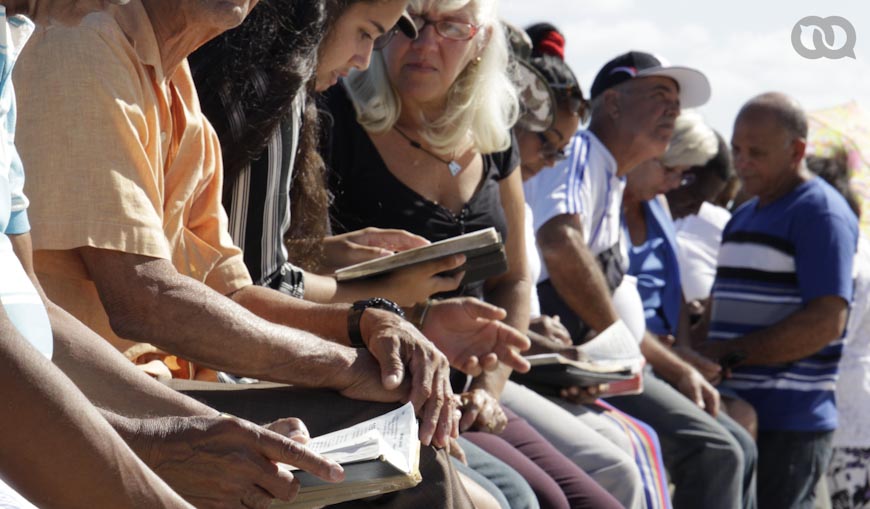 In 2007, another LEC pastor, Alejandro Nieto, had the idea of sitting down with members of his community here to read the Bible. He chose the Malecon because it is a place of carnivals and celebration; because reading the Bible is a way for Christians to celebrate. "It isn't an official call because the Church can't make public calls without the government's authorization. It's more for a family event. Every year, we meet here for an hour and a half and then we go home," Fernando explains.
At 10:30 AM, there are over 100 people. A couple sitting under a parasol, a child lying along the Malecon's wall, a woman sitting alone. They murmur phrases such as "I have put my hope in thy judgements" or "Your word is a lamp to walk by, and a light to illumine my path": psalm excerpts, revelations. There are doctors, builders, lawyers, former inmates, opera singers, small children, housewives, divers.
Fernando says that the Evangelical League collaborates with hospitals, jails and old people's residences across the country. They also have a program to look after and feed the homeless. "The idea is to bless the Cuban people and show God's love with this social work." As a result of these efforts, and its members regularly preaching on the street, the LEC has managed to gain over 3,000 followers at its 40 churches in Havana.
Founded in September 1954, the League's motto is "win over Cuba for Christ". According to its statutes, they believe themselves to be "ambassadors of the Kingdom of Heaven" and their mission is to "expand God's Kingdom" on the island and spread to other countries by preaching the Gospel. However, this meeting doesn't seek to find new members, but to "honor the Lord's word, to show that we are Christians and proud."
Silence grows along the Malecon wall as the reading becomes more intimate.

"The message we want to give to Cuba is that the Bible is really valuable for us; it's the guide that brings us clarity and direction, that guides us on what to do and how to do it," Fernando says before we say goodbye, at about 11:30. Meanwhile, the devout ask God not to take the word of truth out of their mouths, close their books and the Malecon begins to fill again with the noise of fishermen, tourists, joggers and people carrying about their daily business.