Spread the Word on Cuba's Sintesis
by Irina Echarry, Photos: Caridad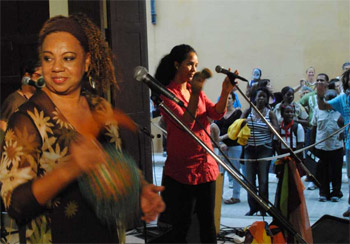 HAVANA TIMES, Jan 24 — Havana's Obrapia Street is in full swing, with the mixture of sounds causing even the cobblestones to vibrate in this historic part of town. "Corran la voz" (Spread the word), says Ele Valdes (who sings and dances with her usual grace).
Her group, Sintesis, plays in the district the first Friday of every month at the Casa de Africa center.
Sintesis is one of the groups with the most fans here in Havana. Its public is varied, as diverse as their music. Ever since its founding, the band has had a personal style that has been refined even more over time.
As the name suggests, synthesizing is their premise. The mixtures of Afro-Cuban music with rock, jazz and classical music is a testament to their constant experimentation.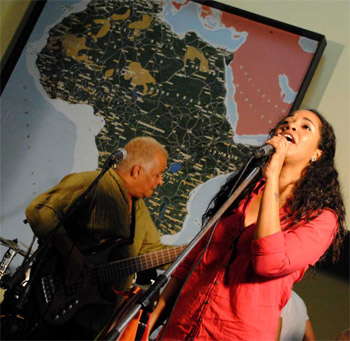 The performance is scheduled for 5:00 in the afternoon, but get there early – it's a small place. The few chairs aren't enough, so people wind up clustering together out on the sidewalk and in the street to dance and listen to the music out in the fresh air.
You might hear some song to the Yuroba grand priest Orulag, the one who tells of people's fate; or chanting to Oya, the Undergoddess of the seven colors, with her beams of light and flashing lightning.
They also sing to the god Chango and the deity Eleggua (or "San Jose") in a song by pianist Chucho Valdes or from Sin ti no soy, the group's latest album.
It's a good opportunity to enjoy Sintesis in a more intimate space in which the artists can interact with the public while selling their posters, records and photographs in local currency.
The admission for this is free at the Casa de Africa, located at 157 Obrapia (San Ignacio and Mercaderes streets in Old Havana.
The next presentation of Sintesis will be Friday, February 3 – so "spread the word".
To confirm the upcoming performance, please call the following telephone number: 861-5798.

Click on the thumbnails below to view all the photos in this gallery. On your PC or laptop, you can use the directional arrows on the keyboard to move within the gallery. On cell phones use the keys on the screen.