Team Cuba Asian Tour First Leg Wrap-up
Peter C. Bjarkman*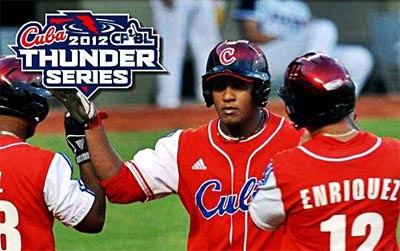 HAVANA TIMES — This past week's three-game exhibition series between a "pre-selection" Cuban national squad and the Chinese Professional Baseball League all-stars was designed to provide some additional seasoning for both squads as they prepare for next spring's third addition of the MLB-sponsored World Baseball Classic.
The short event satisfactorily met its announced goal, especially for a Taiwanese squad faced with hosting the third of four fall WBC qualifying tournaments on its home soil this coming weekend.
The Chinese Taipei club will now be taking on New Zealand, Thailand and the Philippines for one of the two remaining WBC open slots. Spain and Canada have already played their way into next spring's premiere event with victories last September in Jupiter (Florida) and Regensburg (Germany). Taiwan's baseball brain trust organized the Cuba-CPBL "Thunder Series with their hopes set on a valuable high-level pre-qualifier tune up for their own squad.
While the Taiwanese seemed to have the more pressing need for an immediate WBC training session, the "pre-selection" Cuban squad also had plenty to gain from their Asian tour. Cuban hitters have struggled of late against the better quality professional pitching now regularly encountered in international tournaments.
The time has long since passed when the Cubans could coast in such events against inferior "amateur talent" of the type encountered in IBAF World Cup and Intercontinental Cup matches of the 1970s, 1980s and early 1990s. And the apparent drop-off in quality pitching across the Cuban League in recent seasons has also had its severe consequences.
Robust Cuban sluggers like Cepeda, Despaigne, Gourriel, Abreu and company feast all winter long off 85 mph deliveries offered by most National Series hurlers but then struggle mightily with making overnight adjustments when asked to confront top big league prospects such as the talented young mound corps brought to Haarlem this past summer by a potent Team USA collegiate all-star squad.
A similar phenomenon was again witnessed this past week in Taoyuan and Taichung stadiums where it took the Cubans three outings before their slumbering bats finally came alive against the limber arms of the best CPBL pros.
Lost in the translation
But if this week's series began slowly on the field for the Cubans, there seemed to some rather "thunderous" noise transpiring away from the diamond. The loudest thunder clap came when CPBL president Huang Zhen dropped a bombshell on opening day by announcing that his league would be expanding from four to six teams this coming summer.
The shocker in the news release was Zhen's claim that one surprising league entrant would indeed be the Cuban League all-stars, who according to the top CPBL official would be sending a squad to his nation late next spring for a full-season's worth of official league play.
Such a development would have indeed been one of historic proportions. Cuba has not been represented with a "franchise" in another nation's pro baseball league since July 1960, the date when Havana's Sugar Kings of the AAA International League were hijacked to Jersey City by Organized Baseball officials in the immediate aftermath of Fidel Castro's successful 1959 socialist revolution.
Omar Linares was sent out at career's end to the Chunichi Dragons of the Japanese Central League in the early 2000s, but a full squad of Cubans competing in one of the world's top pro leagues has remained little more than "the impossible dream" for the numerous Cuban fans who wish to see their stars tested against the very best talent in the international baseball universe.
But it now turns out that last week's announcement on the eve of the anticipated Thunder Series was not quite what it originally appeared to be. The original report of a Cuban entrant in the 2013 CPBL pennant race was first carried by www.BaseballdeCuba.com on November 10 and has since spanned numerous comments and inquiries posted on this author's personal Facebook page.
I also reported the story in my recent article treating early Thunder Series action. But I also remained somewhat skeptical given the fact that no announcement had yet appeared in the Cuban sporting press and no verifying statement had been released by Cuban Federation officials. And the skepticism was well founded.
As I have now been able to verify through an anonymous MLB associate in the scouting community – one who was on the ground in Taichung this past week – the original announcement was not at all what it originally appeared to be. A claim of Cuban involvement was indeed made by CPBL boss Zhen but something appeared to get lost in either tone or translation.
The actual agreement apparently has the Cuban National Team returning to Taiwan next summer for a series of exhibitions during the one-month mid-season CPBL all-star break (apparently in either June or July, since the CPBL season opens in March and closes in October). It is likely that the Cubans will play a heftier exhibition series than the one staged this past week – perhaps visiting for two full weeks or more. But there will be no Cuban team heading to Asia for the full six-month Taiwanese League championship season.
My source in Taiwan also reports that the 2013 summer visit has indeed been agreed to in principle by both INDER and IBAF vice president Tony Castro and Cuban Federation commissioner Higinio Vélez. Castro and Vélez are both currently traveling with the Cuban contingent in Asia.
All further details pertaining to the visit – including the actual length and dates of the series – are yet to be determined. It is probable that there will be some announcement at a later date in the Cuban press and also on the Cuban Baseball Federation website.
Although Cuba's return to Taiwan next summer will not in truth take the shape that was originally rumored, the announcement does nonetheless seemingly have some significant consequences. The Cubans regularly participate in the Rotterdam World Port Tournament and that event is again on tap for next July. And there is also the tentatively scheduled rematch of the Cuban squad with the USA Baseball Collegiate All-Stars – a series that was renewed after a long hiatus last summer in Havana on the eve of the July 2012 Haarlem Baseball Week.
My conversations with several USA Baseball officials last summer in Haarlem suggested that the Americans were already attempting to schedule games for June or July 2013 in a number of big league venues including Boston's Fenway Park, New York's Citi Field, and Washington's Nationals Park.
If the Cuban National Team will indeed be in Taiwan for a long stretch during either June or July, what does this bode for Rotterdam or the renewed series with the USA collegians? Will there be two Cuban squads on road in mid-summer (perhaps a Cuba B team in Rotterdam as in past years); or will anticipated trips to either Holland or North America (or both) simply be scrapped. We will simply have to stay tuned for further details.
Returning briefly to on-field events just concluded in Taiwan, a cursory exam of Team Cuba's composite statistics (below) for the three-game series suggests some interesting speculations on the eve of the team's much stiffer weekend series in Japan. On the offensive side of the ledger, several young Cuban prospects (Yurisbel Gracial, José M. Fernández, and Yordan Manduley) acquitted themselves quite well in their limited opportunities to crack the veteran Cuban lineup.
By stark contrast, veterans Cepeda, Gourriel, Enríquez and Abreu never seemed to get untracked during the short series, while Bell and Pestano (and of course Despaigne) came up just as big as they almost always do on international soil.
What is obviously most disturbing to the Cuban camp is the high ratio of strikeouts (22) to walks (only 9) drawn by the Cuban hitters. And while the overall numbers were respectable against quality Chinese professional hurlers, almost the entire offensive outburst was restricted to a single final game.
Manager Victor Mesa and his staff have to be far more pleased with the Cuban pitching. Only Yadier Pedroso (still suffering from a sore shoulder) was largely ineffective, though veterans Norberto González and Valdimir García were hardly overpowering in their brief appearances. Ismel Jiménez and Dalier Hinojosa were especially impressive in Taiwan and a pair of youngsters (Leandro Martínez and Pablo Fernández) continued to show the promise they flashed in Haarlem last July. The pair may well be the new mainstays of the Cuban bullpen corps when next spring's WBC action rolls around.
Team Cuba Thunder Series Final Stats (Batting)
Cuban Batters (BA, G, AB, Hits, Runs, 2B, 3B, HR, RBI, SO, BB, SB)
Yurisbel Gracial (.667 BA, 3 G, 3 AB, 2 H, 2 R, 0 2B, 0 3B, 0 HR, 0 RBI, 0 SO, 0 BB, 0 SB)
José M. Fernández (.667 BA, 1 G, 3 AB, 2 H, 1 R, 0 2B, 0 3B, 0 HR, 2 RBI, 0 SO, 0 BB, 0 SB)
Alexei Bell (.600 BA, 3 G, 5 AB, 3 H, 2 R, 3 2B, 0 3B, 0 HR, 1 RBI, 0 SO, 1 BB, 0 SB)
Rusney Castillo (.500 BA, 3 G, 10 AB, 5 H, 2 R, 1 2B, 0 3B, 1 HR, 2 RBI, 2 SO, 0 BB, 1 SB)
Yordan Manduley (.500 BA, 1 G, 2 AB, 1 H, 0 R, 0 2B, 0 3B, 0 HR, 0 RBI, 1 SO, 0 BB, 0 SB)
Ariel Pestano (.400 BA, 2 G, 5 AB, 2 H, 0 R, 0 2B, 0 3B, 0 HR, 1 RBI, 1 SO, 0 BB, 0 SB)
Alfredo Despaigne (.333 BA, 3 G, 12 AB, 4 H, 3 R, 1 2B, 0 3B, 2 HR, 7 RBI, 2 SO, 1 BB, 0 SB)
Erisbel Arruebarruena (.286 BA, 3 G, 7 AB, 2 H, 0 R, 1 2B, 0 3B, 0 HR, 1 RBI, 3 SO, 1 BB, 0 SB)
Alexander Malleta (.250 BA, 3 G, 4 AB, 1 H, 1 R, 0 2B, 0 3B, 1 HR, 1 RBI, 1 SO, 0 BB, 0 SB)
Yasmani Tomás (.250 BA, 1 G, 4 AB, 1 H, 1 R, 0 2B, 0 3B, 0 HR, 0 RBI, 2 SO, 0 BB, 0 SB)
José Dariel Abreu (.222 BA, 3 G, 9 AB, 2 H, 1 R, 1 2B, 0 3B, 0 HR, 0 RBI, 0 SO, 1 BB, 0 SB)
Yulieski Gourriel (.200 BA, 3 G, 10 AB, 2 H, 1 R, 1 2B, 0 3B, 0 HR, 0 RBI, 2 SO, 3 BB, 0 SB)
Michel Enríquez (.167 BA, 2 G, 6 AB, 1 H, 1 R, 0 2B, 0 3B, 0 HR, 0 RBI, 2 SO, 0 BB, 0 SB)
Juan Carlos Torriente (.000 BA, 2 G, 7 AB, 1 H, 0 R, 0 2B, 0 3B, 0 HR, 0 RBI, 2 SO, 0 BB, 0 SB)
Frederich Cepeda (.000 BA, 2 G, 6 AB, 0 H, 0 R, 0 2B, 0 3B, 0 HR, 0 RBI, 3 SO, 2 BB, 0 SB)
Guillermo Heredia (.000 BA, 3 G, 5 AB, 0 H, 1 R, 0 2B, 0 3B, 0 HR, 0 RBI, 1 SO, 0 BB, 0 SB)
Frank Camilo Morejón (.000 BA, 2 G, 1 AB, 0 H, 0 R, 0 2B, 0 3B, 0 HR, 0 RBI, 0 SO, 0 BB, 0 SB)
Yulexis La Rosa (.000 BA, 1 G, 3 AB, 0 H, 0 R, 0 2B, 0 3B, 0 HR, 0 RBI, 0 SO, 0 BB, 0 SB)
Team Totals (.284 BA, 3 G, 102 AB, 29 H, 16 R, 8 2B, 0 3B, 4 HR, 15 RBI, 22 SO, 9 BB, 1 SB)
Team Cuba Thunder Series Final Stats (Pitching)
Cuban Pitchers (ERA, G, W, L, IP, Batters, H, R, ER, SO, BB, Pitches, Saves)
Freddy A. Alvarez (0.00 ERA, 1 G, 1 W, 0 L, 6.1 IP, 21 Batters, 3 H, 0 R, 0 ER, 5 SO, 0 BB, 0 Saves)
Ismel Jiménez (0.00 ERA, 1 G, 0 W, 0 L, 5.0 IP, 18 Batters, 1 H, 0 R, 0 ER, 5 SO, 3 BB, 0 Saves)
Leandro Martínez (0.00 ERA, 2 G, 1 W, 0 L, 2.1 IP, 11 Batters, 3 H, 0 R, 0 ER, 3 SO, 0 BB, 0 Saves)
Pablo M. Fernández (0.00 ERA, 3 G, 0 W, 0 L, 1.1 IP, 4 Batters, 1 H, 1 R, 0 ER, 2 SO, 0 BB, 0 Saves)
Dalier Hinojosa (0.00 ERA, 2 G, 0 W, 0 L, 1.2 IP, 7 Batters, 1 H, 0 R, 0 ER, 1 SO, 1 BB, 1 Save)
Darién Núñez (0.00 ERA, 2 G, 0 W, 0 L, 1.0 IP, 4 Batters, 0 H, 0 R, 0 ER, 3 SO, 1 BB, 0 Saves)
Norberto González (0.00 ERA, 3 G, 0 W, 0 L, 0.2 IP, 4 Batters, 2 H, 0 R, 0 ER, 0 SO, 0 BB, 0 Saves)
Odrisamer Despaigne (4.50 ERA, 1 G, 0 W, 0 L, 4.0 IP, 19 Batters, 7 H, 3 R, 2 ER, 2 SO, 1 BB, 0 Saves)
Vladimir García (5.40 ERA, 2 G, 0 W, 0 L, 1.2 IP, 8 Batters, 2 H, 1 R, 1 ER, 4 SO, 1 BB, 0 Saves)
Yoanni Yera (8.99 ERA, 2 G, 0 W, 0 L, 1.0 IP, 5 Batters, 1 H, 2 R, 1 ER, 1 SO, 1 BB, 0 Saves)
Yadier Pedroso (17.98 ERA, 1 G, 0 W, 1 L, 1.0 IP, 6 Batters, 4 H, 2 R, 2 ER, 0 SO, 0 BB, 0 Saves)
Team Totals (2.08 ERA, 3 G, 2 W, 1 L, 26.0, 107 Batters, 26 H, 9 R, 6 ER, 26 SO, 8 BB, 1 Save)
(*) Peter Bjarkman is author of A History of Cuban Baseball, 1864-2006 (McFarland, 2007) and is widely recognized as a leading authority on Cuban baseball, past and present. He has reported on Cuban League action and the Cuban national team as senior writer for www.BaseballdeCuba.com during the past five-plus years and is currently writing a book on the history of Cuba's post-revolution national team.