Team Cuba Puts a Few Ghosts to Rest
With a One-Sided Victory in the Veracruz Games
Peter C. Bjarkman*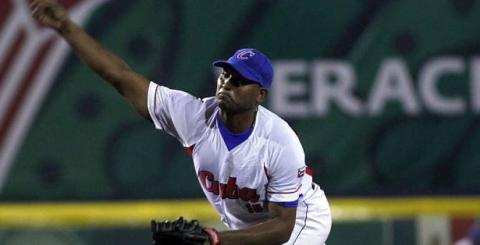 HAVANA TIMES — It was a long-awaited baseball resurrection of sorts and it most appropriately came in an event Cuba has so long dominated. The Central American Games tournament, first held in Mexico City in 1926, has now crowned the Cubans as it baseball champions 15 times in only 22 sessions – a even more meaningful domination when one remembers that Cuba sat on the sidelines (mostly for political reasons) twice in the 1950s and twice more during the past dozen-year span (2002 and 2010).
Only on a rare pair of separate occasions before 1962 were the Cubans denied Gold Medal bragging rights (third in 1946 and fourth in 1962); a single additional failure came with a disappointing (even shocking) 1982 runner-up finish behind the upstart Dominicans at Havana's Latin American Stadium. It was these same Central American Games that originally motivated construction of Havana's showcase La Tropical Stadium way back in 1930 and the CAG event now boasts the longest ongoing history of any recognized international baseball tournament on record. In short there could not have been a better venue to launch a much-needed cleansing of wounded Cuban baseball pride or to reverse the island's recently sagging fortunes on the international baseball scene.
With a resounding five-game sweep of the field at this week's 22nd CAG in Veracruz, Cuba not only regained a hefty measure of its badly tarnished reputation but did so in an impressive – almost flawless – fashion. There wasn't even a hint of stumble or setback anywhere along the route – no reasons to carp about Victor Mesa's managerial moves, no excuse for bemoaning the lack of timely Cuban hitting, no opportunities to point a finger toward obvious gaps in the Cuban pitching arsenal or to lament the sagging fortunes of the National Series format back at home. Of course this was not the World Baseball Classic (stuffed with half-hearted big leaguers going through spring training warmups), or the IBAF World Cup (with all those strong Asian rosters, to say nothing of the Americans and Canadians), but it was nonetheless a tournament on a clear par with the COPABE-sponsored Caribbean Series winter leagues finale where the Cubans stumbled so badly less than a year ago.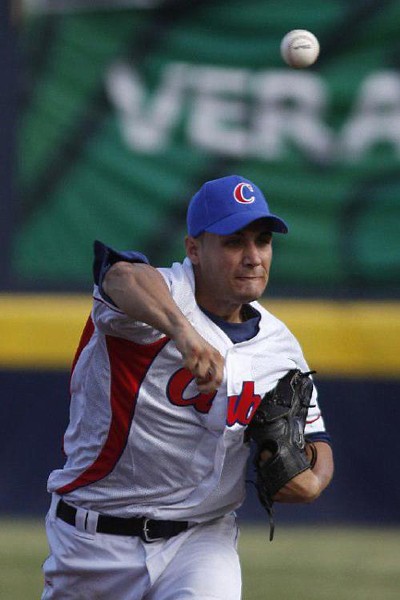 There can be little doubt that the growing spate of player attritions (via "defections" of several dozen top prospects that have recently fled in search of MLB riches) has stripped the one-time Cuban juggernaut of a good deal of its reputed punch. The Cubans still have a long way to go in what may now be an impossible struggle to climb back onto their long-held perch atop the IBAF international baseball rankings (where they have now slipped to third, well behind the Japanese and Americans). But the all-too-easy triumph in Veracruz was a much-needed victory and a much-welcomed spirit-lifter, nonetheless, and one that clearly reversed almost a decade of disappointments for the Cuban fans, players and baseball brain trust. If the locale was ideal, then so also was the timing. With another edition of the COPABE Caribbean Series on the immediate horizon in February, this CAG gold medal win could not possibly have come at a better time.
There was in truth only one contest during the weeklong Veracruz event that held even the faintest odor of a competitive match. In the Thursday afternoon semifinals the Dominicans jumped out on top early with single tallies in the second and third frames against 20-year-old ace Norge Luis Ruiz and in the process provided the briefest of momentary scares. Ruiz didn't appear nearly as invincible in the early going Thursday as he had during a brilliant one-hit effort versus Puerto Rico only six days earlier. Early stumbles this time out included an ice-breaking RBI single by Rafael Fernández in the second and then an additional timely pair of base knocks and all-important sac fly in the third. But Cuban bats came alive in the late innings and despite the slightly less-than-brilliant outing by Ruiz the forces of Victor Mesa were able to coast home down the stretch.
Yosvani Alarcon (a two-run line-drive shot over the left field wall off starter Wilson Eusebio to provide the first slim lead in the fifth) and Alexander Mayeta (a ringing two-run round tripper to right in the eighth to ice the contest) eventually provided the vital offensive blows. And there were also a few additional heroes in the Cuban camp. Cepeda collected a pair of safeties (including a double), Yadiel Hernández drove home the additional pair of runs (one on a bases-loaded walk), Héctor Mendoza closed the door out of the bullpen after the Dominicans launched one final ninth-inning threat (two aboard with only one out), and Alfredo Despaigne contributed a final defensive gem in left field that turned an apparent rally-extending line-drive hit into a fortuitous game-ending double play.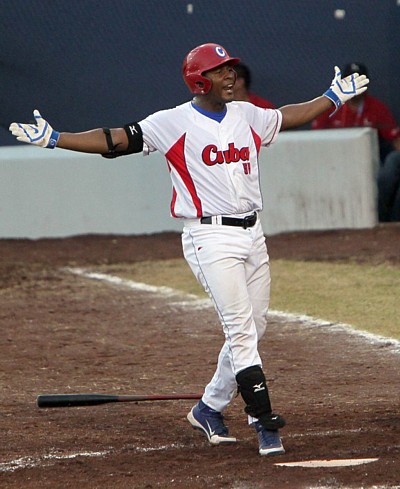 The grand finale Gold Medal contest was an apparent mismatch from the start. Nicaragua – a third-place finisher at the 2010 event skipped by the Cubans – has been emerging as a much-improved competitor in recent seasons. The Nicas recently showed well in Taipei at the Under-21 World Cup where they claimed fourth spot. The Pinoleros have lately also played Cuba quite tough (in spirited if usually one-sided games) during several "friendly" series in both Managua and Havana. And the underdog Nicaraguans did own some apparently solid pitching which was on full display in a 10-1 opening day walloping of the Dominicans and a dramatic 2-1 extra-inning semifinal victory over Puerto Rico. But in a big showdown game the difference between the upstart Nicas and the rebounding Cuba squad was quickly all too apparent. Cuba jumped out early to a 4-0 margin in the first four frames. Starter Carlos Teller had already been lifted after but three innings (still facing a slim 1-0 deficit) and the Cubans quickly jumped on relievers Antonio Orozco and José Tellez for a fourth-inning three-spot that largely settled the issue.
While number two starter Freddy Asiel (like Norge Luis a day earlier) would struggle a bit more than during his easy-going outing versus Mexico (he was here lifted in the seventh when the Nicas plated two on the strength of a pair of leadoff doubles), the Cuban bullpen contingent of Yaisel Sierra and Héctor Mendoza was able to withstand any further opposition charge. Again there was plenty of firepower on the Cuban side, with all but one (Alarcón) of the 12 batsmen who saw action collecting base knocks. And in the end Victor Mesa even resorted to some game-icing "small ball" tactics when Yordan Mandulay executed a perfect seventh-inning suicide squeeze bunt to plate pinch runner Lourdes Gourriel from third with an insurance tally. Yadiel Hernández was the big RBI producer on the night with three.
The most noteworthy key to victory for Cuba in this event was undoubtedly the notably resurgent offense. As an entire club Cuba batted at a .414 clip (down only slightly from the stratospheric .483 BA posted in the three contests of the preliminary round). Mesa's team outscored the opposition by a composite 39-7 margin (15-6 in the two medal-round games). This was the kind of Cuban hitting that was so often on display a few years back and yet was seemingly all-too-absent in many recent outings. The hitting was not only hefty but altogether timely with key rallies keeping the margin safe every time the enemy forces rallied during the final two crucial contests.
Much of the charge was led by the old standbys – especially Cepeda (5 for 6 with a pair of doubles in the championship round), Despaigne (.471 five-game BA), Gourriel (2 for 3 with an RBI in the finale plus a .500 BA in the opening round) and a suddenly resurgent Alexander Mayeta (3 for 7 in the two title games with a homer, double and four runs scored). Handed another shot at national team action after the "defection" of José Abreu in late 2013, the aging Mayeta displayed some of his old punch at the plate and enjoyed perhaps his best international outing ever. But this was also a full team effort on the offensive end, with every position player on the roster (with the lone exception of reserve catcher Yulexis La Rosa, who batted but twice) eventually breaking into the hit column. In each of the final two title-round matches virtually the entire lineup contributed to the offensive party (eight hitting safely in the semis and 11 in the finals). By any measure one chooses, when the dust finally settled on the week's action, the five-game Cuban offensive numbers were simply gaudy and then some.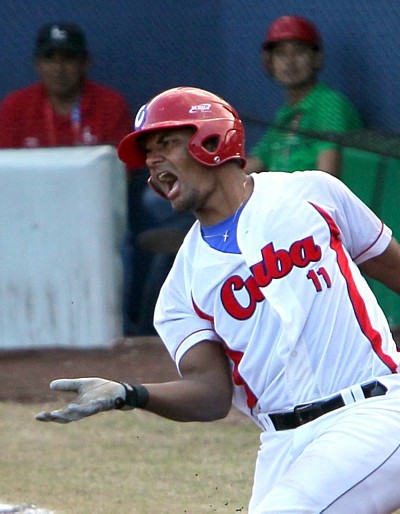 Many big names and budding stars have been lost over the past 24 months. There is no longer any Abreu or Héctor Olivera or José Miguel Fernández or Erisbel Arruebarrena on the scene. Some of the best up-and-coming prospects like Andy Ibañez, Yoen Moncada, Rasiel Iglesias and Rusney Castillo departed quite early before ever establishing themselves as the potential next generation of expect Cuban superstars. But this tournament seemingly proved that there is still plenty of fuel in the Cuban arsenal. Several new stellar contributors have overnight appeared on the horizon and some of the departures have even seemed to strengthen rather than weaken Mesa's current lineup.
Citing one example, the loss of José Miguel Fernández has allowed an opening for Luis Yander La O at third and thus the related repositioning of Yulieski Gourriel back to his true home at second; mentioning another, the absences of Yosvani Tómas and WBC starter Guillermo Heredia have only opened space in the outfield for this week's offensive leader Yadiel Hernández and backup fly-chaser Roel Santos (who picked up five base knocks in only six plate appearances). This was a breakout tournament for Matanzas right fielder Hernández (.333 BA and tournament-leading 9 RBIs) who had been a last-minute controversial cut from the 2013 WBC team in favor of Yasmani Tomás.
And it doesn't stop there. Dainer Moreira clearly doesn't have the same flashy glove of an Erisbel Arruebarrena but nonetheless demonstrated the kind of offensive punch from the shortstop hole (.471 BA and hits in all five games) that has been missing since the retirement of the incomparable Eduardo Paret. Holguin's Yordan Manduley, now Moreira's capable back-up, demonstrated sufficient evidence that Cuba is still more than merely solid at the crucial shortstop slot. And after slipping from the scene a few years back (and riding out a year-long disciplinary suspension of questionable legitimacy) slugging Yosvani Alarcón has now been resurrected to fill the catcher's role. Finally Luis Lander la O occupied the third base position with enough skill to invite some reasonable comparisons to a young Michel Enríquez.
Even the Cuban bullpen – now anchored by Yaisel Sierra (Holguín), Vladimir Gutiérrez (Pinar del Río), Cionel Pérez (Matanzas) and Héctor Mendoza (Isla) – once again looks quite solid, although this tournament (thanks to such a robust and opportunistic offense) did not allow much in the way of opportunities for the relief corps to be severely tested with even the most moderate brush fires. This most recent edition of Team Cuba – still operating under the quixotic guidance of much-maligned Victor Mesa – still has it various holes (depth in starting pitching and an aging corps of top sluggers for starters) but the performance this week in Veracruz was nonetheless quite enough to kindle new hopes among the partisans in Havana, Santiago, Pinar and all island outpost in between. The Cubans very definitely seem to be slowly marching their way back.
—–
(*) Peter C. Bjarkman is Senior Writer at BaseballdeCuba.com (since 2007), widely recognized as a leading authority on Cuban baseball history (both pre- and post-revolution) and author of A History of Cuban Baseball, 1864-2006 (2007) among numerous other titles.