The 41st Havana Film Festival Closes, Cuba Takes Four Awards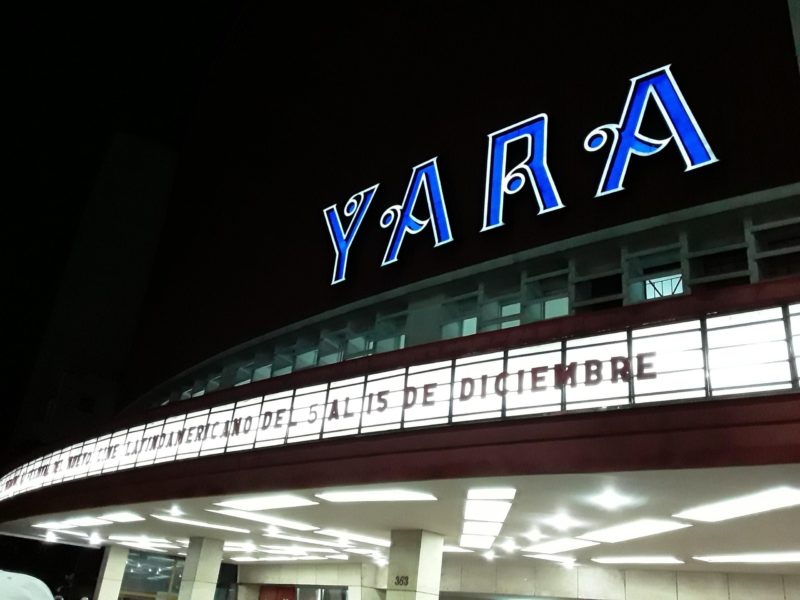 By Jennifer Ruth Hosek
HAVANA TIMES – The 41st Havana Film Festival just ended after 11 days of continuous showings at around a dozen theaters and special venues in the Cuban capital. The Argentine film "Los Sonambulos" (The Sleepwalkers) won the top award for full-length fiction as well as Best actress, Erica Rivas, and Best Script by Paula Hernandez.
Cuba filmmakers and artists obtained four awards: Best Opera Prima (Agosto), Best Documentary (A Media Voz), Best Short Fiction Film (Flying Pidgeon) and the Best Movie Poster "Olga" by Diana Carmenate.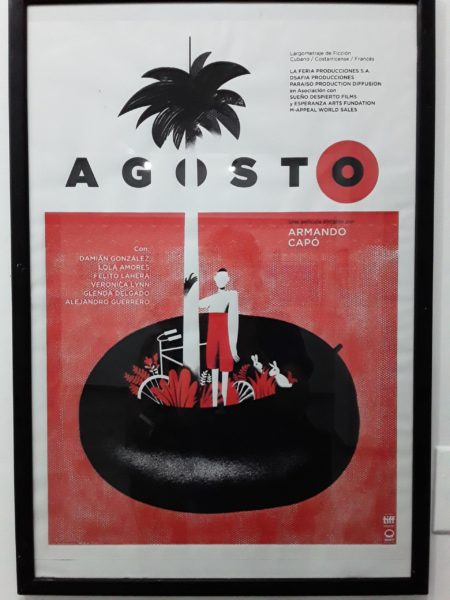 Agosto, the title of Cuban Armando Capó Ramos's coming-of-age fiction that won this year's Coral for ópera prima foreshadows its subject. August 1994 marked the internationally publicized, volatile high point of balsero (rafter) emigration from Cuba. Twenty-five years on, this is still a daring theme for a full-length Cuban feature.
Historically, the painful and politically thorny topic has been avoided. An exception is the music-focused Havana Blues by Spanish director Benito Zabrano, which won UNEAC's CARACOL award at the Festival in 2005. An exception in documentary is the highly acclaimed Balseros by Catalonian directors Carlos Bosch and Josep Maria Domènech, which won the Best Foreign Documentary and Memory Documentary Awards at the 2002 Festival, but has never been shown again in a Cuban theater or on TV.
Agosto expands the cultural memories of the Special Period. It takes viewers outside the capital to the fishing village of Gibara, where director Capó was born and where he was living in 1994 as a 14-year old.[i] Told from the perspective of a likeable, reserved adolescent on puberty's cusp, the story invites us to empathize with regular people faced with the radical intrusion of global events into their daily lives.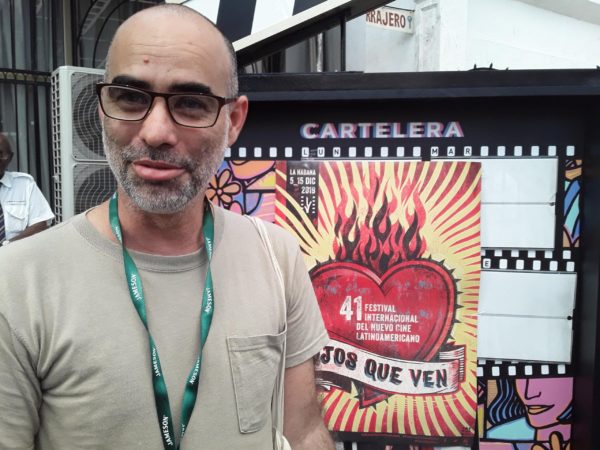 School chums Carlos, Mandy and Elena are staying in Gibara over the summer. In holidays ripe with time, they wander the overgrown, alluring coastal ruins of this formerly sumptuous colonial port town, stumbling upon mysterious campers from Santiago de Cuba who claim to be biologists. Rather unconvinced by these visitors' explanations, the three nevertheless promise each other not to tell their parents in order to maintain their own liberty to roam.
Spying on a distraught teacher, the youth are more interested in the voluptuousness of her suffering than whether her husband left for another woman or to a different country.
Carlos's day-to-day life. Elena flirts with the two boys in turn, much to Carlos's disappointment. The teenager tends to his beloved, semi-lucid grandmother (played by the unrivalled Verónica Lynn). Her unvarnished responses to his questions about her sexual partners are indirect relationship counsel. Carlos discovers masturbation the same night that, peering through the blinds, he discovers his neighbors' stealthy departure.
As the economic crisis intensifies, the subjects of ephemeral radio and TV reports to which Carlos's parents are furtively glued manifest in the remains of rafts that officials pull from the surf. Again, watching from the margins, Carlos witnesses his parents' nocturnal embrace before his own father's departure.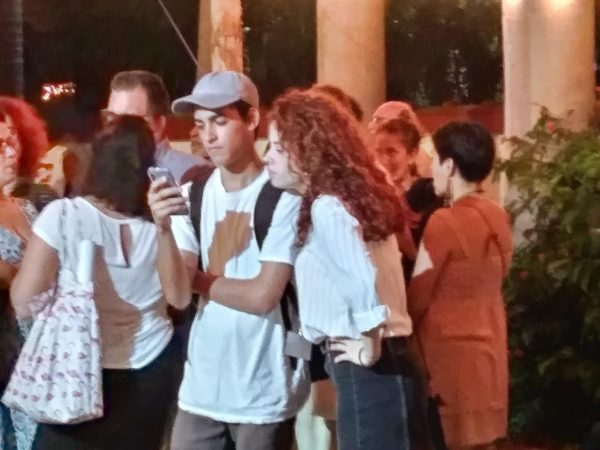 Later, he observes his mother's nighttime skinning of one of the rabbits that Carlos's father told him he was raising for show.
Buffeted by rapid succession losses as his grandmother dies and Elena leaves, Carlos has little time to mourn and no time to grow up. Ill-prepared to engage with the contemporary circumstances, Carlos and Mandy take a dip at the ocean's edge, suspended in precarious times and in a touching adolescent immaturity and impotence.
Agosto's individual story is set against national events that are also transnational and contemporary. While the balsero crisis is popularly understood as Cuban, it was and is pan-Caribbean. From 1995 to 2014, for instance, the US coast guard intercepted more Dominicans and Haitians than Cubans.[ii]
In a world of climate intensification, migration is more massive and global than ever. Agosto reminds us of our common humanity through a particular Cuban case. This identificatory coming-of-age tale helps us to understand the struggles of living when faced with uncertain futures and to empathize with the agony of decisions when both staying and going seem impossible.
Two other Cuban films garnered Corals this year. Awarded for full length documentary, Heidi Hassan's "A Media Voz" offers an introspective, poetic take on diasporic subjectivities particularly her own. Awarded for short fiction, Daniel Santoyo Hernández's "Flying Pidgeon" explores contemporary generational and moral tensions in a bicycle story featuring the eponymous Chinese brand that filled Cuba's streets during the Special Period.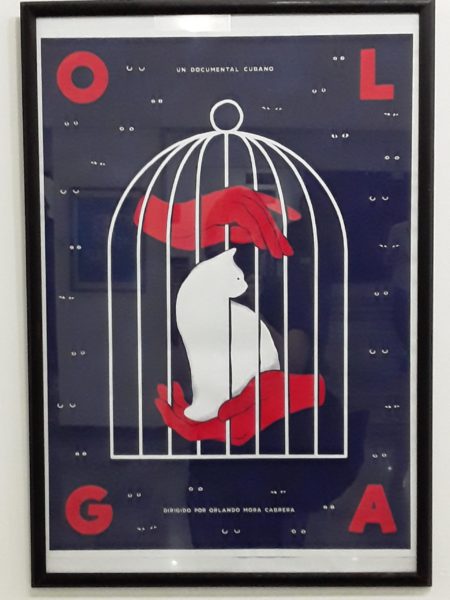 Diana Carmenate's film poster for Olga brought Cuba's fourth Coral.
This year's Festival included three other Cuban full-length features. In competition, Buscando a Casal presents the 18th century poet Cuban Julían del Casal. Directed by Jorge Luis Sanchez and produced by ICAIC, this biographical fiction long in the making highlights the political aspects of Casal's writings under the censorious Spanish regime. In Cuban journalist Marilyn Garbey's words, the lyrical film constructs "a 19th Century visual beauty to make it close to 21st Century sensibility." Set in the past, Buscando a Casal speaks just as much to the challenges of artists today.
Fernando Timossi's La espuma de los Días is a commercially-oriented and commercially-financed story of strikingly handsome and well-dressed friends in the marginal neighborhood of Casablanca. Their struggles to find good women and good life direction form a daily life in which it is confusingly easy for them to pay for lifestyles that include a car, beers, and occasional restaurant dinners in tourist sites.
Arturo Santana's Habana Selfies (Cuba) consists in six stories of love and desire, some lightly brushed with intimate fears of failure, all taking place in the course of a rainy Havana night. Reminiscent of Jim Jarmusch's Night on Earth this mildly entertaining and playful urban cinema[iii] draws on many genres including the ubiquitous music video whose production pays the bills of many young filmmakers in Cuba.
A thematically diverse plethora of shorter fictions, documentaries, and the restorations of Santiago Alvarez's classic short El arte del tabaco and Tomás Gutíerrez Alea's La muerte de un burócrata rounded out Cuba's filmic offerings in a Latin American festival resonant with artistic cries of resistance to austerity measures in Latin America and around the world. 100-year retrospectives on Federico Fellini in a stunning movie poster exhibit and on Santiago Alvarez through a series of well-attended panels and other events spoke to the diversity and depth of cultural connections between Cuba and the world.
—
[i] Gibara is the site of the annual Poverty Film Festival and, increasingly, of tourism. Also in the Festival, Lista quinta (Giselle García Castro) explores the challenges of cuentapropista fishermen facing continued governmental regulation, climate change, and tourism.
[ii] Siro del Castillo. "Una visión de la crisis de los balseros de 1994 en su veinte aniversario." Catalejo. 25 septiembre 2014. http://temas.cult.cu/blog/201409/crisis-de-los-balseros-1994-siro-del-castillo/
[iii] Joel del Río. "Amores inconclusos en una noche de lluvia." Cartelera cine y video. diciembre 2019 año 15 número 170. 1.
The following is the list of the main festival awards: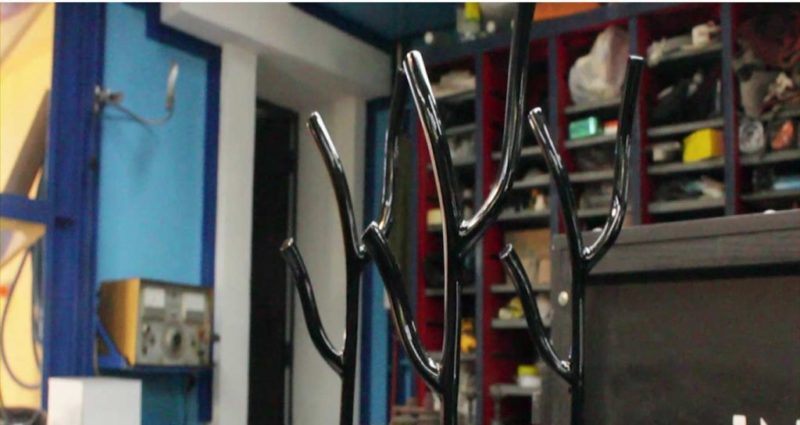 Premios Coral 41 Festival Internacional del Nuevo Cine Latinoamericano, Diciembre 2019.
FICCIÓN
Coral de Largometraje, Ficción- Los sonámbulos de Paula Hernández (Argentina, Uruguay)
Coral Especial del Jurado, Ficción- La Llorona de Jayro Bustamante (Guatemala, Francia) – Algunas Bestias de Jorge Riquelme Serrano (Chile)
Coral de Dirección, Ficción- Jorge Riquelme Serrano (Algunas Bestias)
Coral Guión, Ficción- Paula Hernández (Los sonámbulos)
Coral Fotografía, Ficción- Héléne Louvart (La vida invisible de Eurídice Gusmão)
Coral Actuación Femenina, Ficción- Érica Rivas (Los sonámbulos)
Coral Actuación Masculina, Ficción- Luis Brandoni (La odisea de los giles, El cuento de las comadrejas)
Coral Dirección Artística, Ficción- Rodrigo Martirena (La vida invisible de Eurídice Gusmão)
Coral Música Original, Ficción- Mateus Alves, Tomaz Alvez (Bacurau)
Coral Edición, Ficción- Sergio Mekler, Laura Marques (Tres veranos)
Coral Sonido, Ficción- Eduardo Cáceres (La Llorona)
ÓPERA PRIMA
Coral de Ópera Prima- Agosto de Armando Capo (Cuba)
Coral Especial del Jurado – Las buenas intenciones de Ana Garcia Blaya (Argentina)
Coral a la Contribución Artística – El Príncipe de Sebastián Muñoz (Chile)
Mención Especial Opera Prima- Nuestras Madres de Cesar Díaz (Guatemala)
DOCUMENTAL
Coral de Largometraje- A media voz de Patricia Pérez Fernández y Heidi Hassan (Cuba-España-Suiza-Francia)
Coral Especial del Jurado, Documental- Dile a ella que me viste llorar de Maíra Santi Bühler (Brasil)
CORTOS
Coral de cortometraje ficción- Flying Pigeon de Daniel Santoyo Hernández (Cuba)
Premio Especial jurado de cortometraje ficción- El tamaño de las cosas de Carlos Felipe Montoya (Colombia)
Coral de cortometraje documental- Arde la tierra de Juan Camilo Olmos Feris (Colombia)
Premio Especial jurado de cortometraje documental- Romance de la ternura tardía de Ana Bugni (Argentina)
ANIMACIÓN
Coral de Largometraje, Animación- Ciudad de los Piratas de Otto Guerra (Brasil)
Coral de Cortometraje, Animación- Carne de Camila Kater (Brasil)
Coral Especial del Jurado, Animación- Sangro de Tiago Minamisawa, Bruno H. Castro y Guto BR (Brasil)
GUION INÉDITO
Coral de Guión Inédito- Desde el apocalipsis de Sebastián Dietsch (Argentina)
Mención de Guion- Una noche con los Rolling Stones de Patricia Ramos (Cuba)
CARTEL
Coral de Cartel- Olga de Diana Carmenate (Cuba)
OTROS
Premio Coral de Post-Producción- Años cortos, días eternos de Silvina Estevez (Argentina)
Premio de la Popularidad- El cuento de las comadrejas de Juan José Campanella (Argentina)
SIGNIS- Los lobos de Samuel Kishi Leopo (México)
FIPRESCI- Blanco en Blanco de Theo Court (Chile)