The Mean Salary of Cubans
Isbel Díaz Torres
HAVANA TIMES — The "Mean Salary in Figures" report for 2012, published by Cuba's National Statistics and Information Bureau (ONEI) this past June, reveals that the current average salary of Cubans is 466 pesos (CUP) a month.
This is roughly the equivalent of 20 CUC (US $22), the hard currency which affords Cubans any real purchasing power on the island (though no State employee is paid in it).
The report offers two series of statistical data. The first lists the country's mean monthly salary per province. Here, we find out that Ciego de Avila (at 515 CUP) currently reports Cuba's highest salary, while Santiago de Cuba (at 433 CUP) is at the bottom of the list.
The second set of statistics is considerably more interesting. It reports the mean monthly salaries of different "types of economic activities". The results presented were:
Agriculture, hunting, forestry and fishing – 513 CUP
Mining and quarry work – 566 CUP
Manufacturing industry – 466 CUP
Electricity, gas and water – 522 CUP
Construction – 580 CUP
Retail, restaurants and hotels – 376 CUP
Transportation, storage and communications – 460 CUP
Financial establishments, insurance, real estate and services for companies – 432 CUP
Garbage collection, social and personal services – 425 CUP
In this section, construction work reports the highest salaries, while retail, restaurants and hotels come out last.
Concealment Strategies
According to the report's "methodological definitions", the second set of indicators do not take into account incomes earned on the basis of profit distribution or other payments made to workers in cash or kind.
Nor do they include earnings in convertible pesos, stemming from certain types of payments and work incentives, which, if considered, would bring up the mean for "Retail, restaurants and hotels" ostensibly (to mention only one case).
The arbitrary and absurd use of such "categories" – wholly divorced from Cuban reality – is one of the ways in which the State conceals useful, comparative information.
The difference between the mean salaries earned in the State sector, private foreign firms based in Cuba (with Cuban employees and managers), cooperatives and the self-employed sector is the kind of information that would have been useful to us.
It would also have been interesting to find out what differences exist between that part of the population which comprises Cuba's "cadres, leaders and officials" and all other employees (without administrative or political duties).
In addition, the statistical "mean" is deceitful in another, more basic sense. For instance, if you have nine people earning 200 CUP a month, and only one person earning 3000 CUP, your mean would be 480 CUP, an acceptable figure which conceals a significant disparity within the group.
The statistical figure that would have offered us truly revealing data is not the "mean" but the "median", which reflects the variable which occupies the central position in a series of organized data, or, in other words, the figure around which the greatest number of values tend to cluster.
In the previous example, the median would be, accurately enough, 200 CUP – useful information, if we're at all interested in knowing the real wages of Cubans.
Disparities Within Classes
A computer expert employed by a municipal office of the Ministry of Culture, earning a monthly salary of 345 CUP, would fall under the category of "Garbage collection, social and personal services." The question is: who else would fall under that category? Performers who make 35,000 CUP for a single concert?
We come across a similar situation in other sectors, such as Public Health. A little over 80 percent of the employees at a State workplace in Havana (whose name I will not reveal) earns a lower-than-mean salary, while the salary of the top-earning manager is 3.3 times that of the lowest-earning employee.
That individuals holding bureaucratic, non-productive positions should earn the highest wages at State companies is not uncommon. Such are the historical distortions of Cuba's labor system which, in this particular regard, is no different than any private enterprise system around the world.
A substantial wage increase for Cuba's science and technology sector (3,000 CUP, on average) was recently announced. This is the result of structural changes taking place within State institutions that have been transformed into "companies."
What Cuba's mean monthly salary of 466 CUP probably conceals is that fact that there are a handful of people earning huge amounts of money while the immense majority is being paid miserable wages. This is something that Raul Castro himself had to acknowledge some years ago, when he stated that such salaries aren't even enough to guarantee daily subsistence.
Not long ago, Vice-President Marino Murillo declared, before Parliament, that the administrative barriers in the way of wage payments would be eliminated next year, provided companies had the profits to pay such unregulated salaries.
So, what will become of subsidized Cuban entities that have no "profits", such as cultural, health, garbage collection and education entities? It is reasonable to suspect that a less than decorous plan is in store for these, though this, of course, isn't being announced.
These institutions, however, are precisely those that have earned the Cuban revolution such a "noble" image at the international level. They are also the areas referred to as "achievements of the revolution" during the recent debates surrounding the Party's new Guidelines, when we were told cutbacks would be made in other sectors of the economy in order to maintain these.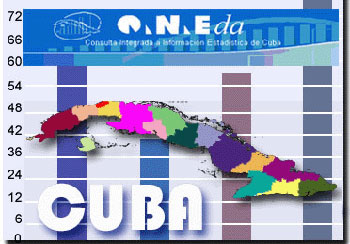 The fact of the matter, however, is that these sectors show suspicious signs of stagnation, with the possible exception of medical services rendered abroad, while more and more conditions for the expansion of private enterprise are being slowly developed (even though officials insist that the "socialist enterprise" will be the most prevalent within the country's economic system).
The statistics office also reports that the mean salary has been on the rise in recent years.
This information, however, is also misleading, owing to the fact that this rise in wages has been accompanied by a surreptitious rise in the price of basic products such as soap, cooking oil, rice, toilet paper, beans and others, and the elimination of a number of subsidized products.
This entails, of course, a drop in the purchasing power of the CUP which, in practice, means a drop in the salary earned by workers, who are the victims of these fluctuations, wholly at the mercy of the State.