The Last Cubans Crossing into the USA
Yuniesky Marcos Roque, an electrical engineer, and his 7-year-old son were the last Cubans who were given authorization to enter the United States at the border crossing in Laredo, Texas.
From Cubaencuentro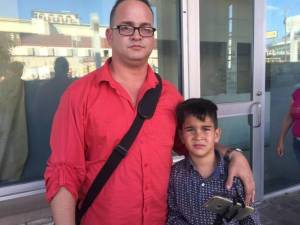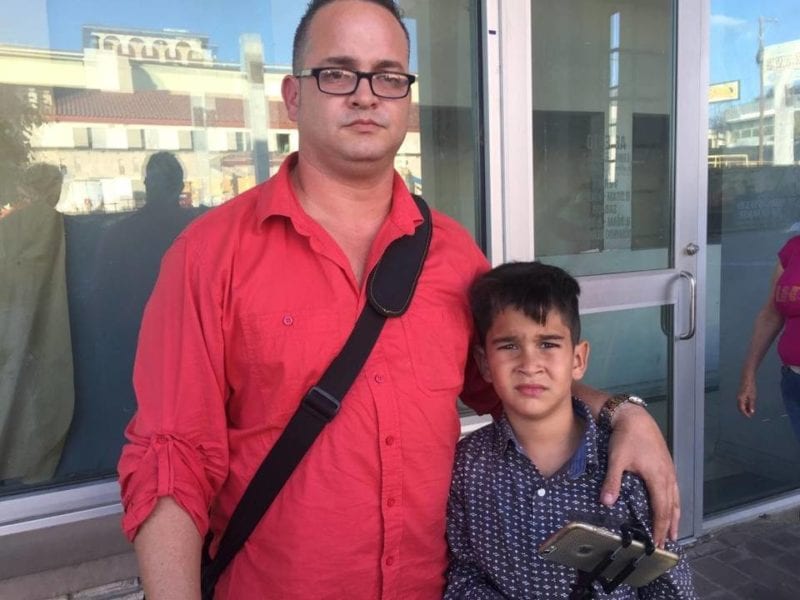 HAVANA TIMES — The US Border Patrol officer checked the documents of a 32-year-old Cuban electrical engineer and his 7-year-old son, for the last time. He welcomed them to the United States, but before Yuniesky Marcos Roque left, the officer told him that he was the last Cuban to be allowed to enter the US legally at this immigration checkpoint, reported the McClatchy newspapers.
"He told me that my son and I were the last Cubans to enter," said Marcos, catching up to his son Kevin. "I'm overcome with emotion right now. I came here for him, so he could have a better future. I'm relieved that we were able to make it, but sad for all the others who are still waiting on the bridge."
On Thursday, President Barack Obama announced that the "wet foot, dry foot" policy would be eliminated, which allows Cubans to stay in the US as soon as they step foot on US soil. His decision immediately took effect.
Dozens of Cubans have been reaching the US daily by crossing over at this city on the border with Mexico, which has become a transit goal for thousands of Cubans who have embarked on their journeys to reach the US border, worried that an end to the special immigration policy for Cubans could come at any moment.
In the 2016 fiscal year, a total number of 34,600 Cubans entered the US via the U.S. Customs and Border Protection office in Laredo, Texas which covers the area from Del Rio to Brownsville.
This figure reveals a near 35% increase when compared to 2015, when 26,000 Cubans entered the US via Laredo.
In the first two months of the current fiscal year, an additional 6,500 Cubans have been processed in Laredo. It's the largest number of Cubans entering any US border station, according to journalist Franco Ordonez's report.
For decades, the Cuban Adjustment Act has given Cubans who enter the US an almost guaranteed ticket to getting legal residency and later citizenship. Knowing that they were protected from being deported, hundreds of thousands of Cubans born on the island have attempted to cross the Florida Strait in all kinds of boats and rafts, and to embark on long and dangerous journeys by land through South and Central America and Mexico.
For months, Obama's Government had said that there weren't any plans to change immigration laws or regulations, but many Cubans could sense that change was on the horizon when Washington and Havana resumed diplomatic ties.
Raul Castro's Government has always been against the Cuban Adjustment Act and the wet foot/dry foot provision and he personally urged Obama to use his executive powers to eliminate them.
In a safe-house, less than half a mile away from the border where over a dozen Cubans who entered the US on Thursday morning are waiting to travel to Miami, very few of them thought that something like this would happen before Donald Trump was sworn in as President. Alvaro Moreno, 29, and who had arrived just a few hours beforehand, said that he couldn't believe that it was Obama who eliminated this policy which allows Cubans to set foot on US soil and stay, under a special immigration status called humanitarian parole, and a year after having met all of the requirements, are allowed to file for permanent residency in accordance with the Cuban Adjustment Act.
When 30 year old Yorjany Cruces found out that his wife and two children had entered the United States just hours before, he took out his phone to see if he had received another text message from friends who were waiting to cross over at the border with their two girls.
"That's why I told my wife we had to cross over now," Cruces pointed out looking over at his wife.
Outside the border patrol station, Marcos called his concerned friends in Miami to tell them that he had managed to cross over without any problem.
A friend was going to pick him up on Friday to take him to Miami by car, where he hopes to find a job in the countryside, but he says that he is ready to do whatever he can to stay.
"I will do what I have to do," Marcos stressed.