The Nicaraguan Woman Who Cooks for 30+ Political Prisoners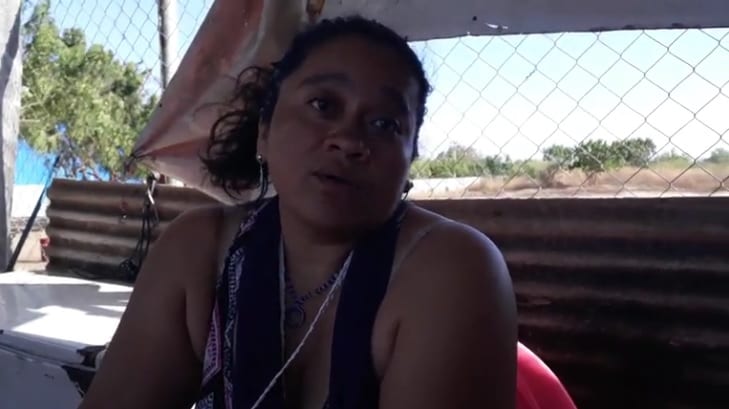 Delia Valdivia, mother of two political prisoners recently given house arrest, continues to take food to the political prisoners in jail whose families come from far away and who don't have money to visit their children frequently.
Por Martha Vasquez Larios / Laprensa.com.ni
HAVANA TIMES – From October 2018 up to now, Delia Valdivia Blandon, 51, has adopted over 30 children, all of them political prisoners of Daniel Ortega's regime. With help from other mothers of prisoners, she feeds these 30+ Nicaraguans held in the jails at El Chipote, La Esperanza, and galleries 16-1, 2 and 300 of the Jorge Navarro National Prison in Tipitapa, known as the "little hellhole".
Valdivia is the mother of two political prisoners who were recently released to house arrest; her ex-husband is still being held in the "little hellhole".
"Thank God," this mother says, her two sons, Kevin and Kitzel Valdivia were released on February 27, just before the [now stagnated] National dialogue between the Civic Alliance and the Ortega dictatorship was resumed. The renewed attempt at negotiation seeks a way out of the crisis that has engulfed Nicaragua since April 18, 2018.
Even though her own sons were released, Valdivia remains in Managua, carrying food to other political prisoners. She aids those whose family members come from the more remote departments and lack the money to travel to Managua every day or even every week to see their children and spouses in the jails there – El Chipote and La Modelo.
"On October 1st, when the police abducted my two sons, I promised God that I'd fight until the end for their freedom and the freedom of the other political prisoners, but I asked that I be given the strength to bear it. I also prayed that they not kill my sons, that they not torture them," stated the mother, a native of Esteli.
"They're not criminals"
According to this parent, she supports the prisoners because they're not criminals; they were only defending their country from the strongmen in government and have offered up their liberty for love of democracy.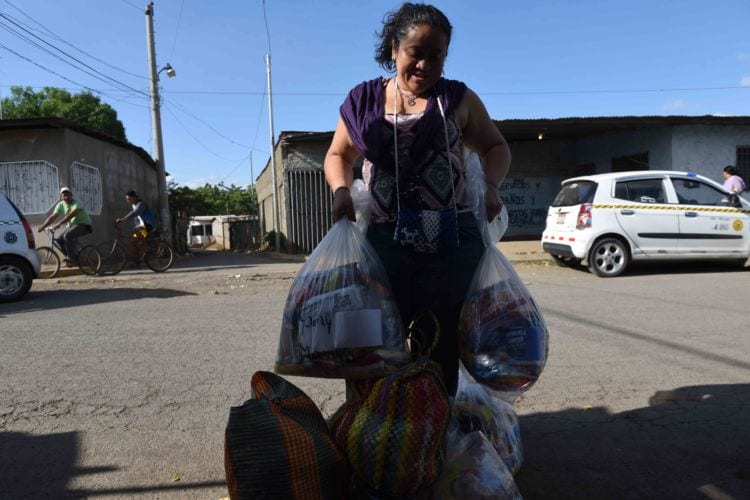 They're not guilty of the charges they're accused of. The majority are students, professionals, or workers whose only crime is not being in agreement with the dictator Daniel Ortega and his wife. They take them prisoner because they're afraid of them demanding their rights in the streets," Valdivia declared.
Delia has developed a friendship with all the mothers and wives whose family members are political prisoners. They know her because she won't remain silent in the face of the injustices. She voices her demands, even when she's right in front of El Chipote itself, the main jail of the Ortega police.
"This woman isn't afraid of anything. She dresses in blue and white, she paints her lips bright red, and she defends the political prisoners from the commentaries of the police officials. She's a lion with a great heart," stated one on the mothers who was there delivering food in El Chipote at the same time as Delia Valdivia.
To carry out her humanitarian labor, Delia gets up at 5 in the morning to cook, pack and label the food. These packets are delivered in El Chipote to every compatriot that's captured from Esteli, (100 miles north of Managua). She keeps a close watch over the news and notes down the names of those affected. She later asks about them in El Chipote and contacts their families.
"Right now, I have four prisoners from Esteli in El Chipote but they've passed new measures and they won't accept food for everyone anymore, only for one. This is part of the psychological torture that this regime inflicts, so that the kids will feel abandoned when no one comes to bring them food," Delia comments regarding the new measure in the new El Chipote.
On Tuesdays she heads to Tipitapa, a town to the east of Managua, to deliver food packets. She takes between eight and twelve bags with food that can be stored, such as oats, bread, pinolillo [cornmeal, cocoa and spices that make a traditional Nicaraguan drink], instant soups, plus personal hygiene items such as toilet paper, toothpaste and sanitary napkins in the case of the women.
She gets around in minibuses, taxis, by hitchhiking, walking under the sun, wind and dust, but she hasn't missed even one day of those set aside for deliveries to the jail. "No one stops me until the last political prisoner has left and been freed," she says.
Recommendations came with her sons
Delia Valdivia, the godmother of the jailed, noted that many of her godchildren were recommended by her two sons Kevin and Kitzel who were imprisoned in gallery 16-1. They noticed the kids who no one took food to, and asked them why. The others explained the situation of their families.
"My boys said to me: 'Mama, we share the things you bring us, because we can't eat when there are those who have nothing,' I have one from the department of Rio San Juan – how could their mother come all the way to the capital? That's a great expense, and they're poor families. This situation of those being held in jail far from their department was brought about by the Ortega government via the judicial power that concentrated all the demonstrators in Managua."