The Philosophy of Earl Weaver and the Heroics of Vicyohandri Odelín
Peter C. Bjarkman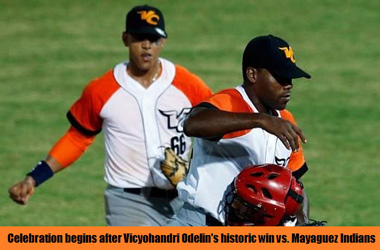 HAVANA TIMES — "This ain't a football game. We do this every day." Thus goes the memorable and sage phrasing of Cooperstown Hall of Famer Earl Weaver, once uttered to journalist Thomas Boswell (and later the opening theme of Boswell's classic 1982 volume intriguingly entitled How Life Imitates the World Series). Or as Orioles manager Weaver's equally articulate pitching coach Ray Miller also once eloquently phrased it: "It's never fourth and one in baseball."
The implied message is all too clear here. Baseball has no time clock and thus a game is never over until the final pitch is actually tossed. Long rambling seasons (even short-stint round robin tournaments, or week-long post-season series) have a way of making single-game defeats (even longer strings of embarrassing losses) often quite inconsequential, sometimes easily recoverable, and on most occasions eventually quite forgettable in light of some improbable late-game rally and or some unforeseen late-season turnaround.
One loss or even three straight losses does not a full season or a full tournament make. A single brilliant pitching performance or the sudden awakening of long dormant bats all-too-often ultimately saves the day in this beautiful sport so free of the noisome ticking of an intruding time piece.
But it is a lesson so often lost – especially on Cuban baseball partisans long spoiled by a history of easy domination in international events.
The first sign of crisis – and there have been many such signs in recent years during a stiff upgrading of rival competition now played against rosters stacked with top major leaguers and crack professional minor league prospects – brings with it the renewed gnashing of teeth over the embarrassing slide of the Cuban game, and also a floodtide of desperate calls for complete overhaul of the reputedly sagging Cuban baseball enterprise.
Cuba cannot any longer compete in the face of so many recent celebrated national team "defections" by top island stars; Cuban players will never again be up to holding their own against MLB lineups unless island stars are shipped wholesale overseas to hone their skills while also reaping mega-dollar paychecks; today's Cuban stars lack the true mettle (as well as the once-potent metal bats) to duplicate the celebrated efforts of pre-professional-era stalwarts like Linares, Kindelán, Pacheco and company.
At least that is the familiar mantra now once again filling up cyber space. Stories have once more been exploding in on-line journals and Facebook posts about a disastrously embarrassing performance in Venezuela and about the inevitable crisis of soul searching that must now take place across the Cuban baseball community once a badly beaten Villa Clara Leopards team limps home to Havana dragging its badly scarred tail between its tattered legs.
But hold on a minute here. "This ain't football" – of either North American or South American variety. "This is baseball and we do this every day." Just when the clouds were the heaviest and doomsday chants rang the loudest, along comes 33-year-old unheralded veteran right hander Vicyohandri Odelín, throwing perhaps the game of his life and reprising the dagger-thrusting performance he earlier authored eight years ago in San Juan during the inaugural World Baseball Classic.
Suddenly a new Cuban nine (same faces but a different "game face") appears on the field, one capable of finally shutting down the opponents, taking advantage of enemy miscues, and parlaying a few key at-bats into a highly unlikely but desperately needed victory.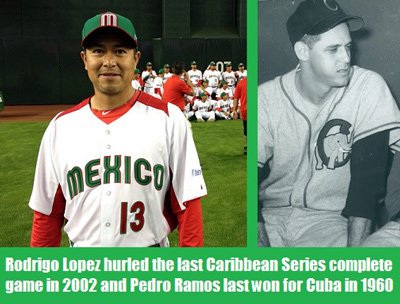 Gone suddenly is the chest-beating chatter about full-blown embarrassment at the Caribbean Series; in its place miraculously arises boundless enthusiasm over renewed possibilities of precisely the same kind of eleventh-hour championship revival as the one engineered by this same Naranjas ball club at the close of last winter's National Series. What a difference a day and nine innings of two-hit pitching actually makes.
There is no denying that the Cubans embarrassed themselves in their opening three outings at Guatamare de Porlamar Stadium. The true low point came Monday afternoon, during a 9-2 drubbing at the hands of the Dominicans – a one-sided pounding that all but eliminated Ramón Moré's club from championship contention. It was a painfully identical saga for the third day in a row, a woeful tale of falling behind early and allowing the opposition to build mountains simply too steep to climb.
Scoring in each of the opening four frames, the Licey Tigres wasted little time in disposing of southpaw starter Yasmany Hernández (three hits and three runs yielded in little more than a full inning) and top reliever Ismel Jiménez (three hits, three runs and a trio of walks in two additional shaky frames). The big blows were a run-scoring ground-rule double by Eugenio Vélez in the third and a pair of run-producing singles by Ronny Paulino and Emilio Bonifacio in the fourth.
But the Cubans had already put themselves far "behind the eight ball" in the opening two frames, first thanks to a bases-loaded walk from starter Hernández (on the heels of an unwisely ordered two-out intentional pass issued to Paulino), and then with a pair of run-producing throwing errors (by third baseman Gourriel and pitcher Jiménez).
A three-run insurance blast in the eighth off the bat of Julio Lugo (surrendered by Irvin del Río) perhaps seemed at the time to be a mere afterthought. Cuba eventually answered with far too little too late when Ramón Lunar singled home a lone pair of markers in the home half of the last-gasp ninth inning.
Cuba's one-sided loss for the third day running was bad news in and of itself. But the margin of defeat might yet prove to be the club's final undoing. The late add-on three-runs provided via Lugo's after-thought homer are now likely to be the vital difference that could send Moré's club packing if indeed an all-too-possible three-way tie-breaker scenario comes into play Wednesday evening for determining a still-contested final semi-final slot.
Facing a doomsday scenario of the team's own making, manager Moré and technical director Victor Mesa seemed to have few remaining positive options entering Tuesday's final preliminary round contest with Puerto Rico.
Freddy Asiel was not ready to return on two days rest despite his brief inaugural outing, Ismel Jiménez and Yosvany Torres (plus Jondar Martínez) had already all proven ineffective out of the bullpen, and Yicyohandri was about the only remaining option.
The Camagüey veteran had been a controversial choice (over Vladimir García) as a reinforcement selection, just as he had been when Victor Mesa and his advisers tabbed him for the Classic roster last March. But Odelín was more than up to the challenge.
An opening-inning homer (Eddie Rosario) and a follow-up double (Ramón Castro) seemed to signal another slow start, but Odelín was not rattled and quickly settled into an unshakeable grove. After the tentative first frame the door was slammed on Mayagüez batters and not a single base knock was permitted across the final 25 outs.
Vicyohandri would need only 132 pitches to complete his nine-inning masterpiece, walking only three as he cruised to the first complete-game effort seen during Caribbean Series play in a full dozen winters. The last to turn the trick was Culiacán's Rodrigo López (a 4-hitter in the 2002 finale) and that effort also ironically came on Venezuelan soil (Caracas) against a Puerto Rico entry (Bayamón).
One noteworthy irony attaching to Odelín's clutch performance was the fact that it had also been this very same Camagüey veteran who had (in stellar relief) eight years earlier eliminated the Puerto Rican big leaguers and sent Cuba on to the final round of the first MLB World Baseball Classic.
Odelín didn't receive much offensive support this time out, but the Cubans were able to squeak across the two needed runs (both unearned) to secure victory. Triumph admittedly came thanks to a pair of costly Mayagüez miscues (an outfield misplay of Despaigne's line-drive hit in the first and an infield boot of Yordan Mandulay's apparently harmless roller to third in the home seventh).
For the first time all week it was Cuba and not the opponents cashing in on sloppy defense. The win was also an historic one, the first for Cuban forces in Caribbean Series play since Pedro Ramos authored a 10-7 title-clinching victory over Panama on February 15 of 1960.
Cuba is now alive for at least one more day, still nursing slim hope for a backdoor ticket into Friday night's semifinal round.
Editor's Note: With Puerto Rico's 5-4 win over Venezuela on Wednesday Cuba was eliminated from the Caribbean Series finishing with a 1-3 record.