The Power of Reggaeton Culture in Cuba
HAVANA TIMES – Yep, reggaeton has made it: it's impossible to go a day without hearing it, without knowing what it is, without dancing to the beat of its songs. Reggaeton is marking an era. Maybe it is an era, in itself. In spite of efforts to contain it, the music genre, its expressions, connect with people, get in your head and spread.
Reggaeton impacts Cuban society musically, economically, politically, socially and symbolically, even linguistically. It is sexist, it promotes the desire to acquire material wealth and normally resorts to vulgar and rude expressions; but at the same time, it is also impossible to suppress, shape, even though tensions to keep it "at bay" haven't ceased.
It is present because reggaeton is an effect and not a cause, it's the expression of wishes, values and the aspiration of important sectors of Cuban society in the 21st century.
Popularity as the expression of reggaeton's power
Reaching the top of the most followed and listened to, and staying at the top, is a need and goal for reggaeton artists, in their struggle for fame that can be short-lived.
In a special multimedia that we are presenting to you today, we have compiled over 600 songs that were hits between 2010-2018, which we have confirmed with various tools.
In a world where almost everyone claims to be a king, prince and lion, an objective opinion that is in keeping with reality is no small contribution; as a result, we have focused on developing a methodology to assess which artists have been the most popular during this period.
155 individual artists and 33 urban music groups recorded these more than 600 songs. It's significant to note that out of the 155 artists we have, only 12 of these are women.
Being popular isn't just a matter of personal satisfaction and ego. The more they are in the spotlight, the more visible the artist is, the more people there are willing to pay for their songs and concerts.
Being a "hit" means more influence and status in a world that is clearly divided into two communities: "showbiz" reggaeton, which is glamorous with its lyrics, videos and loads of money, at least in appearance; and another variant, born in Cuba and known as "reparto" or neighborhood reggaeton, which is characterized not only by a specific sound, but also by taking on the lingo of marginal neighborhoods and for having scarce resources for their production.
There are huge differences between both variants of Cuban reggaeton, but they don't clash. It is every repartero's dream to acquire the status of one of their fellow reggaeton artists in the showbiz world.
However, while they dream, reparteros are marginalized economically, intellectually, in the media and legally; they are outside of the mainstream that decides what makes the music market and determines access to official distribution channels.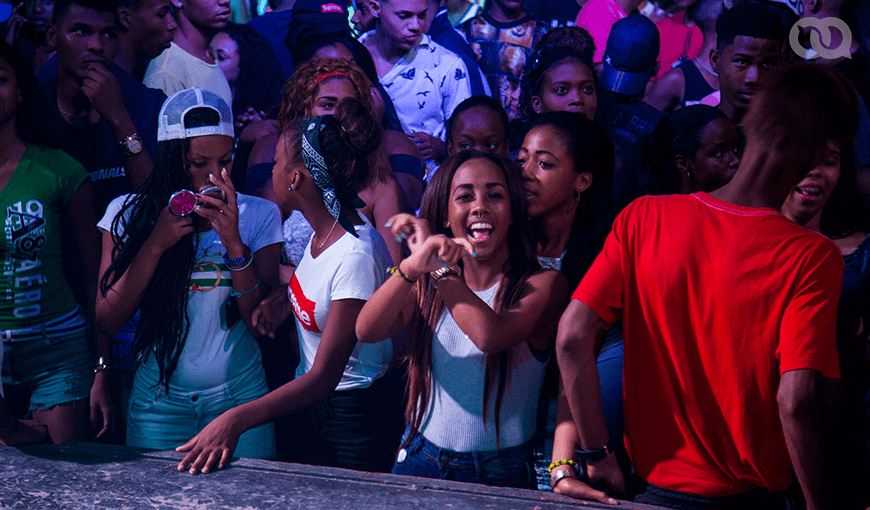 How does the industry work and how much money does it move?
The reggaeton market is prosperous, funded by the consumer that not only lives on the archipelago and has allowed it to establish a sustainable industry, to ensure its growth.
Talent or an inspired song isn't enough to make it. The success of artists lies, for the most part, in crossing every one of its links: starting with the record studio (makeshift or luxury) to forming connections with music and video producers, distributors, legal representatives, the media and places they can perform.
These aren't always legal; many studios don't have a license or artists have to perform as amateurs because they don't belong to any talent representation agency.
Every one of these factors conditions how the other develops and there are many links in this chain that benefit so much or more from reggaeton, without being singers.
Cuban reggaeton's prosperity is created outside of the country, though.
It transgresses geographic barriers and political limits. The US blockade hasn't stopped this, neither has the Ministry of Culture or Cuban Institute of Radio and Television's censorship. You don't even need to jump on a plane for artists and studios to collaborate between Miami and Havana.
However, in order to triumph in the south of Florida (where Cuba's main emigre community is located, and as a result, reggaeton's natural market), they have to first make in Cuba.
This need to win over an audience that has less money, but whose opinion ultimately determines the fate of a song, is what leads many of the most coveted stars to come and perform in Cuba for "modest" prices (compared to charging 100-500 CUC per table in state-run and private places, where they give concerts) and even for free.
Nevertheless, the "domestic" market isn't insignificant in the slightest. According to our estimates, the reggaeton market moved no less than 1,648,500 CUC in 2018, mostly in Havana.
We obtained and compared this information after talking to over 20 music producers, video producers, publicists, bar and club staff, artist representatives, and regular visitors of bars and clubs which make up the main reggaeton circuit.
We have talked to employees at five recording studios and looked directly into bars and night clubs, in order to get information from posters and the venue's estimated capacity. When some of these venues refused to provide us with this information, the little existing information we have and the lack of effective records about concerts, we scoured websites, artists' Facebook and Instagram accounts, as well as bars and night clubs.
The digital footprint left on Facebook from posts by hundreds of users who marked themselves as present at these concerts in order to triangulate them and confirm the concerts were held within a wide timeframe.
"This is for those who say that reggaeton doesn't have much time left…"
Reggaeton won't be defeated by decree. It grows and adapts to new conditions, it resists.
Its power proves that it is overcoming the limits that the government wants to impose, the controversy and debates, attempts to regulate it and bans and concert cancellations.
It is a successful business because it doesn't create needs, but meets them instead, it reproduces patterns and images that are perfect in society, especially in its customers. It came to mark an era and there is still no sign that it is going downhill, to give way to another trend.
If you would like to learn more about this subject, discover interesting facts, the history of reggaeton, the most popular artists and a detailed description about the industry around you, we invite you to visit our special multimedia "Flow and power: Reggaeton in Cuba".