The State of Havana Architecture
Cuban Planner Fears for Havana's Future
By Tracey Eaton  (alongthemalecon)
HAVANA TIMES — Old Havana streets are covered with Massachusetts stones that were used as ballast in ships that once journeyed to Cuba to pick up sugar.
"That means when you are walking around on the streets of Havana, you are walking on US soil," Cuban architect and urban planner Miguel Coyula joked today during a presentation at Rollins College in Winter Park, Florida.
Coyula was the keynote speaker at the college's "Cuba at the Crossroads symposium"(*). He covered a lot of ground – from the 1500s to present day and explained how Havana developed its unique character.
Cuba's indigenous people didn't influence Cuban culture or society in a big way, Coyula said, because they were "rapidly exterminated" – some 250,000 people were killed over a 30-year period. But European influence can be seen all over Havana. Coyula said that many of Cuba's creoles – the children of Spanish settlers – traveled to Europe to study. They brought back European customs and ideas when they returned.
"Old Havana is a little piece of Europe in the middle of the Americas," said Coyula, a professor at the University of Havana.
Cuba was the sixth country in the world to have a railroad, he said. The country brought in 160,000 Chinese, 10,000 natives from the Yucatan peninsula and 10,000 Irish to build it. The railroad helped transform Cuba into a major sugar producer, generating tremendous wealth.
Some of the wealth went to create the Havana cemetery, 85 square blocks of tombs and statues made from the finest Carrara marble from Italy.
Coyula told the audience at Rollins College that they had to visit the cemetery to really appreciate it.
"Go there, see what I mean, but don't stay," he said.
In the 1940s and '50s, he said, strong American influence could be seen in Cuban architecture. Havana was "opened" for Mafia families from the United States in 1952, he said. Americans started building hotels and casinos. In just three years during the late 1950s, the Havana skyline was transformed.
"Havana changed overnight," Coyula said.
Unfortunately, much of that prosperity was based on gambling, drugs and prostitution, he said.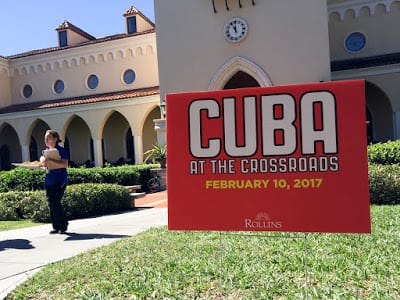 On Jan. 1, 1959, the day that Fidel Castro and his followers defeated then-dictator Fulgencio Batista, rebels began taking apart the casinos.
The revolution was aimed at creating a new social order, Coyula said. It eliminated the profit motive in real estate and forbid evictions, gentrification and homelessness, he said.
Private contractors stopped building. The residents of many buildings had no incentive to maintain the common areas around their homes. Many buildings and apartments began to deteriorate.
Coyula said 80 percent of the buildings in Havana were built from 1900 to 1958. Today, many buildings of them are falling apart. Havana sees 3.1 building collapses per day, he said. Because of that, some 17,000 Cubans live in temporary housing and 140,000 people are waiting for transitional housing.
Most Cubans don't have enough money to maintain their homes. The average salary is just $20 per month and a gallon of paint gobbles up 30 percent of that, Coyula said.
"You eat or your paint," he said.
In 1993, the Cuban government legalized the circulation of dollars. Remittances sent from relatives living abroad turned into a major source of income – estimated today to be some $1.8 billion.
The influx of money along with new opportunities to make money through businesses, including restaurants and B&Bs, has created new economic disparities.
Cubans say, "All you need is faith" or "Todo lo que necesitas es fe."
Fe is f.e., Coyula said. Familiar en el extranjero – a relative living abroad.
Some Cubans who suddenly find themselves with money sometimes make poor decisions when deciding how to fix up or design their homes, Coyula said. He has a name for it: Ar-kitch-tecture.
"Intelligence has its limits," he said, "but ignorance doesn't."
Coyula said he hopes that as more money pours into Havana, that city planners will have the good sense to allow Havana to keep its "singular and unique" character rather than being overdeveloped to the point of losing its identity.
But he fears for the city's future because, after all, humans are prone to making mistakes.
"The human being is the only animal that stumbles on the same stone," he said.
—–
(*) Dozens of scholars gathered on Feb. 10 at Rollins College in Winter Park, Florida, for the Cuba at the Crossroads symposium. "Cuba is important to us and our educational program," said Grant Cornwell, president of the college. Rollins' ties to Cuba go back many decades. Rollins is Florida's oldest recognized college. It was founded in 1885. "By 1886, Rollins had its first Cuban students," said Cornwell, opening the symposium. Cuba is "singularly important," said Cornwell, who has visited Cuba along with various Rollins faculty members and students. "It's important not just for its own sake but for humanity." Cuba has "an anti-capitalist economy," he said. It is a "social experiment under tremendous duress" and has "a different philosophy that has informed humanity." Given Cuba's unique character and history, along with Rollins' longtime ties to Cuba, the college's Latin American and Caribbean Studies Program organized the Cuba at the Crossroads symposium. Miguel Coyula, a professor at the University of Havana, was the keynote speaker.