The Trials and Tribulations of a Cuban Couple
When doors close everywhere.
By Repatriado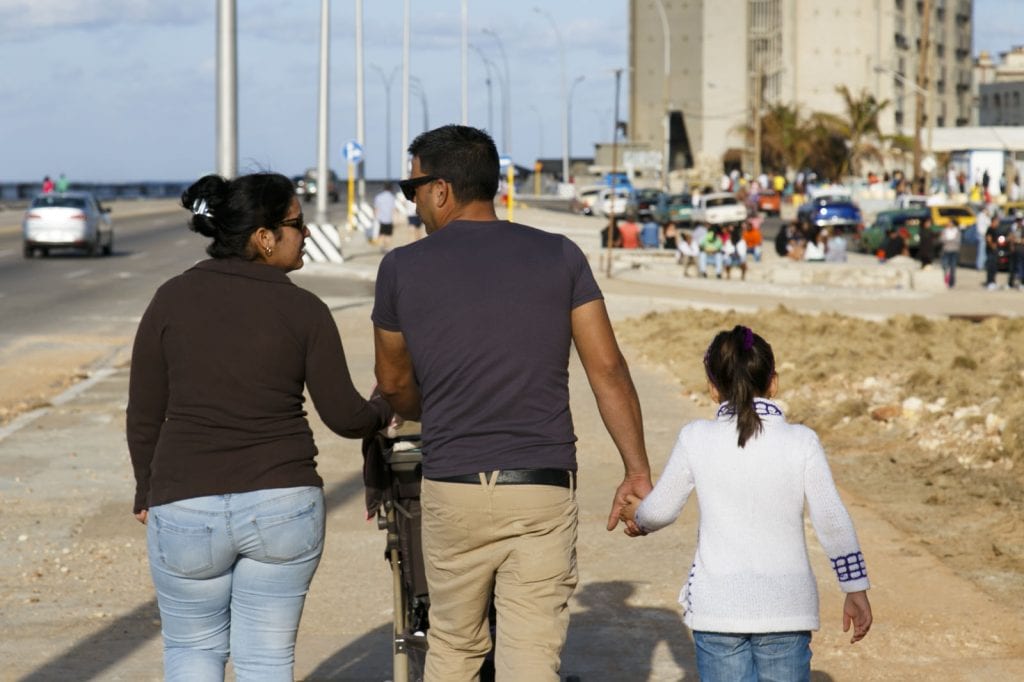 HAVANA TIMES — She is 29 years old, He is 38. They share their marriage, their three children and their frustration. This is their story.
When She finished High School, she joined a plan that was conceived by Fidel so as to resolve the country's nursing deficit and she became what the Comandante called "enfermera emergente" (fast track nurse). According to this title, she was a High School Nurse Graduate with a background in Biology.
When she graduated, she began working in a maternity hospital and that's where she met Him and they soon had their first child. Her pregnancy with the second child was a problem as their joint income wasn't enough, not even with all the "presents" He received for being the "X-ray guy", so She quit, even though she loved her job.
The plan was to use their centrally located home and rent out its spaces to entrepreneurs and that's exactly what they did. They had four tenants between the hallway, living room and garage: a churros vendor, someone who sold spare car parts, someone who sold pirate Cds and a manicure salon. 480 pesos (19 USD) per day, a fortune. Everything was going well and they had their third child. Then, the grandmother passed away.
The grandmother was the owner of the house and so the License to Rent out Spaces was in her name. Once the lady passed away, everything became illegal and they had an ONAT inspector comfortably sitting in their living room within a week. A 200 CUC (200 USD) bribe, a ham leg and laughing at the lady's rude jokes bought them 6 months to change the ownership of the house and then apply for a new license, this time in Her name, without any other inspector coming in the meantime, her "fairy godmother" inspector made clear. Strike One.
After these six months, She still hadn't been able to change the name of the owner of the house, they tried as hard as they could and they paid all the bribes that several officials at the Housing, Civil Registry, Physical Planning, Property Registration, UMIV, Municipal Architecture and Notary offices asked them for, but even so, they were unable to get all the paperwork they needed before the six months were up. Meanwhile, the inspector showed up from time to time to get "her cut".
Once the deadline was up, the fairy godmother ditched them, she couldn't keep on "hiding the ball or it would explode" and so they had to close down until the name of the owner was changed on the license. He was sure that "they were going to be done in" by the inspector because they had rented out the space where the manicure salon used to be, to a man who was selling TuKola for 15 pesos, while other cafes in the area were selling it for 18 pesos and this guy was "bringing down" their businesses by taking away their customers.
Without any other choice, they closed down and they even spent what they had saved to buy disposable diapers on speeding up the red tape and in less than a month, that is to say, seven months after starting this process, they were able to put the house in Her name and they went to the ONAT in high spirits to get their license, but surprise surprise, they were no longer giving out new licenses until further notice, a direct order from above. Strike Two.
First, She explained that she wasn't after a new license but instead needed to just change the name on the license because her grandmother had passed away: nothing. Then, She begged them and told them she had three children: nothing. In the end, She protested so much that she even went to the Provincial Communist Party's office "with her two youngest children in tow": nothing. It was the same everywhere she went: there aren't any licenses until a new order is given, nobody having the faintest clue about when that would be.
Depressed, She went back to ask for a job at the maternity hospital she used to work at only to find that MINSAP that the fast-track titles like hers were no longer valid. Now, officially-speaking, She only finished 9th grade and is no longer a nurse. Strike Three and Out!
Today, She is studying to get her 12th grade qualification again while she hopes that "these people will want to" start giving out licenses again.
Even though He would be really sad to be far-away from his family, He is trying to go on a mission abroad "even if it's just to Venezuela" which is the worst of all the missions but it's better than living off one income and the occasional present from grateful patients. However, this is a hard one for Him too because he has a criminal record for trying to leave the country illegally; a few years ago, before he met Her, he had tried to go to the US on a raft but he was caught on the beach where around 20 people were in a boat. Like He often says, "things are really tough around here."