The Truce Between the Catholic Church and Nicaragua's Feminist Movement
In an effort to prioritize the struggle against the dictatorship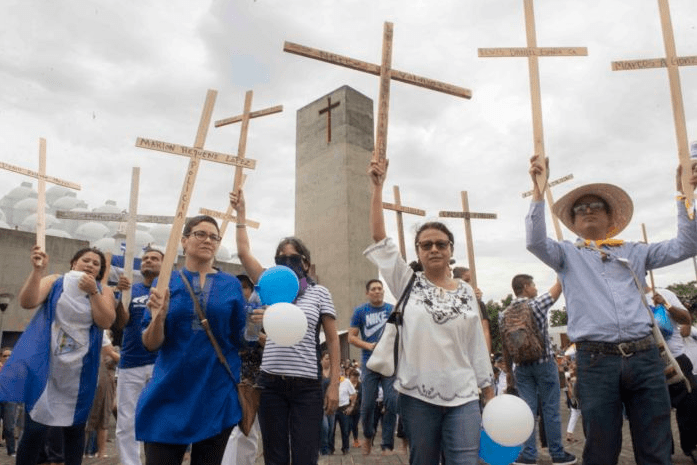 Por Leonor Alvarez y Ana Cruz (La Prensa)
HAVANA TIMES – Civic protests in Nicaragua have achieved the miracle of fostering unity amongst groups traditionally opposed, such as feminists and the Catholic Church.
During the repression of Daniel Ortega's regime, feminists have become ardent defenders of some of the Catholic Church's leaders. At the same time, Nicaragua's feminists make it clear they won't be forgetting irreconcilable differences, such as abortion, which the Church condemns, and feminists demand as a right.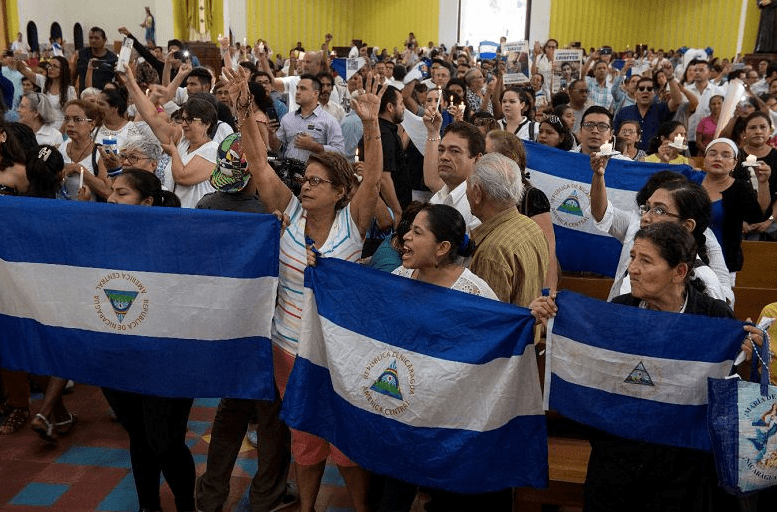 Mirna Blandon, of Nicaragua's Feminist Movement, said that at this time they applaud the commitment of some of the Church's leaders, brought about by their shared common objective – the removal of the Daniel Ortega dictatorship from power.
Blandon says that they will continue to demand women's rights, as well as justice for boys and girls who have been raped. Yet, at this point, the priority is demanding the right to protest – a priority also being demanded by other social sectors.
"At this moment, the crisis is forcing us to seek other strategies for coordinating efforts, and for presenting our demands by any means possible. We are not abandoning our agenda, but right now, feminists are being impacted by the dictatorship," says Blandon.
The Catholic Church has played a relevant role since the initiation of the civil protests. Managua's cathedral was a collection point for supplies donated to students occupying the universities; and was also a refuge for those fleeing from the regime's repression. Nicaragua's Episcopal Conference was also a mediator during the first attempt at a National Dialogue, between May and June of 2018.
Humberto Belli, sociologist and a member of Opus Dei, says that the Catholic Church is not exclusive, because "Jesus Christ came for everyone". He applauds the fraternal relationship between the Church and feminists. "This struggle against Ortega, bathed in blood, has produced a union and a brotherhood among people who used to believe they were on opposite sides of the street. It's beautiful to see that the LGTB community and the feminists have become close to the priests, precisely because Nicaragua's Catholic Church has played such a noble and heroic role, with such a degree of solidarity with the people, opening their temples and risking being beaten and threatened with death. This has resulted in a profound brotherhood among people, independent of their ideologies," says Belli.
At the same time, Belli recognizes that differences between feminists and the Church will once again come to the fore when the right to protest is restored in Nicaragua. "There are some differences which are not reconcilable. For example, Catholics are not alone in rejecting abortion, because we feel it is a crime against the unborn; yet there are others who insist that women have the right to determine what happens to their own bodies. These issues are going to reappear in a democratic Nicaragua, but I think they will reappear without the previous antipathy and rancor. They will return in a more fraternal atmosphere, during a more rational and serene discussion. Hopefully we can overcome our differences as a family," says Belli.
Cirilo Otero, also a sociologist, says that times have changed and that the Catholic Church must open its doors to everyone. "We are all children of God. Everyone. No one can be excluded, and even less for sexual differences," says Otero.
During the current repression against civil protests, protesters have found within Catholic churches a space in which they can express their opposition to the Ortega dictatorship. Religious activities, such as processions, are utilized to march with the blue and white national flag, and shout slogans considered subversive by the Ortega regime, such as "Viva Nicaragua!", as well as demands for political change or demands for civil and political rights.
The regime punishes religious leaders for their support of civic protests. Catholic services dedicated to those assassinated by the dictatorship are besieged by Ortega's police. The worst attacks have come in the form of direct aggression against priests and bishops by Ortega's sympathizers, who act as a crazed mob, attacking without provocation.
Recently, Ortega's forces held the San Miguel Archangel Church in Masaya under siege for nine days because family members of political prisoners began a hunger strike in the church to demand the liberation of their children. Another recent incident that moved the country was the mob aggression against Sister Arelys Guzman and Father Rodolfo Lopez, inside Managua's cathedral.