"This Revolution Is Really Great"
By Repatriado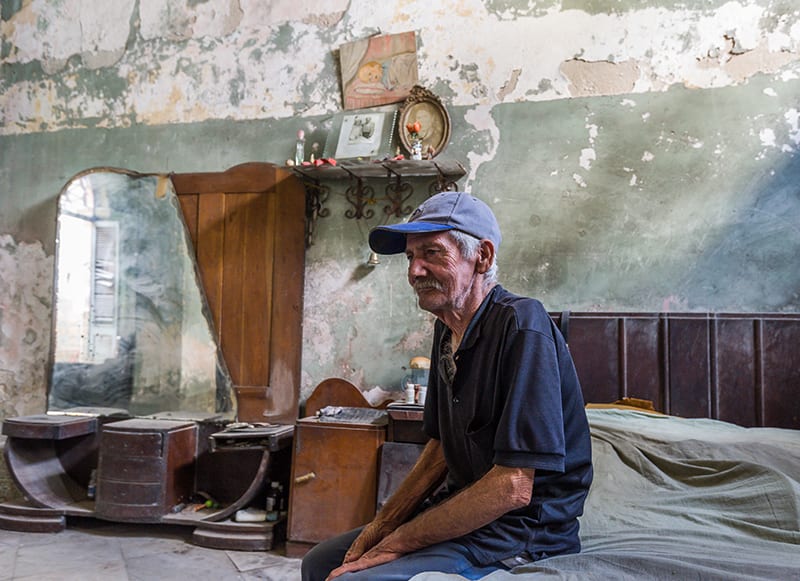 HAVANA TIMES — I met Lazaro when he approached me to please talk to my wife as he knows that she is a doctor at an important hospital. He had an echocardiogram prescribed, but there weren't any appointments for the next four months and that's if the machine didn't break. He was worried, he's 78 years old. That's when we began to talk.
As a retired mechanic, he receives a 265 peso (10.65 USD) pension and he tops that up by working at the day care center where they look after my daughter. He is the handyman and I had already seen him moving slowly while fixing a chair, sweeping the patio or running errands.
He told me that he was born in Vedado in 1939, near to where the current US embassy stands, but he doesn't remember that because when he was a child they moved to La Timba, a much poorer neighborhood, "but decent" he emphasizes. There, he founded a Club for men of color with his friends because even though he had white friends, he couldn't enter the exclusive Clubs they used to go to.
He is very grateful to Fidel for having changed these things: "he made us all equals" he tells me and he proudly tells me the story of how he took part in building the first boarding school and how the Comandante went to the inauguration and personally shook hands with every one of the workers.
He started working at the Sugar Ministry as a mechanic, but he only worked for a short time because not long afterwards, he was given an apartment near the airport by the Communist Party (he has been a member since 1978), but it was just an apartment on paper, he needed to build it. In fact, the whole apartment complex needed to be built and he worked there for 17 years until his apartment was given the all clear as a residence.
The reason behind so much disorganization, a lack of materials or anything else for the job to take 17 years to be completed is simple, he said, "Fidel couldn't deal with everything personally."
After several exchanges, he is now living in my neighborhood with his wife, sharing a small house, a very small house, with the youngest of his two daughters, her husband and 11 year old twin boys. The eldest daughter died in West Germany in a car accident when she was studying engineering.
His current income is 302 pesos and when you add that to his pension, he receives a total of 567 pesos (just under 23 USD per month. Him and his wife don't have breakfast, just coffee while the coffee they receive through the rations booklet lasts but it doesn't even last a week. Their lunch is whatever he gets given at his job, an individual portion for two people, but with something else as people are considerate towards him, and they have a very light dinner, rice and something. They no longer eat bread because the twins sweep past wherever they are and they take the bread their grandparents receive every day via the rations booklet to school spread with oil as a snack, "to kill hunger, but when they come home just imagine…"
He says that he doesn't pay the electricity bills at the house though luckily, his son-in-law takes care of that. The son-in-law got them an air conditioning unit because their room on the roof has a zinc roof and it's an oven. The bad thing is that electricity costs 500 pesos per month using the AC for just four hours per day, he notes he would have to pay "everything I earn just on electricity."
According to blogger Iroel Sanchez, Fidel said in 2005: "the people who live best in this country are those who work the least."
By 2005, Fidel had been governing the island for 46 years. Lazaro is one of those people who have worked the most and live the worst, but he doesn't blame Fidel mind you.
Days later, Lazaro was happy because my wife had managed to get him his echocardiogram and his heart was fine, "this Revolution is really great; a poor starving man like me has managed to do something I would never be able to afford in a capitalist country." I answered him with a smile and firm handshake, the old man has some rough hands, but I went home happy, asking myself quite a few things about the human condition.