Timeline: Cuba's Handling of the COVID-19 Outbreak
By IPS Cuba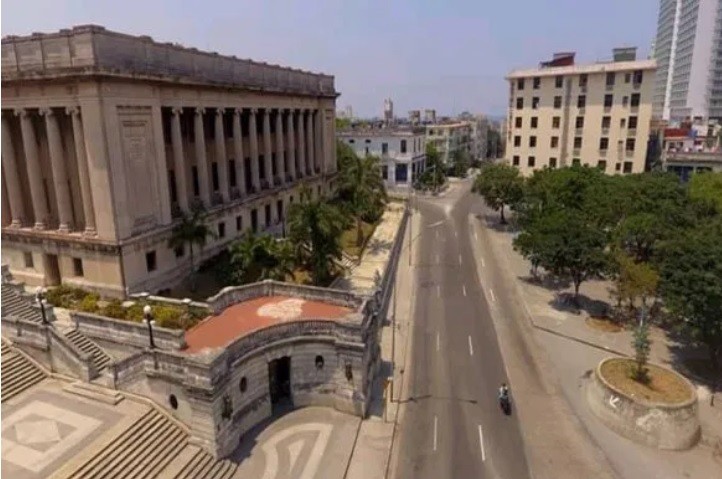 HAVANA TIMES – A month after the first positive case of COVID-19 was reported, Cuba finds itself in the second of the country's three-phase protocol to fight epidemics and is intensifying measures to try and flatten the curve of infections, which includes quarantine or a total lockdown of some communities.
By the end of April 11th, the Caribbean island had reported 669 cases of COVID-19 (four times the number recorded on March 28th), 2302 potential cases admitted into hospital and a virus death rate of 2.6%. [On April 13, the figure was 766 and 2501.]
While Havana continues to be the most affected city, cases of Coronavirus have been reported in every Cuban province, and six of them – including the capital – have presented at least one case of limited local transmission, and a lockdown has been announced for several neighborhoods.
The worst-case scenario
Forecasts seem to indicate that if the virus continues to spread at the pace it currently is, the worst-case scenario would be 4000 cases during the peak of infection which will come in May.
By March 31st, numerous economic and social measures had been taken to reduce the pandemic's impact on the country, according to a speech made by prime minister, Manuel Marrero.
IPS Cuba's editorial team has summarized the main events that have unfolded since March 29th until the present day:
– March 30th: The second case of local person-to-person transmission of COVID-19 is reported in the country, in the "Camilo Cienfuegos" Community, in the Consolacion del Sur municipality, in the Pinar del Rio province.
– March 31st: Foreign ships in Cuba's territorial waters are asked to leave, all passenger flights are banned from entering the country, May 1st (International Workers' Day) celebrations have been canceled, which normally feature large parades.
– April 1st: National press have reported that Cuba's state telecommunications company had announced a series of temporary measures, that will be applied in a state of emergency because of COVID-19 in Cuba, such as a different pricing policy for voice calls and mobile data late at night.
For several weeks now, a group of citizens have been calling for them to lower Internet prices, adapting to the situation the country is currently experiencing, as mobile phone and Internet access costs in Cuba are much higher than the international average and people income's considerably less.
– April 3rd: A lockdown on the El Carmelo neighborhood, in Havana's Vedado district, begins. This is where the highest number of cases testing positive for COVID-19 were reported in the capital.
– April 6th: National media publish national health authorities' decision to approve the use of a new homeopathic drug, PrevenghoVir, as an alternative to fight the new Coronavirus.
The product that has already been used in several provinces on people who are at risk, and should reach every Cuban, is "recommended to prevent the flu, flu-like illnesses, dengue and viral infections" and in the case of an epidemic, according to the authorities and different state-controlled media.
However, many Internet users and independent media are questioning the decision to use homeopathy for this end, bearing in mind the fact that protection measures and recommended treatment options recognized by the World Health Organization don't feature a homeopathic product, and that part of the international scientific community are rejecting its use for medical purposes, although it is harmless and hasn't harmed anyone, until now.
They are also saying that the Cuban authorities' recommendation might reduce public perception of risk.
– April 7th: The government announces that they are moving into the second phase of national protocol in the case of an epidemic: limited community transmission. This phase means that there are now positive COVID-19 cases which haven't been linked back to travelers coming from infected countries.
Social distancing measures were implemented in the special municipality of Isle of Youth. The Muncipal Defense Council's order covers four communities, and includes changes to production activities, transport and retail business.
– April 8th: In an effort to respond to the city's outbreak, Havana's Provincial Defense Council has established a lockdown on the Buenos Aires neighborhood in the Cerro municipality, and is applying other measures for the same purpose in the Loteria neighborhood, in the Cotorro municipality.
The presence of a District Attorney representative at every police station has also been approved so that punitive measures can be taken against people who violate regulations, such as the compulsory use of masks.
The Public Health minister, Jose Angel Portales, has listed the territories which have had limited community transmission in the country: Versalles Community in Matanzas, Camilo Cienfuegos neighborhood in Pinar del Rio, El Carmelo in Havana, Florencia in Ciego de Avila, Florida in Camaguey, Gibara in Holguin.
– April 9th: Transport and Domestic Trade ministers announced a series of new measures on the TV show Mesa Redonda Informativa. Those with the greatest impact include the total suspension of public, state and private transport services, and the restructuring of retail networks to decentralize the sale of basic essentials to the population.
The Ministry of Higher Education has announced its decision to postpone university admission tests for the present academic year, as well as postponing deadlines for coursework and school work.
– April 10th: The Naranjal community in Matanzas, with approximately 3000 residents, enters "a limited lockdown". Medicines, food and other essential items are being delivered to the 13 apartment blocks that have been affected, local authorities have announced.
– April 11th: Public transport services are shut down across the country and several neighborhoods go into lockdown:
"Group lockdown" is decreed for the Gibara municipal capital, in Holguin province. The province had reported 36 positive cases of COVID-19.
An "amended lockdown" (more intense phase of stricter social distancing which allows limited circulation in designated areas) has been announced for two areas in the Abel Santamaria and Pueblo Nuevo communities in Nueva Gerona, in the special municipality of Isle of Youth, after a case of local community transmission.
A lockdown has been decreed for the towns Turiguano, Celia Sanchez, Limpios Frandes and the Florencia, in Ciego de Avila province.