Vatican Sends Cuba the "Pope's Crocodile"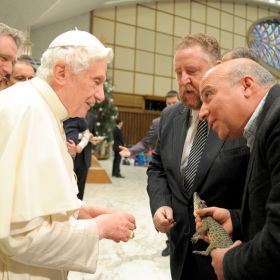 HAVANA TIMES, Mar 14 (dpa) —  Pope Benedict XVI only knew him for a short time, but the brief encounter was enough to earn a special papal farewell as the esteemed guest prepared to return home … a swamp in Cuba.
Which would be odd, if the guest in question weren't a baby crocodile that had a special audience with the pope in January.
A top Vatican cleric presided over a ceremony in Rome's zoo Wednesday to bid farewell to the baby crocodile, dubbed Il Coccodrillo del Papa (The Pope's Crocodile).
The reptile is being returned to its natural habitat in Cuba later this month – a journey coinciding with the pontiff's own visit to the island nation scheduled for March 26-28.
The initiative symbolizes "respect for nature and friendship between nations," Vatican Substitute for General Affairs, Archbishop Giovanni Angelo Becciu said during the ceremony, which was also attended by Cuba's ambassador to the Holy See, Eduardo Delgado.
Before taking up his current post of Vatican chief of staff Becciu served as the Vatican's ambassador to Havana.
The crocodile, which belongs to the highly endangered crocodylus rhombifer species, was seized by Italian police last year from a private home in northern Italy and placed in the care of Rome's Bioparco zoo.
To mark the 100th anniversary of the zoo's foundation, the crocodile was shown to Benedict during a January 11 public audience.
At the time, officials said that once it is strong enough, the crocodile would be returned to its natural habitat in Cuba's swampy southern Zapata Peninsula.