Venezuela's Maduro Begins New Term Amid Increasing Isolation
By Sinikka Tarvainen (dpa)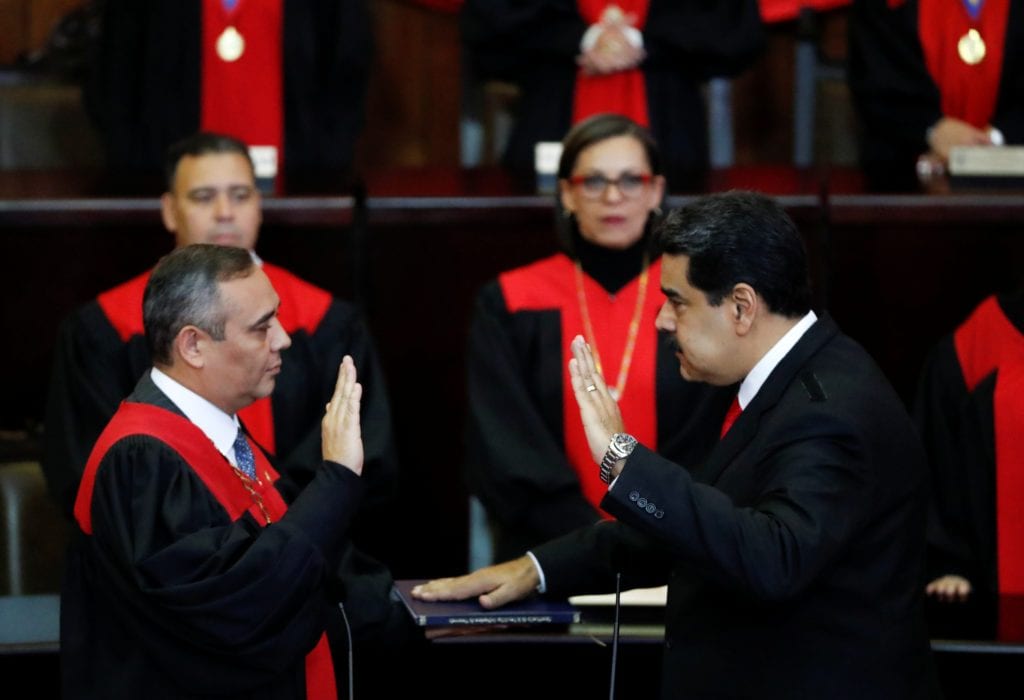 HAVANA TIMES – President Nicolas Maduro accused US "imperialism" of waging a "world war" against Venezuela and pledged to correct "deep mistakes" made during his country's revolution after he was sworn in for a new term, in defiance of growing international isolation.
The US and its "satellite governments" have waged "a manipulation campaign for more than 20 years" to tarnish Venezuela's image, Maduro said in his speech, adding that his country was "in the center of a world war by imperialism."
He also slammed "colonialism" by the "old European oligarchy" while pledging "a new beginning of the Bolivarian revolution," which will include economic growth and a dialogue with entrepreneurs.
His swearing-in for a second six-year term comes as Venezuela is being increasingly cut off by countries in South America and beyond in response to the deepening crisis there attributed to his policies.
Most Latin American presidents boycotted the ceremony. The heads of state of Nicaragua, Cuba, Bolivia and El Salvador – Venezuela's closest allies in the Americas – were the only ones in attendance.
European Union member states decided not to send representatives, EU foreign policy spokeswoman Maja Kocijancic said.
The EU "deeply regrets" the fact that "President Maduro is today starting a new mandate on the basis of non-democratic elections," said foreign policy chief Federica Mogherini in reference to the May 20 poll.
"This only pushes further away the possibility of a constitutional negotiated solution while the political, economic and social situation in the country keeps getting worse," she added.
The Organization of American States (OAS) voted on Thursday not to recognize Maduro as Venezuela's legitimate head of state, calling for a dialogue between all political players and fresh elections. Nineteen countries approved the motion, five supported Venezuela and eight abstained.
Chilean Foreign Minister Roberto Ampuero called Maduro's swearing-in a "black day" for democracy in Venezuela, while Argentinian President Mauricio Macri said Maduro was trying to "mock democracy."
Colombian Vice President Marta Lucia Ramirez said the "criminal dictatorship" in Venezuela had become a security threat for the entire region.
Colombia has denied accusations by Maduro that it is conspiring with the United States to instigate a coup against his regime.
Paraguay meanwhile said it was breaking off diplomatic relations with Venezuela, while Peru announced it was recalling its diplomatic representative for consultations, the dailies Hoy and El Comercio reported.
Asuncion and Lima said the decisions were based on an earlier pledge by 13 countries belonging to the Lima Group of American states, which said they would not recognize Maduro as Venezuela's legitimate president.
Peru this week banned the entry of senior Venezuelan officials into its territory, while Ecuador recalled its ambassador to Caracas and the US issued new sanctions against several Venezuelans.
Instead of taking the oath before the opposition-dominated National Assembly, as is stipulated by the constitution, Maduro was sworn in by Maikel Moreno, president of the Supreme Court.
He was then handed the presidential sash before the national anthem was played.
The Venezuelan-based television channel Telesur showed images of crowds waving national flags on the streets.
Protests against the ceremony took place in Caracas and elsewhere, with demonstrators in the northern state of Sucre burning a doll carrying the text "Maduro usurper," Argentinian broadcaster TN reported. Demonstrations also took place in foreign cities including London, Berlin, Madrid and Lima.
On Friday, the swearing-in ceremony is due to be followed by Maduro's appearance before the Constituent Assembly, which is stacked with his supporters and which has sidelined the National Assembly.
Maduro was elected president in April 2013 after the death of his predecessor Hugo Chavez, under whom he had served as vice president.
He then won a second six-year term in the May elections, which were boycotted by most of the opposition amid allegations of fraud. The main opposition candidates were blocked from participating as was the chief opposition coalition.
Venezuela is in the grip of a massive economic and political crisis, with oil production plummeting and the annual inflation at 1.7 million per cent last year, according to a figure given by the daily El Nacional.
Human rights groups allege severe political repression, including thousands of arrests and torture.
More than 3 million Venezuelans have fled abroad, including more than 1 million to Colombia, according to the research group Brookings Institution.
"Without enough money to import food or basic medicine, most Venezuelans are going through severe hunger and are dying from preventable diseases," the US group said.
The economy has shrunk by more than 30 per cent since the collapse of oil prices in 2014, according to the report.