Viñales and Trinidad: Private Rentals vs. State-Run Hotels
Emilio Morales* (Café Fuerte)
HAVANA TIMES — The reforms undertaken by Raul Castro's government have not freed Cuba's productive forces and continue to be tethered to the obsolete philosophy of centralized State control over the economy.
That said, those Cubans who have entered the private sector have shown notable zeal in their efforts, despite the limitations of the reforms and the material difficulties they have encountered trying to keep their businesses afloat. What's both surprising and encouraging is that hundreds of these businesses have not only been successful but have also managed to establish themselves and satisfactorily compete with the State, displacing it from the market in some cases.
The private lodging rental sector is one of the examples that prove how creative Cuban entrepreneurs can be.
Private room and apartment rentals (known as Casas particulares) is one of the most notable examples of the impetus the private sector has achieved in the uneven competition with State companies at different tourist destinations around the country.
To illustrate their performance, let us take the examples of Trinidad and Viñales. At both these destinations, the lodging capacity offered by the private sector is greater than that offered by the State.
PRIVATE SECTOR
                      STATE
Houses
Rooms
 Beds
Average Price
 Hotels
 Rooms
 Beds
 Average Price
Viñales
712
1,637
3,274
$25.00
3
194
388
$82.50
Trinidad
723
1,880
3,760
$30.00
7
869
1738
$118.70
Total
1,435
3,517
7,034
$27.50
10
1063
2126
$100.60
Currently, the lodging capacity offered by the private sector at both tourist destinations is of 3,517 rooms (76.8 % of the total capacity), available at an average per-night rate of 27.50 Cuban Convertible Pesos (CUC), while hotels operated by State companies offer a capacity of 1,063 rooms (23.2 %) at an average price of 100.60 CUC the night, a considerable difference of 73.10 CUC.  [1 CUC = 0.87 USD]
Hotels operated by State companies, however, have a logistical structure aimed at attracting tourists that is far better and more advantageous than that of the private sector. Dozens of travel agencies handle hotel room inventories, operate transportation companies and benefit from dealings with tour operators in Europe, South America, Canada, Central America and the Caribbean.
In comparison, the private sector makes progress thanks to the quality of its services and low prices, impelling an interesting form of competition that is transforming society, to the point that a farming town like Viñales has become a predominantly tourist destination. Many locals have left the fields to take up much more profitable services in the tourism industry. To achieve this, they have entered the world of electronic transactions, despite the country's limited Internet access. As many as 95 % of people who rent homes in the two tourist destinations have an email account (mostly Yahoo and Gmail), which they use to communicate with customers.
VIÑALES
In the case of the tourist town of Viñales, the private sector has a lodging capacity of 1,637 rooms (89.4 %), almost nine times that of the State, which offers a mere 194 rooms.
The private sector has grown so much in Viñales that the Ministry of Tourism has authorized around 200 rental providers to enter into contracts with State agencies such as Cubatur, Havanatur and Cubanacan in order to meet the demand for accommodations which State-operated hotels cannot meet. This is the first time a decision of this nature is made in over fifty years in Cuba's tourism industry.
An analysis of lodging operations conducted in the tourist destination of Viñales reveals that the private sector takes in about 9.5 million CUC (76.3 % of all revenues) during the year, a figure well above the 2.98 million CUC (23.7 %) the State reports. These figures confirm the impression that many farmers have migrated to the tourism industry.
Lodging Revenues in the Tourist Destination of Viñales (2013)
| | | | | |
| --- | --- | --- | --- | --- |
| | Rooms | Lodging Rate | Price Average (CUC) | Yearly Revenues (CUC) |
| Private Sector | 1,637 | 0.584 | $27.5 | $9,595,930.30 |
| State | 194 | 0.491 | $82.5 | $2,985,172.58 |
The average price of hotel suites in State-operated hotels and rooms rented out in the private sector were taken into consideration to calculate these figures. Data on yearly lodging activity at 3 and 2-star hotels and private residences published by Cuba's National Statistics Bureau (ONEI) in 2013 was also assessed. In the case of Viñales, only 2 and 3-star hotels operate in the tourist area.
TRINIDAD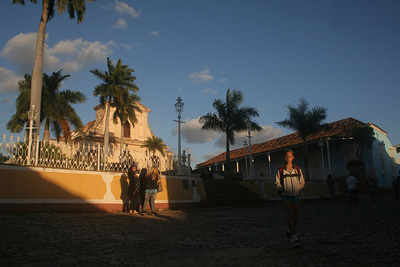 The tourist town of Trinidad reports similar figures. The private sector has twice the lodging capacity offered by the State. The private sector offers 1,880 rooms (68.4 % of the total), while hotels offer a mere 869 (31.6 %).
Trinidad is one of the most popular of tourist destinations on the island. Its colonial architecture and the natural charms of its mountains and proximity of the sea make it a unique destination indeed. The town has seven hotels that report a yearly average price per room of US $ 118.71, while the 723 registered homes with a license to rent out rooms to tourists report an average price of 30 CUC per room. The price difference is notable: the State sector charges an average of 88.70 CUC more per room than private rentals.
An analysis of the figures available reveals that Trinidad reports some 33.7 million CUC a year for lodging, of which 21.7 million (64.3 %) are made by hotels and the remaining 12 million (35.7 %) by the private sector.
Lodging Revenues in the Tourist Destination of Trinidad (2013)
| | | | | |
| --- | --- | --- | --- | --- |
| Trinidad | Rooms | Lodging Rate | Average Price (CUC) | Yearly Revenues (CUC) |
| Private Sector | 1,880 | 0.584 | $30.0 | $12,022,224.00 |
| State | 869 | 0.576 | $118.7 | $21,686,319.07 |
State-operated hotels in Trinidad report earnings higher than those of the private sector, despite the fact they offer less rooms. This is because of the price factor: the average price of a hotel room in Trinidad is 118.7 CUC. In contrast to the tourist town of Viñales, hotels in Trinidad are better quality (which explains the higher price of its rooms and higher earnings overall).
That said, the fact that 68.4 % of the lodging capacity and 35.7 % of yearly takings in the sector are accounted for the private sector attests to the industriousness and creativity of Cubans and how the sector is becoming a force of development to be reckoned with, even when it must face logistical difficulties and limitations to compete against State companies.
—–
(*) Cuban economist. Former chief of marketing strategies for Cuba's CIMEX corporation and author of the books "Cuba: A Silent Transition Towards Capitalism?" and "Marketing without Advertising, Brand Preference and Consumer Choice in Cuba". He is the current president of The Havana Consulting Group (THCG), based in Miami. The statistical tables used in this article were prepared by THCG.