Virtual Dating on Telegram: a Growing Trend among Cubans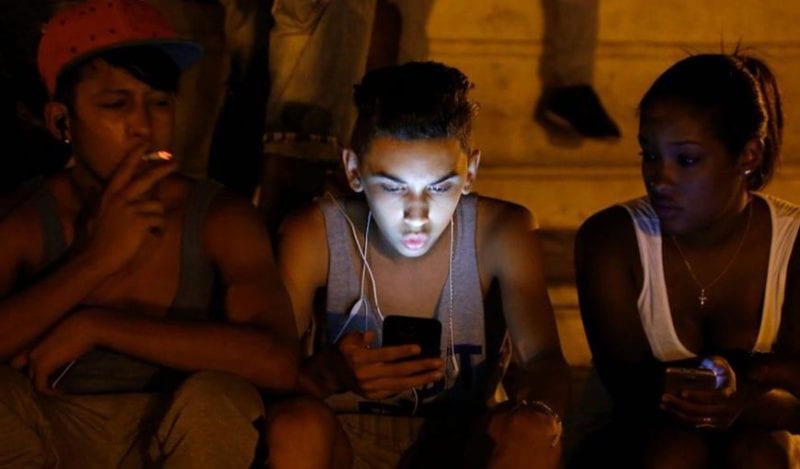 By Glenda Boza Ibarra (El Toque)
HAVANA TIMES – Interacting in dating groups on Telegram has become common for users of this social network in Cuba, after ETECSA launched its mobile data packages in December 2018, which allow Cubans to have Internet access on their phones.
Due to its privacy terms and conditions (users have an alias, phone numbers are hidden, messages self destruct) and the megabytes it saves users, Cubans use it as a cheap way to communicate with others and strike up a romantic and/or sexual connection.
***
RN uploads nude pictures onto a Cuban group for LGBTI people on Telegram. He always takes great care to make sure his face doesn't appear in these images, but his genitals are completely exposed in a lot of them. Even though he denies being Cuban, one of the photos has an ATEC-Panda TV in the background which gives away its origin.
"I like to put my pictures up," he says in a private message. "Nobody knows my real name and they don't know what I look like. It's impossible to recognize me out on the street."
RN doesn't think that it's a bad thing to post erotic or explicit photos. Very few people criticize him in the group, some congratulate him and others just avoid making any comments about it.
Sometimes, at night, there are just more and more photos of RN in the group. As if a narcisstic instinct were compelling him to put himself on show, completely naked.
"Women and men have written to me to get to know me, but nobody has caught my fancy yet. I put my photos up in the Telegram group and I enjoy seeing people's reactions," he says.
"I'm not afraid of being discovered. People can only see my alias," RN adds.
Even though you sign up to Telegram with a phone number, none of the members in a group can see another member's information, unless they are among the user's contacts.
A good place to find a partner
Alejandro and Hansel are boyfriends. They live in Havana and they met on Telegram. It's the first time that one of them (Alejandro) has gone out with a man and he thanks this social network for giving him the courage he needed to recognize his real sexual orientation. He is no longer in the closet.
"One day, I was bored and I signed into a group on Telegram so I could intereact with guys. I started joking about with Hansel and, without realizing, we were already sending private messages. We spent a few days doing that," Alejandro remembers.
Then came the typical reactions you get when a relationship goes from being to virtual to real. Meeting each other, speaking, spending time together, figuring out whether there is chemistry in real life too… and there was!
"We began to go out and everything has gone well ever since. Even though we've only known each other for a short time, we communicate really well, there's a lot of trust. I love Telegram," Alejandro says.
Most members in the group where he and Hansel met are Cubans. There are also Mexicans, Venezuelans, Spanish people, but less. While some relationships make the jump from virtual to real life, some users are only interested in staying behind the safe curtains of Telegram. Seduction can be a game too.
"I'm only interested in having a virtual partner. I don't believe you can ever have anything serious with someone when you don't both live in the same place," Rene Jose says.
The user who goes by the alias Thanos, also shares this sentiment: "In one of my groups, there is a woman from Camaguey and a man from Holguin who are together, but I don't think it'll really work."
You could feel the sexual and erotic tension between Sonia and Thanos in the group chat. Then, "things got more serious," Thanos says.
"I'm Thiago's friend and I can see that he is hopeful, but I still don't believe in virtual relationships," he rounds up.
Ramiro has had a different experience. He is from Guanabacoa in Havana, and thanks to a group on Telegram, he now has a girlfriend in Santa Clara. They've been sending messages for a while, they send pictures, they like each other, they make plans together. They love each other but they have never met.
"I created a group on WhatsApp and then I moved it to Telegram. I have more administration options on this app and I save mobile data, so it's better for many Cubans," Ramiro says.
He had just set up the group when he met "the crazy guy" who is now his virtual boyfriend. "We started sending each other private messages for some reason and to be attracted to one another. Today, we are planning to rent a place together, here in Havana," he says.
Like any other couple who have started their relationship in front of a computer screen, Ramiro and his boyfriend are very aware of the risks involved.
"However," he explains, "it's hard to be surprised nowadays because you can call each other on Telegram, send videos, photos, talk to one another as if the other person were right in front of you."
Among the groups created in Cuba (collected on the channel @grupos_cu), thirty of these are classified as "social" groups and have been categorized into different sexual orientations, provinces or other subcategories. These groups aren't just for dating, however, many people use them for this end.
Virtual harassment?
Not everyone has a wonderful experience on Telegram. Dalila had to change her "sexy" profile photo because the notifications she got were "love" proposals that didn't stop coming in.
"I received a lot of messages saying that 'I was beautiful,' asking if I wanted a boyfriend and these kinds of things," she tells us.
She remembers that every time she entered a group, somebody would send her a private message. "I put up a profile picture of some flags and I got less messages."
"If you enter any technological group, for example, where the majority of members are men, it doesn't take long for one of them to say how beautiful you are or how good it is "to have a woman here" and this "nonsense"," Mary Tere explains from her own experience. "Others get straight to the point and ask you how old you are and where you live," she says.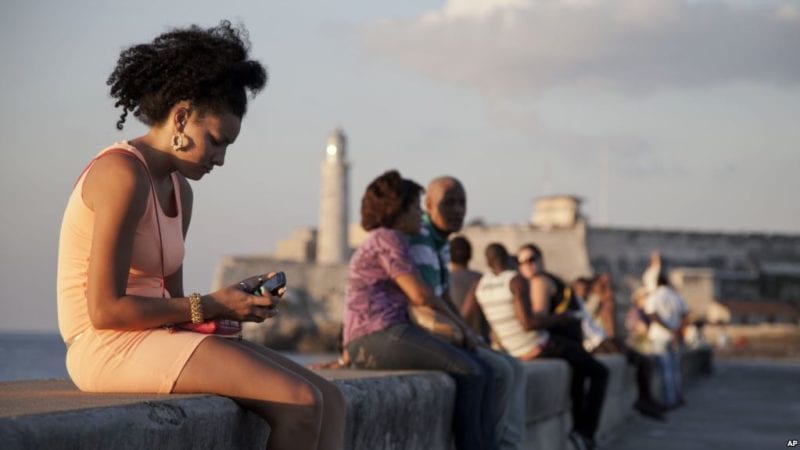 As Telegram ensures that all phone numbers and personal information are kept secret, many people have created fake accounts.
"Some use two accounts to "screw" with people out there. I have a fake account as a man and I'm a member of a few technology and gamers' groups with this group, because otherwise they wouldn't take me seriously," XXX says.
She also says that "people even upload pornography."
"I have a friend who caught her husband on a few of these platforms and groups. This network is crazy. Sometimes, it's like there aren't any rules," XXX says.
Although this isn't just a trend on Telegram, there are various options that ensure users' privacy and this makes it an attractive app to look for a partner. And, do so discreetly.
An article on Infobae called it the chatting service that unfaithful men and women choose as it allows sent messages to disappear, without leaving any trace of them on phones or on the cloud.
This is because the platform allows users to create secret chats, which they can program so that their messages self-destruct after a certain period of time that they choose.
"A crazy guy wrote to me asking if I believed in psychological sex," Angela1203 says. "His messages would self-destruct after eight seconds and I couldn't even take a screen shot. I went along with it in the beginning, but then I got scared. I had to report it as spam because he kept writing to me."
Free will?
With over 200 million active users worldwide (and growing), Telegram has become popular in Cuba.
Groups for people with a different sexual orientation, to get to know people all over the island or by province, or with explicit names such as "foyankele" for example, can meet within the national community.
However, this isn't just happening on Telegram, and it isn't just happening now. For years now, Cubans have been making the most of internal chats at different universities to meet people and start relationships or friendships.
"You could be studying at the University of Pinar del Rio and end up marrying a guy at UCI or meet someone new every night," an engineer says. I know people who have even scheduled orgies. Many relationships don't become anything more than virtual entertainment, though. Sometimes, the connection is lost when it makes the move from a computer screen to real life."
Plus, with Internet access now available at public WIFI hotspots, many Cubans have installed dating apps to find a partner such as Lovoo, Badoo, Grindr or Tinder.
"It was really easy to use because you just had to swipe on the photo of someone you liked and then you matched with them," Ernesto Raul says, a young Physical Education graduate. "It's a good app to "hook up" with someone who is nearby, but I'm more interested in foreign women. I don't use it anymore. I switched over to Lovoo."
Last year, other apps that Cubans use, such as ToDus or Diju, have allowed people to create groups for people in Cuba who have similar interests. There are communities where you can share erotic and/or pornographic material, such as hentai illustrations (manga and anime pornography).
Other users are more daring (or naive) and often share "racy" images in a private chat.
Telegram is an instant messaging platform with different uses, it isn't just a social network for dating. "It doesn't have the typical features of this kind of service, such as filters to look for people based on their age, geographical location, interests, etc.," Hugo explains, an engineer who has been using Telegram for years now.
"However, it is a very useful network to interact with others (it allows you to make calls; send photos, videos, voice messages) and it's better than any dating website or app in this respect. Plus, it's relatively safe when it comes to privacy."
Maybe it's this last feature that makes this platform so attractive (and dangerous), which is becoming increasingly popular in Cuba. And, it also allows Cubans to save a lot of mobile data (an hour of chatting only consumes 0.42 MB).
"Sometimes, you can be chatting to a minor, or a woman who is really a man, or vice-versa," Hugo admits.
"You just need a phone number to sign up to Telegram and high school students have phones already, nowadays. Plus, you don't have to use your name on Telegram if you don't want to, you can choose a nickname and that's that," X-Men says.
Like any other platform, interaction between users should be founded on mutual respect and responsibility. This social network's privacy terms and conditions state that information stored on the cloud is heavily encrypted and that "inappropriate" behaviour can be reported by users.
X-Men admits that you have to be careful on social media. "It depends on what you use Telegram for."
Cubans have been using Telegram more since December 2018 and have already begun to call it a communication channel where dates, sex and love all go.