Viva Palestina Reaches Gaza
Special by Julie Webb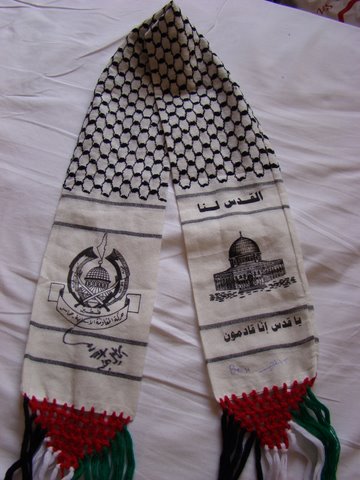 HAVANA TIMES, Oct. 23 — We have arrived in Gaza at last! After a trouble-free drive from Al-Arish to Rafah, the Viva Palestina convoy crossed into Gaza and a welcome usually reserved for rock stars – and maybe Fidel!! People lined the entire highway from Rafah to Gaza city, cheering and welcoming us (I was driving so don't have any photos, sorry).
After delivering our vehicles to Palestinian authorities, it was off to the hotel to sleep, then a big day's activities visiting destroyed buildings, then a lunchtime reception hosted by Hamas.
At the lunch I and British woman Pippa Bartolotti found ourselves invited to have a sit-down meeting with Gaza President Ismail Haniya and Deputy Prime Minister Dan Meridor!
See: Viva Palestina Still in Syria
Shortly before, we had complained to women organizers of the event that only men had been allowed into the line to greet the Gazan dignitaries, pointing out that we had both also raised funds, driven the vehicles, and participated equally in the convoy bringing the aid to the stricken Gazan people.
Within minutes, Deputy Prime Minister Dan Meridor came over to us, personally welcomed us to Gaza and expressed his thanks for all we have done. After discussing the situation and participation of women in Gazan life and politics, and assuring us that there was no intention to exclude women from the greeting process, Mr. Meridor asked if we would like to meet with the President. Women began lining up to greet him, and Mr. Meridor suggested to me that we sit down somewhere a bit quieter to talk.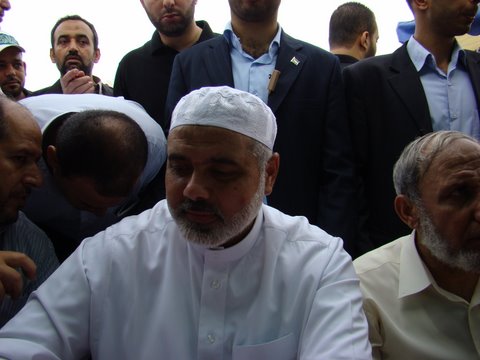 The President then joined us at the table, and we spent the next 15 minutes discussing the situation in Gaza, the importance of solidarity such as the Viva Palestina convoys, and informing them about New Zealand and British solidarity efforts in support of the Palestinian cause. One of the women from the Malaysian delegation joined us, and discussed her country's efforts.
The President and Prime Minister were almost immediately mobbed by people seeking autographs, and they demonstrated incredible patience and goodwill, signing the hundreds of caps, scarves and papers thrust at them as they conversed with the women.
Mr. Meridor said that as the delegation was so big it was very difficult to ensure everyone got a piece of the action, but he would endeavor to organize a meeting for the women members of the convoy, to discuss the situation of women and children in Gaza in particular.
The convoy women are now excitedly awaiting the opportunity to find out more about Palestinian women's participation in the process of building – and rebuilding – a fair, free and open Gaza.
Viva Palestina! Viva Ismail and Dan! Viva women!!!