Widow of "Chabelo": "The Ortega Government Killed My Husband"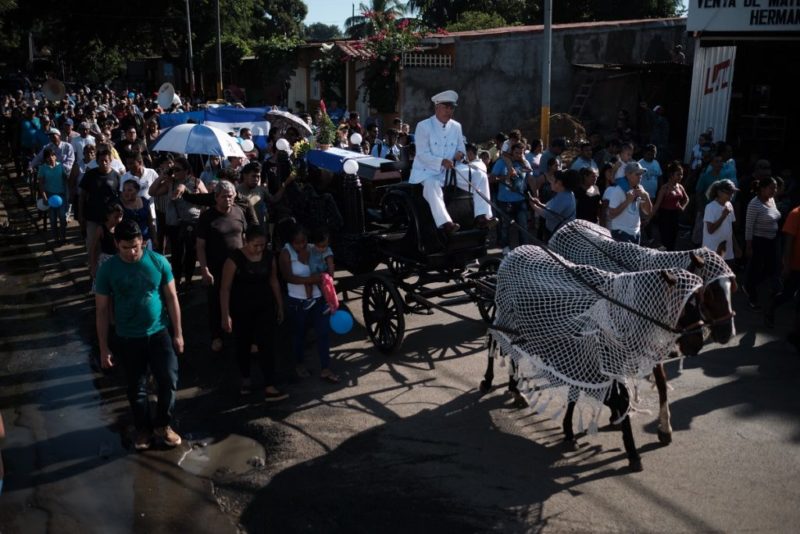 Residents of Masaya turned the funeral of Jose Isaias Ugarte into a demonstration against the regime, which accuses him of being a criminal
By Juan Carlos Bow (Confidencial)
HAVANA TIMES – The funeral of Jose Isaias Ugarte Lopez, alias "Chabelo," was a demonstration against the regime of Daniel Ortega and Rosario Murillo. Hundreds of residents of Masaya accompanied his body, under the slogans of: "Democracy, yes, Dictatorship no!" "That they will leave, they will leave!" "Long Live Free Nicaragua!" Police patrols accompanied the funeral at some distance, which was diverted on one occasion to avoid a police checkpoint.
"Isaias did not die, the Government killed him!", the people shouted. The slogan is shared by relatives and neighbors of Ugarte, who deny that he was a criminal as claimed by the Police, after reporting his death in an alleged confrontation between agents and suspected criminals.
Ugarte was one of the five fatalities left by two police operations carried out in Masaya, last weekend. Three civilians and two agents—non-commissioned officers Luis Alexander Mendieta Aleman and Carlos Alberto Suce Ortiz—died as a result of two armed clashes, in two different scenarios.
Jeronima de los Angeles Oporta, wife of Ugarte, endorsed the citizen slogan and said that "the Government killed" her husband. She said that Ugarte was an honorable and hardworking citizen, who "honorably sought the livelihood of our three children (minors)." He was an electrical technician.
He supported the civic struggle
"Jose Isaias Ugarte, present!" They shouted and repeated again and again after the funeral mass ended at the "El Calvarito" Church, in San Geronimo, a few blocks from Ugarte's house in the "El Carmen" neighborhood. Blue and white balloons were released when the coffin came out of the temple.
"Commander Chabelo, present!" "Chabelo, friend, the people are with you!" "Daniel, listen, we are still in the struggle!" These were other slogans shouted from the temple to the northern cemetery of Masaya, where Ugarte was buried. The flag of Nicaragua draped the casket.
Oporta explained that her husband was a Sandinista militant, who always voted for the FSLN and went to all the party activities in Masaya. However, his position changed in April 2018, "when he saw how (the police) killed so many young people" who protested against the regime.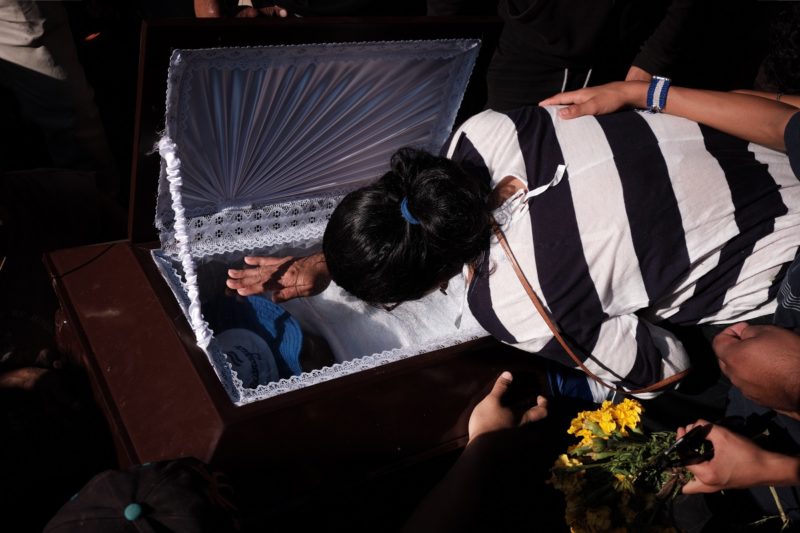 "He (Ugarte) did his military service (in the 1980's) and knew that the young people were defenseless against the (war) weapons used by the Government," Oporta mentioned, adding that her husband joined the civic protests.
She added that her husband fled her home in July 2018, when paramilitaries and Ortega's policemen unleashed the criminal Operation Clean-Up, to put down the roadblocks/barricades throughout the national territory. "He left because he knew that they would come for him, and did not want to put us at risk, although the police always came to bother us," said the widow.
No criminal record
The official narrative tells that last Saturday the Police received a telephone complaint that "criminals were committing armed robbery" in the Cailagua neighborhood, in Masaya, so they sent a police patrol that was received with shots. In that confrontation were injured agents Francisco Luis Ubeda Gomez, Jose Noel Nicaragua Acuña and Mendieta Aleman, who died that night Antonio Lenin Fonseca Hospital in Managua.
In that operation, the Police arrested Norlan Jose Cardenas Ortiz, who allegedly belonged to the "Chabelo" gang, presumably led by Ugarte. According to the authorities, "Chabelo" had a record of attempted rape and illegal possession of weapons. However, in the consultation system of the Judiciary, Ugarte does not appear with a criminal record.
Relatives of Cardenas Ortiz denounced that he did not belong to any criminal gang—they presented a police record—and assured that Ugarte arrived to talk at the home of Jose Miguel Cardenas, who was arrested, although the authorities did not report his capture.
"We want their freedom or that they present them to us. We want to see them to know that they are healthy. My brother was beaten when they took him, and my father was also beaten in the face. We want to make sure they are well, because with so many things that happen, afterwards it is not known where they will appear dead," said Ruth Elizabeth Martinez Ortiz, Norlan's sister.
They came to rescue him
After the Saturday operation, the regime militarized Masaya with police and paramilitaries. On Sunday morning, a second confrontation occurred, but this time in a police roadblock located on an old road to Niquinohomo. In that shooting the senior noncommissioned officer Suce Ortiz, 32, and three civilians died, including Ugarte Lopez.
A police press release reported that the men were mobilizing at high speed in a Toyota Yaris, gray and without a license plates. When the stop sign was made, the alleged criminals attacked the officers with shots.
The other two men who died with Ugarte are: Melkin Aguirre, 26 and alias "El Grillo," who was a resident of Masaya; and Julio Cesar Sandino, who according to relatives had been with the barricaded students at the Polytechnical University of Managua (UPOLI) in 2018.
People of Masaya, who asked us to omit their names, agreed that both men tried to get Ugarte out of Masaya, since he had been was pursued by the police since Saturday. "The Police had "Chabelo" cornered, and he could not escape," they lamented.
Blue and White Martyrs
Former prisoner Christian Fajardo, one of the "April 19 Movement" leaders in Masaya, posted a video on Facebook, stating that Ugarte and the two other civilians killed "were not and never were criminals."
Fajardo recorded the video accompanied by his wife and also former political prisoner, Maria Adilia Peralta. "They did not want to be another political prisoner and decided to confront the dictatorship. They were left with no other alternative but to fight against a battalion," said the couple.
"Our condolences for the losses of these heroes, now martyrs who were not and never were criminals, as Ortega says. They are blue and white martyrs," Fajardo added.