XI Havana Art Biennial Approaching
Irina Echarry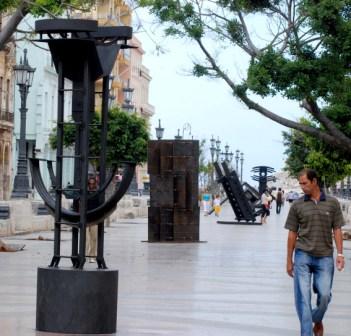 HAVANA TIMES, April 10 — One of the most anticipated events for Cuban artists is the "Bienal de la Habana" (the Havana Biennial), an occasion taken advantage of by artists to promote their work and share the outcomes of their hours upon hours of creative effort.
Since its inception, in 1984, the Biennial has facilitated visits by numerous personalities of worldwide culture.
In this upcoming edition (May 11 – June 11), the aim of the event is to take art to communities and neighborhoods in order to combine artistic practices with social imagery.
The main exhibit will be at the Grand Theater of Havana, though there will be several secondary displays. However what's most awaited are the many works that will be set up on the streets to encourage interaction with passersby.
The sculptures "Los Carpinteros" will be assembled along the Paseo del Prado esplanade, and a huge pool table is being proposed by Cuban-American artist Tony Labat at the Pavilion Cuba. Many additional works will be presented by national and foreign artists in the city's parks and on its walls.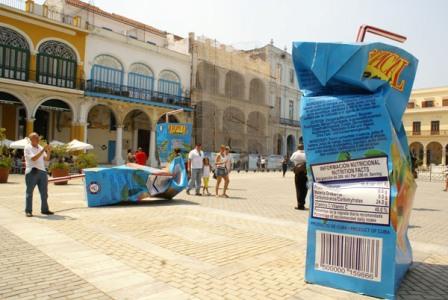 Cuban artist Jorge Luis Santos will be presenting an environmental sculpture that consists of a submarine periscope with a large convex mirror on top. Viewers will be able to interact with the piece through the movement of its sensors.
Work by Roberto Diago will be on view at John Lennon Park, and Ileana Sanchez will give a presentation titled "Los gatos y los niños" (Cats and children) at Maestranza Park.
Jose Emilio "Jeff" Fuentes Fonseca has accustomed us to his inflated figures of canned mushrooms, cats, snowmen, tulips and bones. Jeff left behind a herd of elephants that broke into the city in the last Biennial, while this year he will present a giant block of stainless steel at 23rd Street and the Malecon.
One of the pieces arousing the most curiosity will be "Detras del muro" (Behind the Wall), which will unfold along the Havana seawall from the Castillo de la Punta to the San Lazaro Tower (2.5 miles away).  Various artists will participate in this creation. In line with this year's XI Biennial, these works will be located where Cubans and foreign visitors traditionally sit to rest, chat, fall in love, curse and dream.
Inti Hernandez will set up "Bancontodos," a sculpture that alludes to the phrase by Jose Marti "With all and for the good of all." The creation consists of two circular pieces that form a giant bench representing the symbol of infinity.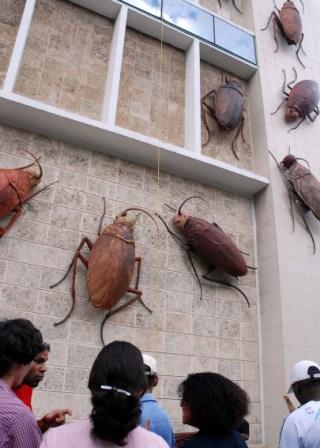 Fabelo will present his figure "Garras en la piedra" using public space as a means of fostering dialogue. On this occasion, again using animal imagery, a lion will serve as the principal focus, but with a different emphasis.
In the last Biennial, his giant cockroaches with human faces revealed Kafkaesque absurdity while having strong human content. This time a lion holding itself onto a reef by its claws will call us into action as we feel compelled to move to escape its bite.
There is less than a month remaining before we will also be able to appreciate the work of Grethell Rasua, who is returning with her art made from excrement. Artists from other provinces will also be participating in the competition that will be based out of the Wifredo Lam Contemporary Art Center.
A total of 115 artists from more than 40 countries will be participating in this art celebration. On May 11 will see the opening of these exhibits and visual works (on display for one month) representing the daily life of ordinary Cubans.