Yomer Motejo: the Cuban X-ray Artist
By Darcy Borrero (El Toque)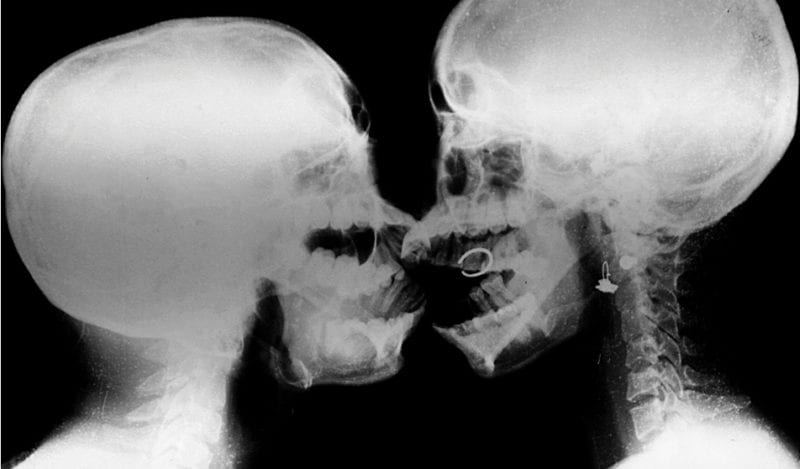 HAVANA TIMES — Two British tourists, Bryan Oranrod and Fanny Deroff, stop in front of the piece (a chain of fish which look like a wave).
"It's unique," Bryan says out loud before buying it, unsuspecting of the fact that when Yomer Montejo entered a medical imaging booth for the first time, he had never thought about transforming medical negatives into art, much less about exhibiting them in Paris.
The young man from Camaguey graduated from the Pablo de la Torriente Brau arts and crafts school and was one of the many young Cubans who answered the Public Health sector's mass call for students to study medical specialties for six months which they would then teach in Venezuela.
"I started off studying Medical Imagaing," Yomer tells me. "It was a mass course that took place all over the country and the idea was that when we were well-trained we would be sent to Venezuela to teach there. I began working, I was a medical intern and I went to University to continue my studies."
It was during this period that he had the idea of combining the clinical work with art which he had learned at high school, and he dived into a photographic project using X-rays as his medium.
"As I had an arts background, I would experiment in my free time with the negatives used in the medical imaging field, which are similar to traditional photographs. I suggested this project in my academic environment during a scientific Forum in order to leave medicine behind a little and show new ways of to see using this medium.
"In 2008, during an Erotic Arts event, I presented my first artwork using this medium, in the same way you would see it in an X-ray ward: a lightbox where the negative (x-ray) was placed on top to read the results. It was of two humans kissing. The following year, I presented my work at a promotional arts event held by young artists at the Teodoro Ramos gallery; I exhibited another piece there with the same characteristics and I won an award. In 2010, I had my first personal exhibition at the Digital Art venue and I was given a special mention.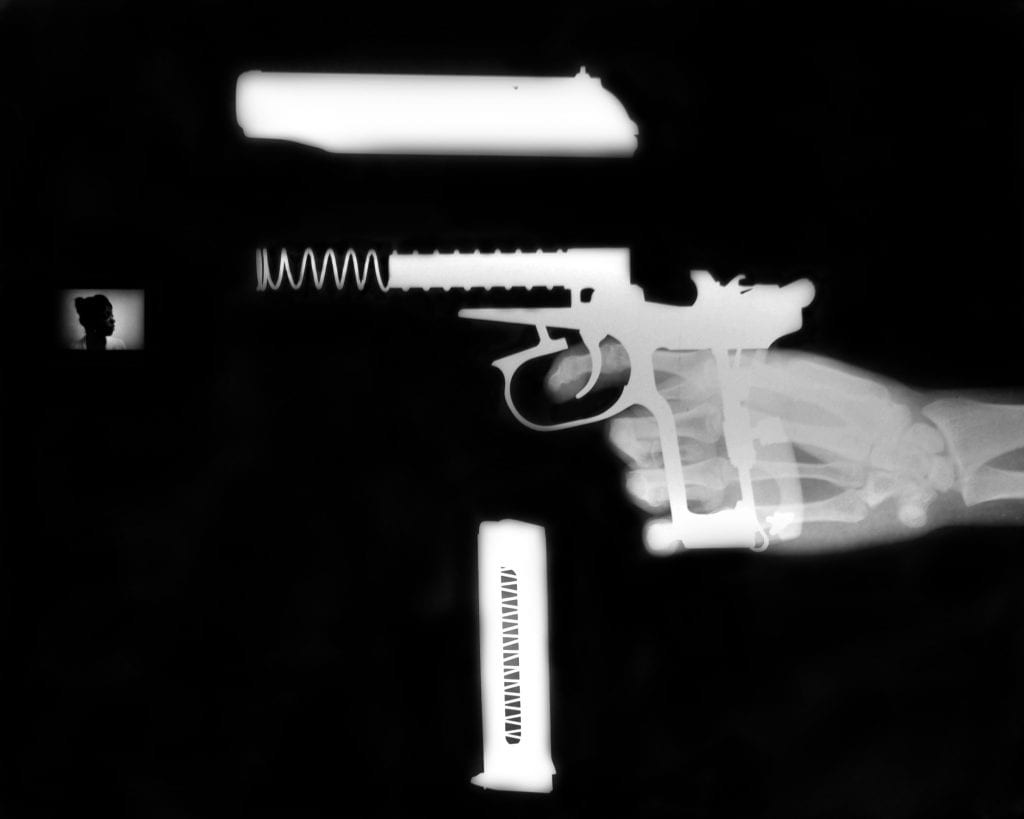 This is how my idea slowly matured and I thought about making a series, inspired by friendships and other situations. I called it "Desgastes" (wear and tear) and I dealt with the subject of the wear and tear of the human body, with all of its virtues and flaws, in those ten images. I exhibited this series for the first time at a gallery in Arroyo Naranjo," the artist says.
He has trodden his way through the ethical dilemma of being a health professional using medical materials for other purposes, artistic in this case. After a time working, he decided to leave the polyclinic and dedicate himself to this art form 100%, which nobody else is exploring here in Cuba.
Even though being the only one does work in his favor, Yomer lives with a problem: he has to present his ideas to medical institutions because he can't make these images in a personal creative space because of a lack of technical resources.
"I take a concrete idea about what I want to do to them and we kick off the process, in both a medical and creative sense. Like every artistic process, it stems from an idea, I make sketches, but it has more to do with conceptual art: objects or people which I can show with what an X-ray negative gives me; an undefined image, using radiodensity to create a discourse.
"It's the same medical X-ray process, with a special sensitivity to light and it is similar to the photographic technique at the beginning, with film, using liquids to fix and develop the images," he says.
But, how can a Cuban artist come up with ways to get materials and authorization, under these special working conditions, to use hospital booths for extra-medical purposes, in a country where healthcare is free and the State's priority.
Having been a part of the Cuban health system opened up the doors to Yomer, that's certainly true. Nevertheless, the feeling of being outside the law is inevitable, as there isn't anywhere where he can buy the materials he needs to create his art and he has to do this under the shelter of the Public Health system.
"The images have been made in wards meant for medical use; but not with patients who were going to "have an X-ray done", but with people/characters and objects that I bring along after presenting my proposal and discussing ideas with them, mostly friends," he says.
How did you make more complex pieces such as the chain of fish which resemble a strand of DNA?
"I took in a fish for that, this piece is from 2013 and it talks about natural processes, the fish in a chain evoke a wave. I normally take the person or object to the X-ray booth with an idea in mind that I want to communicate.
"Many of these images are a reflection of my own personal experience and experiences of friends. The process is very traditional, a tool which I adapt to transmit my own thoughts and thoughts of others. My intention is to go in deep, see something from the inside, going further, that's why I identify myself with X-rays," Yomer says.
Ironically, in order to make his art, he has developed this extremely peculiar technique. Recently, he has had a breath of fresh air with painting, his main motif has been a character which could be called "the 21st century native."
Did you draw inspiration from any Cuban indigenous figure?
"No. I believe the most interesting thing about this series is that it deals with a character who adapts to Cuban modern-day life and also works as an answer to what we are living with regard to technology. I am giving an ironic message; the indigenous person is like an innocent bystander in the middle of all of this: airplanes, cruise ships; but he is also a part of all of this. I'm not interested in making a playful or beautiful work, but in making art that invites reflection. I have the feeling that people identify with this."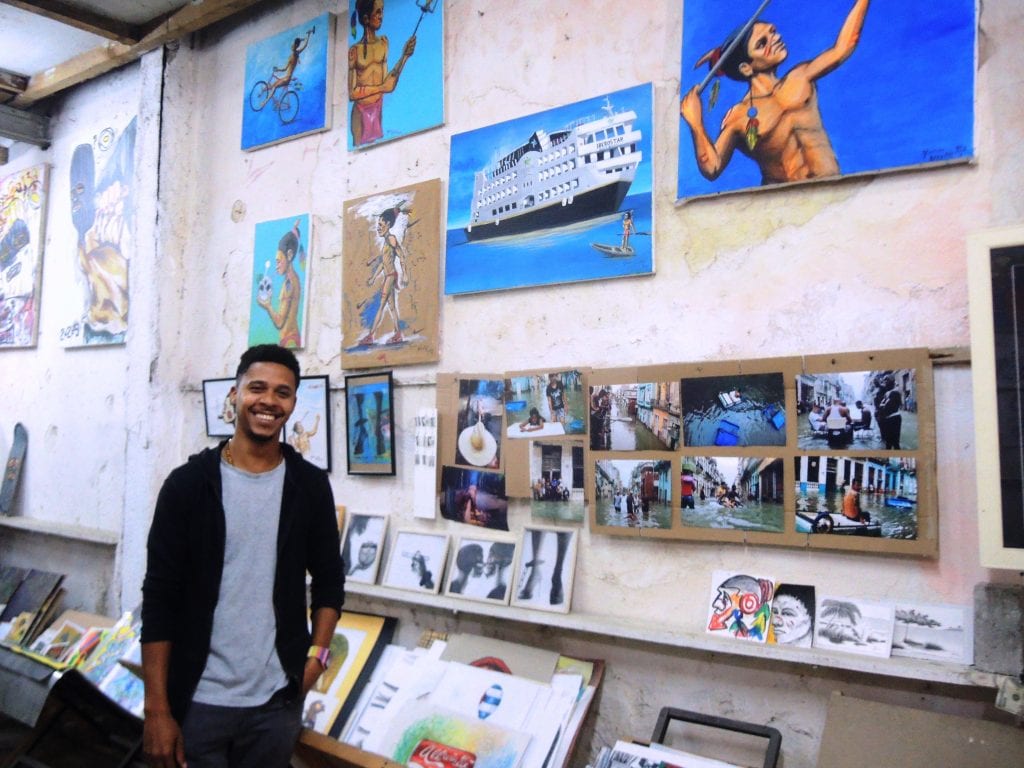 Yomer has taken this indigenous person, just like he has with all of his X-ray characters, to the lands of design and merchandising or micromarketing, which is profitable because of his active presentation of a product or service using a wide range of methods such as positioning and presentation, which make them more attractive.
This is how this artist exhibits his works on earrings and bags, which "have the aim of allowing people to take away a souvenir of the piece but in a practical way, not in the form of a painting that you stick up on a wall, but that you use it and, at the same time, it speaks to you," he says in all seriousness and with a certain poetry that seems innate over the course of our conversation.
Yomer has an easygoing appearance and always carries around a camera on his shoulder. Maybe it's the mark that identifies him as a member of the now-disappeared group of young visual artists baptized as "F-8". Trained by mostly self-taught people, he presented his work at the 2012 Havana Biennial as part of this group. Now, as part of the Jose Marti cultural project, he is exhibiting and selling his work at its base on Prado and Neptuno streets.
However, the artist from Camaguey now living in Havana doesn't want to stay in one line alone and has said that he wants to work with more 3-D art, with installation art, and with combining images with music. Who knows where this idea will take him. For the record, after his medical imaging course, Yomer never went to Venezuela but he did go to the Mecca of art: Paris.
—–

Also read: The Essence of the Object: An Artist's Fascination and Metaphor